Gulf Shores Vacation Rentals
Gulf Shores, Alabama
VR Software: Escapia
Properties: 35
Gulf Shores Vacation Rentals was searching for an email marketing team with the expertise and knowledge needed to address their company's unique market and location. After investing in email marketing that wasn't always sensitive to or consistent with their branding, Gulf Shores wanted a new team to help execute their email marketing strategy. They chose Bluetent. Below, Geoff Gaberino, Property Owner and Manager, discusses his experience.
"Because we are a smaller company, we want our [email] marketing to be unique and custom to the flavor of our area."
Gulf Shores invested in email marketing with Bluetent as an effort to complement their current booking strategy and fill their shoulder season. Together, Gulf Shores and Bluetent implemented a "book direct" email campaign using dynamic email content. The campaign featured the benefits of booking direct and gave past guests a special discount code. In an area known for repeat visitors — as of December 2019, 75% of their 2020 properties are booked — an engaging email strategy was essential to encourage guests to book again and to help fill shoulder season dates.
…AND THE RESULTS SPEAK FOR THEMSELVES:
The August "book direct" email campaign saw a 24% click-rate,  led to four direct bookings (totalling $21,000 in revenue), and created five assisted email bookings (totalling $22,000 in revenue). A similar push in October saw a 21% click-rate,  led to nine bookings (for $28,000 in revenue), and created 24 assisted email bookings (for $32,000 in revenue).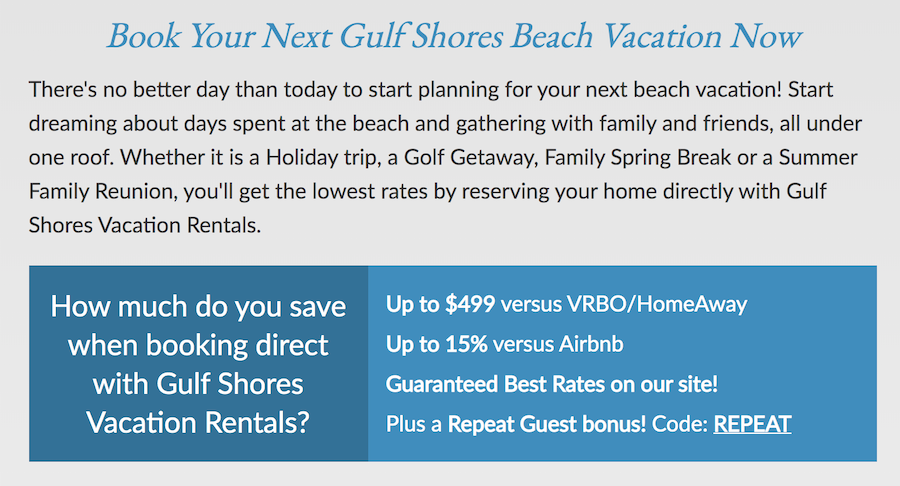 Pictured above is an example of the 2019 book direct email campaign.
A key reason for Gulf Shores' switch to Bluetent  was a desire for increased professionalism. Not only did they team up with Bluetent Email Project Manager, Kelly Gitre, to execute their email strategy, they also work with a Strategic Account Manager, Jessie Hjorth, on their digital marketing efforts and have a direct-booking website powered by Bluetent.
"We were working with another company and they didn't have the same resources and organization that Bluetent has. Kelly does a great job. She understands our business and is on top of things. She reminds us about deadlines and dates for emails."
DON'T JUST TAKE OUR WORD FOR IT:
"We love the individual service!"
Last spring, Gulf Shores Vacation Rentals launched an easter egg hunt via email.
CHECK IT OUT!