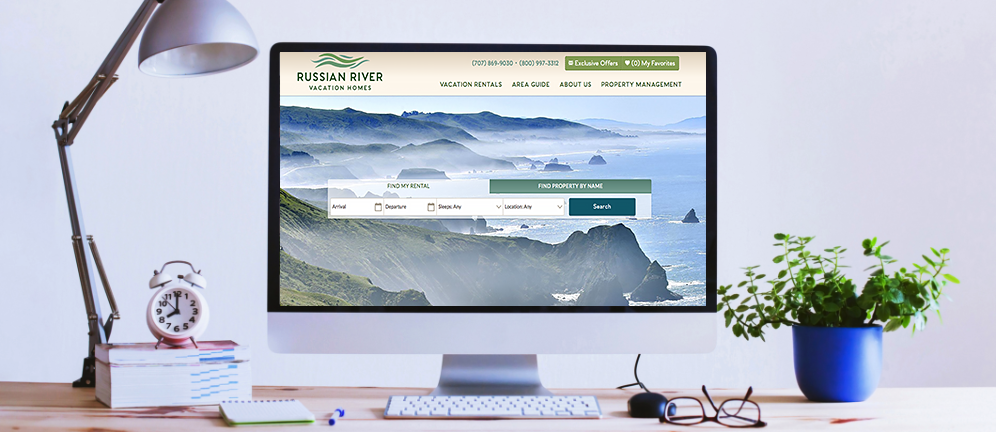 Destination
Guerneville, CA
"Rezfusion Boost™ has been so powerful for us! Since getting connected with Bluetent, we've seen more revenue in the first four months than we received for the entire previous year – without the headache! The Rezfusion Boost™ platform is intuitive and easy to use, and the setup process was very smooth!"– Ellen DeProto, General Manager| Russian River Vacation Homes
Background
Russian River Vacation Homes located in Western Sonoma County is a division of the largest and oldest property management company in the western part of Sonoma County. Family owned and operated for over 30 years, and a certified Sonoma County Green Business, the team is dedicated to delivering quality and responsive guest experiences while maintaining the best environmental practices.
Challenge
In the past, Russian River used channel management solutions but experienced inconsistent results integrating the data from their RNS property management software. Before Rezfusion Boost™, the team was distributing their property listings onto Airbnb and tracking their calendars manually. Considering that Russian River already had published listings and reviews, they wanted a channel management solution that would accurately merge and retain their content to Airbnb, and increase visibility.
Solution
The smooth and easy setup process, along with time-saving automation tools in Rezfusion Boost provided a seamless integration to Airbnb. Guided support from the Bluetent Team and specific features like a two-way calendar feed that updates their reservations, and the accuracy of their reviews and listings into Airbnb made the transition easy. Additionally, Russian River maintains control over their listings, and the global price factor allows them to adjust rates based on seasonality. The Rezfusion Boost™ platform's ability to precisely control content, availability, and rates have given them the confidence to use Airbnb's Instant Book feature, which is a huge factor in the increased conversion rate. Not only can guests book right away, but turning this feature on in Airbnb gives listings better exposure in search results.
Results
The transition to Rezfusion Boost™ has generated more online booking revenue in the first 4 months than the entire previous year when Russian River was manually distributing their listings on Airbnb:
increase in online revenue from the year before
average increase in monthly booking revenue
"And, by the way, we love working with you guys and heard from other folks over and over and over again at the conference how much other people do too. It's awesome to be working with the A-team!"– Megan Perkins, CTA| Russian River Vacation Homes
Rezfusion Boost™
Rezfusion Boost™ efficiently connects Vacation Rental Managers with two of the world's largest online travel companies, Airbnb and Booking.com, by integrating the data in your property management software to create compelling listings that are automatically updated and managed.