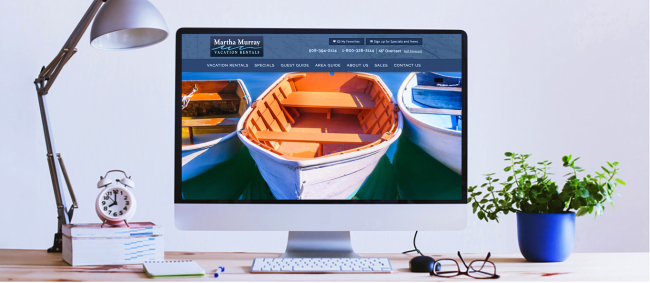 Destination
Dennis Port, MA
Background
Locally owned for over 35 years, Martha Murray takes pride in matching guests to the perfect summer rental in Cape Cod's best beach towns. From spacious oceanfront homes and charming seaside cottages to comfortable ranch homes, Martha Murray offers a wide variety of vacation rentals to suit every style, taste, and budget.
Challenge
Martha Murray wanted to increase relevant traffic to their website and, most importantly, increase direct bookings. With Bluetent's recurring SEO and content engagement, Martha Murray sought to update their website with useful, clearly written, visually engaging content.
Solution
During the fall of 2016, Martha Murray and Bluetent began focusing on content enhancements for property category pages and area events. Working with Bluetent, Martha Murray published concise content with specific language on their property category pages and built out cornerstone content for Cape Cod area events.
Results
Adding concise content to property category pages significantly increased transactions on marthamurrayvacationrentals.com. Martha Murray's beachfront vacation rental page increased its rankings for key transactional search queries on Google search results pages, ranking in the top two results for cape cod beachfront rentals. This led to increased clicks and traffic to their page, and also directed travelers to their properties where they could book directly.
'Beachfront' Page Growth from 2017 vs. 2016:
By creating, updated content for area events, Martha Murray significantly grew traffic and increased engagement on events pages.

'Events' Page Growth from 2018 vs. 2017:
Dive into Martha Murray's full content strategy in the white paper, Maximize Revenue with Content Aimed at Transactions.
Bluetent Content Marketing
Enhance your brand messaging through compelling stories that attract more customers, build trust with those customers, and boost sales. Effective content strategies deepen the connection of various marketing services to deliver one cohesive message. Refine your website's communication, strengthen your brand, and create direct emotional connections with your customers.