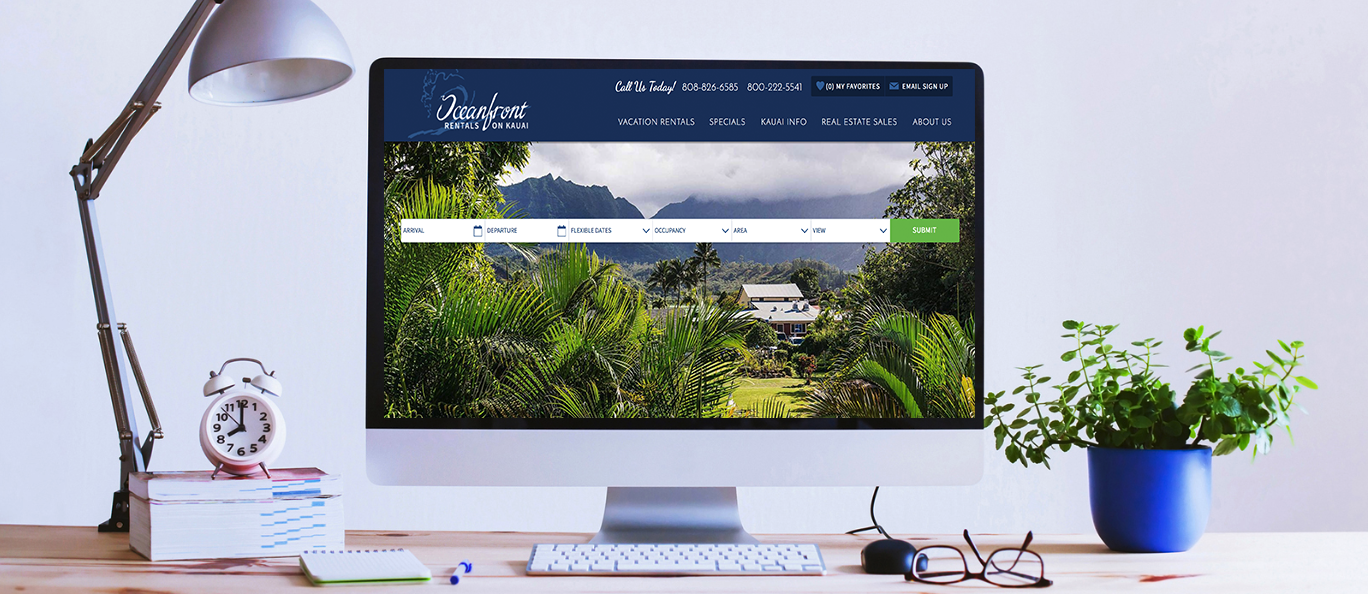 Destination
Kauai, Hawaii
"Bluetent has kept our social media current with engaging content and posts that are concise and well-written and the expertise of the team know how to appropriately target posts specific to our guests' interests."– Jonathan Schwartz | Oceanfront Realty Inc.
Background
At the heart of Oceanfront Realty Inc. is the best interest for their guests and clients. After 26 years, Oceanfront's business has grown to include vacation and long-term rentals, as well as real estate re-sales, project sales, and property management.
Challenge
The team at Oceanfront Realty maintained a Facebook page to advertise properties and occasionally post island information and real estate news. However, without a full-time marketing staff to research and write posts, the biggest challenge was trying to keep their social pages and posts current.
Solution
In order to reach their social media goals of increasing brand recognition and customer retention, Oceanfront Realty Inc. connected with Bluetent's Social Media Team to develop a Facebook Page Likes Campaign that would increase the number of followers. That way, their posts about local news, rental properties and specials would reach a wider audience and receive more engagement.
Results
Since February 2018, Oceanfront Realty has been running a Facebook Page Likes Campaign with Bluetent. The campaign has elevated their social media content with posts that are concise and well-written which has improved Facebook engagement to included:
increase in Facebook Page Followers
Bluetent Social Media Team
Our social media services combine the latest trends and tools with a foundation of engagement and conversion-based social media strategies to target your business goals. Stay on the pulse of the evolving trends in social media and excel in the ever-changing world of vacation rental management. Learn more about how our team can help you with your social media advertising strategy.