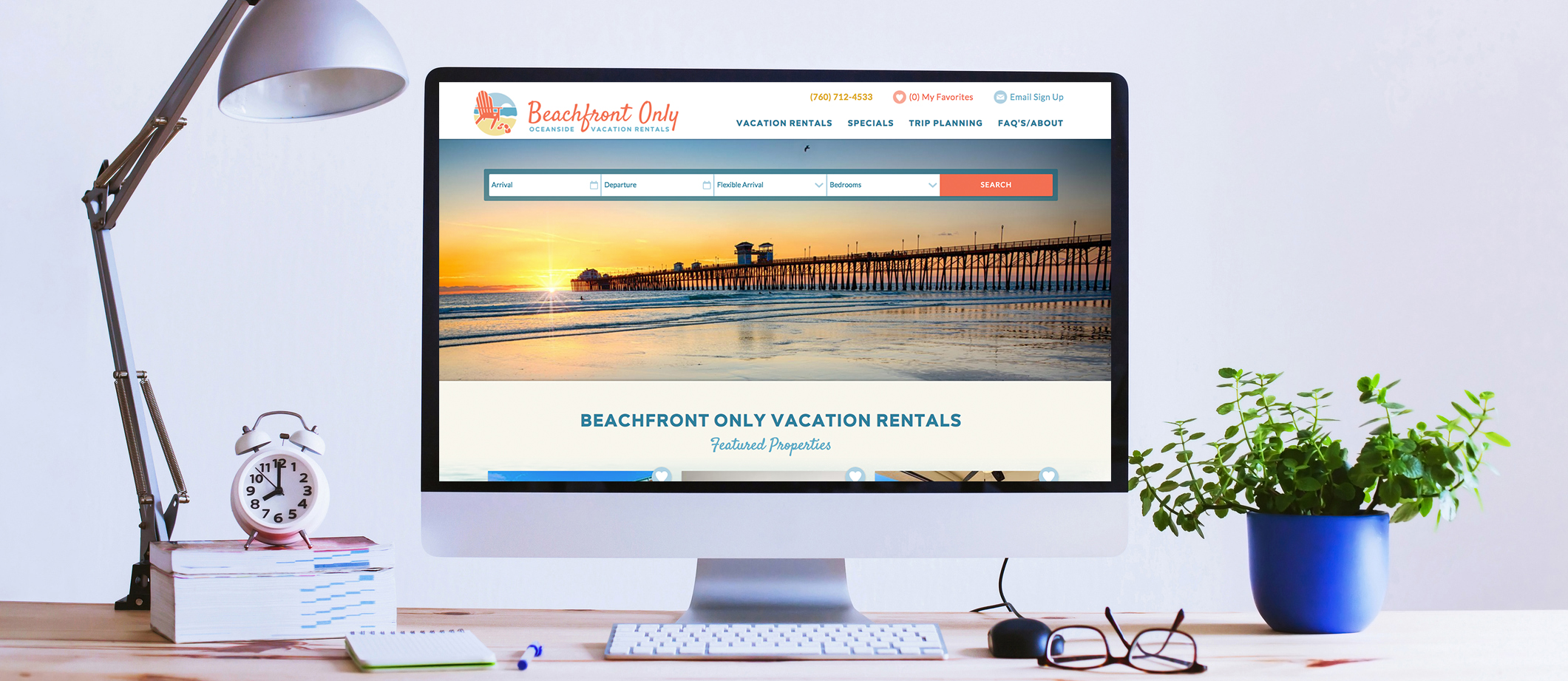 Destination
Oceanside, CA
PMS
Escapia by HomeAway Software
Beachfront Only Vacation Rentals increased engagement and accelerated their return on investment in 30 days by implementing the Email Suite.
Located on the coastline of Southern California, Beachfront Only Vacation Rentals manages 92 beautiful properties. In preparation for their new site launch, they approached Bluetent to create an email solution that would compliment their Rezfusion Pro Website. Bluetent customized email marketing tools via the Email Suite to integrate with Beachfront Only's site and Escapia Software. In the first 30 days the email suite generated:
20 transactions
$85,784 in revenue
363 subscribers
Implementing the tools allowed the staff at Beachfront Only to continue to excel in customer service by focusing attention on prospects and guests.
Beachfront Only has been involved in the vacation rental industry for over a decade. Rated as one of the Top 10 Vacation Rental Companies in the country for Customer Satisfaction by Escapia, they understand quality service and have become one of the leading property management companies in San Diego.
To stay on top of their exceptional reputation, their objectives were to increase reservations, conversion rates, and average order values, generate new subscribers, drive direct traffic, and engage emotionally with prospects, customers, and guests. Additionally, they aspired to develop an email strategy that would generate a healthy ROI, require minimal effort from their team, and impress and attract new homeowners.
In order to achieve these goals, their customized Email Suite incorporates monthly newsletters, a booking abandonment message, an enhanced sharing tool, a subscriber welcome letter, and vacation rental inquiry follow-up communication. The performance from the first 30 days of using these tools include:
$50,000+ in Revenue
with 2 Monthly Newsletters
$16,000+ in Revenue
with Booking Abandonment
$13,000+ in Revenue
with Share Listings
$3,000+ in Revenue
with Share Favorites
$1,500+ in Revenue
with Welcome Subscribers Email
16 New Subscribers
with Contact Us & Newsletter Forms
31 New Subscribers
with Sharing Tool
261 New Subscribers
with Email Sign Up Prompt
The outcome from applying the Email Suite emphasizes Beachfront Only's goals to attract new subscribers and direct traffic in order to establish a healthy return on investment.
Bluetent's Email Marketing provides value and develops an emotional connection with your brand from the initial lead to the confirmed reservation and beyond. Our award-winning email team challenges our clients to think creatively and strategically about each thoughtful message while applying industry-leading best practices.