Hilton Head, South Carolina
VR Software: Escapia


Properties:

243 Total – 149 VILLAS + 94 PRIVATE HOMES

 



Rezfusion Cloud website

 

Digital Marketing (Social Media Advertising, Email Marketing, SEO, Content)

 

Rezfusion Pro website (coming soon!)

 
At the beginning of the year, Island Getaway Rentals of Hilton Head, South Carolina launched their Rezfusion Cloud website. Within the first month, their website generated over $1.15 million in direct-booking revenue with a .81% conversion rate! (Industry average website conversion rates being anywhere between .3% – .4%)
Christine McMahon, Property Manager at Island Getaway Rentals, sat down with Bluetent's Marketing Manager, Jordan Daniels, to chat about the relationship between the two companies and how Bluetent supported Island Getaway (one of the leading property management companies of Hilton Head) in building their digital presence and marketing strategy. 
In the process of making a property management software transition to Escapia, the team at Island Getaway quickly realized that their existing website could not provide them with the customer-centric, tech-forward online experience they needed to stand out in their competitive market.  
Being remarkably familiar with Bluetent and what their team had to offer; Island Getaway added them to the top of a short list of companies to consider when researching a new website. From the initial meeting with Bluetent, "It was like night and day compared to the company we were using for our website at the time," stated McMahon, adding, "Everyone at Bluetent was so professional, extremely familiar with the Escapia platform, and the entire process was smooth sailing." 
CHOOSING THE RIGHT WEBSITE PROVIDER
Q: What trends in the vacation rental industry drove the need for a new website? 
A: We were in desperate need of improving our online booking process and having the ability to customize the website to better fit our needs — and our guests' needs. Having to launch a website so quickly, we opted for the Rezfusion Cloud website initially and within four months of our Cloud launch, we began working with the team at Bluetent to build our customized Rezfusion Pro website! 
Q: What made Bluetent's solution stand out over providers that you researched? 
A: Based on our timeline, we needed a team that was organized, knowledgeable, thorough, and experienced. After the owners of our company met with the experts at Bluetent, there was no hesitation. We knew they would be the right team for the job. 
"With Bluetent's Cloud websites, we now have a total of 13 direct booking websites, all of which are their own entity but consistent in branding and functionality.  We expect booking conversions to exponentially increase because not only are there more websites in place for guests to find our company and the properties we manage, but also each user-friendly, beautiful website gives guests the ability to book immediately."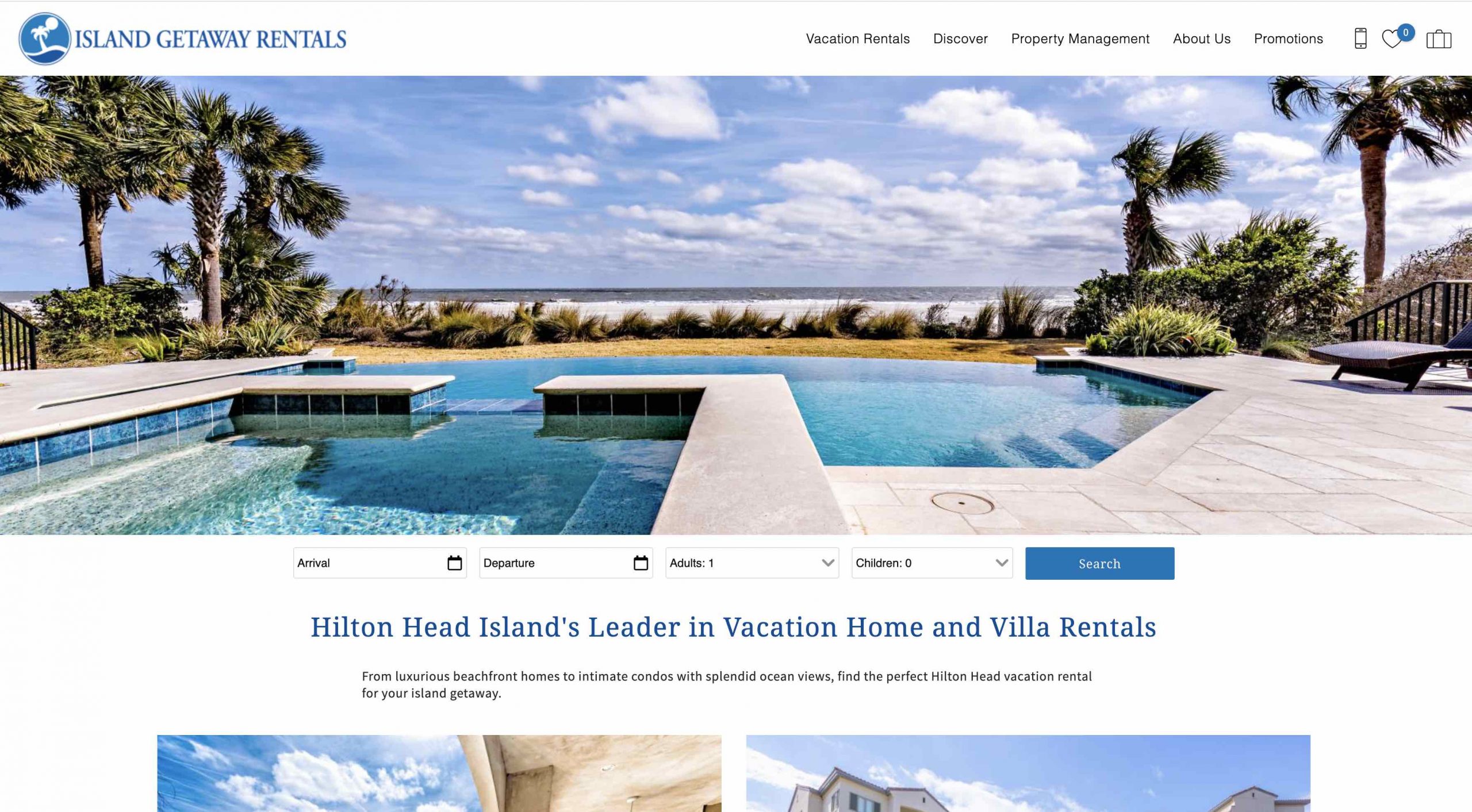 Q How do you set your business apart from the competition?  
A: First and foremost, our properties. Our reputation in this market is that we offer the best properties in Hilton Head. Guests have an expectation of what they will be receiving through their rental – and our team delivers. 
Secondly, our staff members. Some of whom have been with Island Getaway for over 20 years. Our experienced team leads the hospitality industry in our area — available seven days a week and eager to meet each and every guest's needs. 
"By making huge website improvements, we have been able to attract new website visitors and convert them quickly into bookers. "
Q: How was the support and development process with our team when building and launching your Cloud website?  
A: I was personally part of the process, and you never want to say launching a website is easy – but it was! The entire process for myself and my team was so simple and smooth – they had our website up and running so quickly, I was so impressed. We were really under the gun on launching a website due to our property management software change and Bluetent made it happen! Not only was it a smooth process – but I am so proud of how the website looks! I cannot say it enough, the Bluetent team is incredibly professional, knowledgeable, helpful, and thorough." 
Q: What about your new website have you been most impressed with?  
A: "Simply the ease of doing everything on the back end on our own. Websites can be both complicated and difficult to learn to use. Bluetent has built a platform that is extremely easy to navigate, understand, and edit on our own. From uploading photos, to adding property amenities, to detailed reporting: our Cloud website is a piece-of-cake when it comes to ease of use." 
Q: Which website solutions and features did Bluetent provide that you did not have access to previously?  
A: That is an easy question to answer: "search by property" has been a tremendous upgrade for our guests. The option to feature properties of our choosing not only assists with highlighting new properties that have just joined our portfolio but also gives us the ability to offer a perk to homeowners who need a little extra attention and care. Simply having the ability to get off the phone with an owner and tell them — with confidence —that we will feature their home on our website within a few hours is incredible! 
Q: What has Bluetent done differently for your business? 
A: "The people at Bluetent have made the difference for our business. This really talented team did amazing things for us. When we only had a short window of time and doubted anyone would have the ability to launch a quality website, their team stepped up to the plate and quickly launched a stunning website. That was simply incredible. Their efforts continue with our website blogs and email campaigns to attract not only our past guests, but new website visitors. "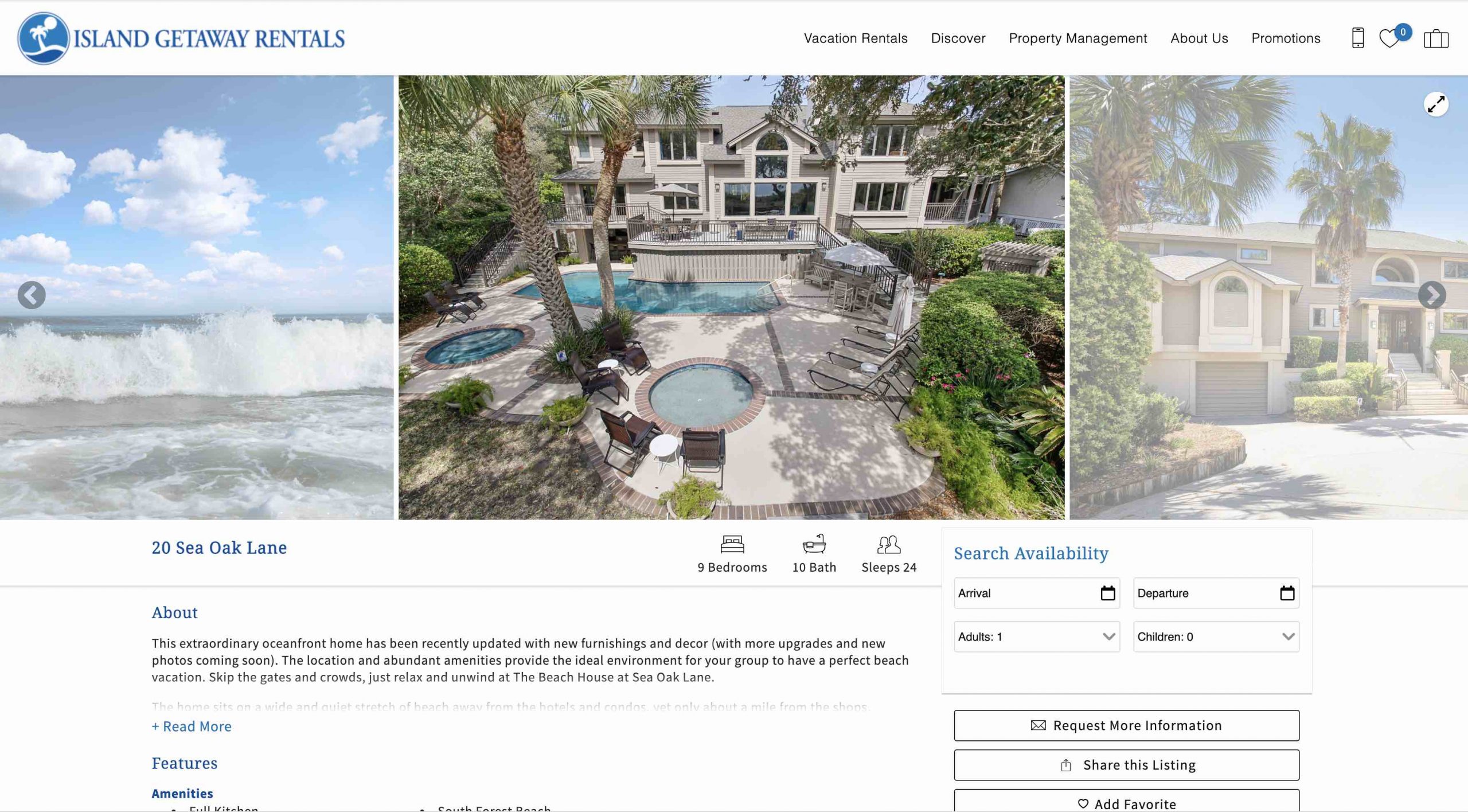 Island Getaway is already building a Rezfusion Pro website with the Bluetent team, with a launch date set for later this year.
Q: What would you say to someone on the fence about launching their digital marketing with Bluetent? 
A: "I would not hesitate to recommend Bluetent for your website and digital marketing needs. They are so professional from start to finish. The team at Bluetent does what they say they will do, and they do it well. I would 100% recommend them to anyone who is in the market for a new website, email marketing services, paid social media campaign management, or any other marketing needs."
SEE WHAT THEY HAVE BEEN UP TO
Bluetent built Rezfusion Cloud Website: