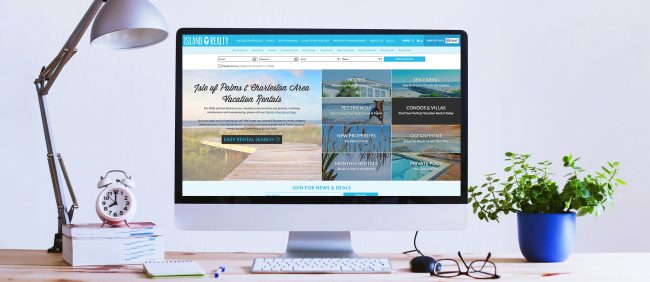 Destination
Isle of Palms, SC
PMS
Escapia by HomeAway Software
"Bluetent has been invaluable in helping us achieve our goals. They developed a beautiful, professional, and efficient website to serve our guests, owners, and business easily and powerfully without compromise. They were able to create custom solutions to meet our individual business needs. Their entire team has been by our side every step of the way to walk us through the process, answer questions, address concerns and support our business objectives. Their creative solutions, vast knowledge, experience, and out-of-the-box thinking has yielded increases in web traffic and conversions on our site not just since launch but also year over year. We could not be more happy with our partnership with Bluetent!"
– Valerie Clagett
Marketing Strategist | Island Realty
Background
Island Realty, the oldest family owned and operated property management and real estate company on Isle of Palms has expanded to include corporate rentals, homeowners association and regime management, as well as Isle Watch It, a property monitoring service, Isle Clean It, their housekeeping arm, and Isle Fix It, their maintenance division. They are proud of their rich history and believe their longevity has played an integral role in forming close relationships with the community.
Challenge
In September of 2015, Island Realty approached Bluetent faced with a confusing user experience, bounces within the sales funnel, and a non-mobile-friendly site. They outlined their goals of driving direct bookings, reducing reliance on OTAs, prospecting to new owners, integration of property specific inquiries, enhancing their brand, increasing adoption of vacation packages and specials, and developing a beautiful, modern, responsive design that motivates travelers to book.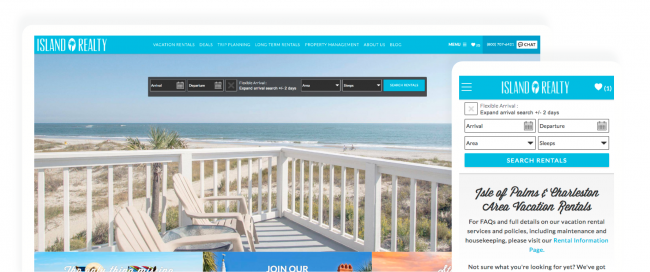 Solution
Bluetent's team of creative UX/UI designers, senior engineers, and digital marketing consultants developed Island Realty's attractive and functional digital presence on the Rezfusion Custom platform to address business objectives that required an enterprise-level solution. Creating a seamless user experience was of paramount importance. Together, Island Realty and Bluetent implemented a property search that allows users to precisely find what they need including a flexible date option, smart calendars revealing only available dates, urgency marketing to drive conversions, and an easy share functionality so users may send information to other decision-makers and family members. The property detail pages include full-screen photo sliders with professional photography and reviews.
Since the site launch in Spring of 2016, the results have been outstanding, and by partnering with Bluetent's digital marketing team, they continue to see growth YoY.
eCommerce Conversion Rate Increase
Organic Search Traffic Growth
Email Conversion Increase
Award-winning, fast, and secure, Rezfusion Custom is built for vacation rental managers who are looking to drive direct bookings and succeed online. For large-scale resort destinations and national hospitality brands, Custom provides PCI Compliant reservations and total flexibility around products and services.