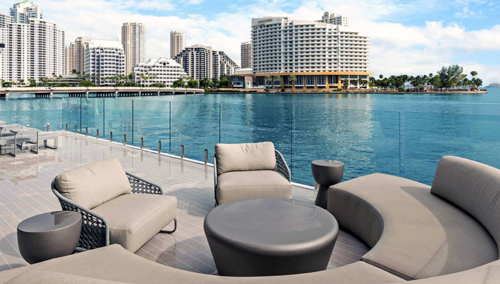 Miami, Florida
VR Software: Streamline
Properties: 81
Prior to signing up with Bluetent, Sextant Stays was using a WordPress website that connected to their OTA listings. At the time, WordPress was exactly what their small company needed. But as Sextant grew, so did their desire for a direct booking website that reflected their professionalism and would attract new clientele. After meeting Team Bluetent at an industry conference, Sextant included Rezfusion options as they researched direct booking websites. Ultimately, the Sextant team chose Bluetent because of their experience and success in the vacation rental industry – and because Rezfusion platforms integrated with their property management software.
Team Bluetent sat down with Brandreth Canaley, Internal Operations at Sextant Stays, to discuss their website and digital marketing strategy.
The Sextant management team was ready to take the reins and pursue more direct bookings. Previously, the team had been reliant on online distribution channels for online booking and wanted to "invest in our company and our brand."
In Brandy's words, "We needed something to get up and running quickly, that was simple and professional with homes that were easily bookable."  With that in mind, Sextant chose Bluetent's Rezfusion Cloud website: a professional, branded, feature-packed direct booking solution that could be launched in mere weeks.
With their Rezfusion Cloud website up and running, Sextant's next step was to utilize Team Bluetent's digital marketing expertise to start driving traffic to the new site. Sextant purchased a flex marketing engagement, giving them access to their own dedicated Strategic Account Manager who created a unique digital strategy including SEO, content marketing, and digital & social media advertising. 
To take advantage of visitors' interest in the many events occurring during Miami's high season, Sextant's Strategic Account Manager, Kate Robson, developed custom event landing pages to help Sextant rank higher in search results and drive interested Miami travelers back to Sextant's new Cloud website. 
In addition to content creation and SEO, Sextant has teamed up with Bluetent to run PPC campaigns targeting cities with inexpensive direct flights to Miami. One recent campaign, targeting four major Canadian cities, resulted in a 1,291.50% return on ad spend (ROA) in under three months. 
"I've really enjoyed working with Kate, Stu (Digital Advertising Account Manager), and the whole Bluetent team. I've been able to propose marketing experiments where we target cities that have cheaper direct flights to Miami and it's been great to play around with that kind of stuff and see what works."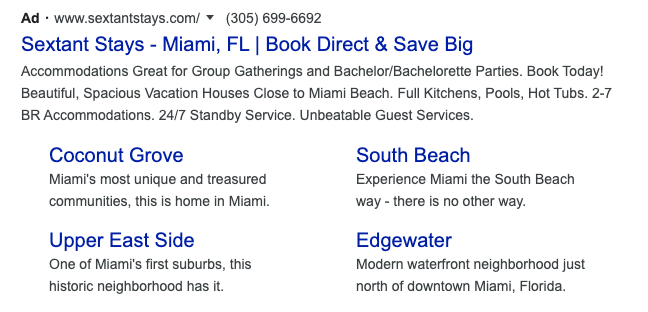 The Sextant team was interested in targeting four major Canadian cities with Miami vacation options. In under three months, this campaign resulted in a
1,291.50% return on ad spend (ROA).
DON'T JUST TAKE OUR WORD FOR IT:
"We don't have the bandwidth to create the content we need ourselves, so it's been nice to leave it to Kate and Team Bluetent. We are definitely seeing the value of what we are paying for. It very much feels like a partnership and not like we are just paying someone to do work."
…AND THE RESULTS SPEAK FOR THEMSELVES:
In the year since Sextant Stays launched their Cloud direct booking website, one-quarter of their revenue has come from direct bookings. And to address the continued growth of their business, Sextant has decided to upgrade to a Rezfusion Pro website in 2020. Check out our Bluetent Insider Q&A from August 2020. Our team interviewed Brandy about her new Rezfusion Pro website and redesign.