In the SEO industry, there are a few questions that seem to crop up repeatedly, such as:
I have visitors, why are over half of them bouncing immediately?
I have visitors, why are they thinning out rapidly?
I don't have visitors, should I fire half of my company and scream at my office plants!?
If you've asked any of those questions, then you're not alone. The internet is expanding and so are the public's options for searching. The "Back" button is getting abused more by the day and attention spans are shrinking. In fact, a study from 2012 showed that when someone visits your site, you have an average of 8 seconds to impress them before they leave.
Those 8 seconds include load times. So, if your page takes 8 seconds or more to show, then you've already lost the majority of your visitors. Also, your hosting server *might* be down.
So then, why are these things happening to your website? The most likely answers are that:
Your website is visually unappealing
Your website is not functioning properly
Your visitors are finding you accidentally
Your website is cluttered and intimidates people
So you had a question, and you've nailed down the possible issue(s). But why are web visitors so fickle? Why can't they browse a few pages and give your website a real shot? Let's dig into the data:
Humans are 100% of your demographic
The average attention span of a Human is approximately 8 seconds
The average attention span of a Goldfish is approximately 8 seconds
Humans = Goldfish
Goldfish are 100% of your demographic
 With that knowledge in hand, I did some research and discovered a few things:
Goldfish like shiny things
Goldfish get confused easily
Goldfish get scared easily
Goldfish live underwater
 Therefore, to get the Goldfish to stay, your site needs to be:
Shiny & Pretty
Easy to Navigate
Completely non-intimidating in every way possible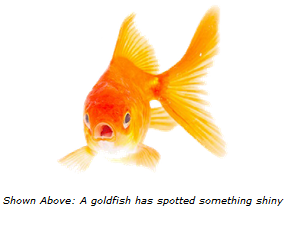 Need data to back up these claims? Follow these steps:
Go to Google Analytics
Click on Audience > Behavior > Engagement
Find the number of people with a visit duration from 0-10 seconds and divide it by total visits.
Shown Above: Ouch.
For this time period, 1,507 Goldfish visited this website. Divide 878 by 1,507 and you'll find out that 58.3% of their Goldfish are either scared by the site, confused by the site, think the site is ugly or swam away because the page took too long to load. To top it all off, it's hurting their rankings in Google by spiking usability metrics such as Bounce Rate. This is called the Low Engagement Bounce Rate, and it's a result of the reasons mentioned above.
So, if you're being plagued by these issues, then it's time to do some serious remodeling of visuals and/or usability. Make your site prettier, make it easier to use and get the clutter off it.
And remember, the easiest visitors to get are the ones that you already have. Even if they are Goldfish.
Need to have your site revamped, reorganized or restructured? You've got the industry's leading experts at your disposal. Contact us to get started on a complimentary digital marketing assessment today.
Sources
Daniel McKey is an SEM Account Manager for Blue Tent (pending review of this blog).