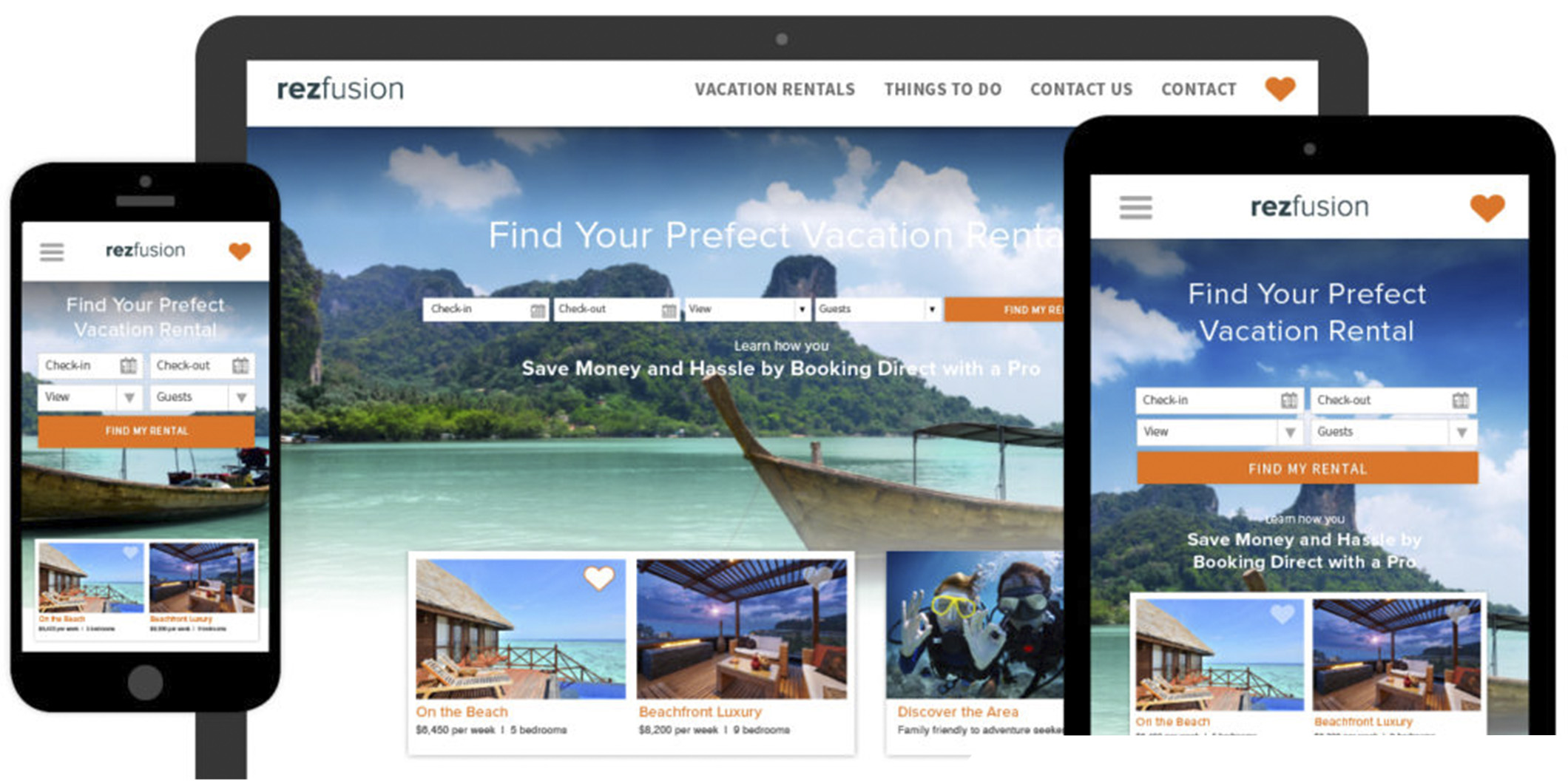 A New Tier of Rezfusion, the leading eCommerce Platform for Vacation Rental Managers, designed for startups and small vacation rental professionals.
Carbondale, CO (September 19, 2016) – Bluetent, a premier digital agency for the hospitality and tourism industry, recently announced that they are launching a new tier of Rezfusion, the leading eCommerce Platform for Travel Professionals, designed for startups and small vacation rental professionals.
Rezfusion Cloud will provide vacation rental managers an enterprise-level point-of-sale solution that appropriately aligns with smaller budgets and fewer resources. The Rezfusion platform historically offered two tiers: Rezfusion Pro which is ideal for medium sized property managers requiring a solution appropriate for their ambitious business goals without requiring custom design and development, and Rezfusion Custom, intended for large organizations requiring a unique solution designed for their specific needs from both a branding and functionality perspective. Both Rezfusion Pro and Rezfusion Custom will remain excellent solutions offered on the platform. In 2016, Rezfusion is on track to complete $170MM in online bookings, represents 15,000+ professionally managed units, and supports 125+ professional vacation rental managers.
Bluetent plans to offer the Rezfusion platform, and all three tiers, to all vacation rental management companies as a way to increase conversions, drive more direct online bookings, strengthen brand awareness, and help the vacation rental industry further progress in technology. All three tiers, Cloud, Pro, and Custom, include PCI-Compliant bookings, full integration with the leading property management software, and 24/7/365 domestic support.
"We are thrilled to add Rezfusion Cloud to our eCommerce Travel Platform. We believe innovative technology should be available to all vacation rental managers to help advance the overall industry, and we are passionate about providing the best user experience," says Peter Scott, President of Bluetent. "This is a significant opportunity for vacation rental managers to continue creating sustainable growth. We see Cloud as a tool that every professional needs to add to their sales and marketing efforts to ultimately drive more direct business at a lower cost to both the renter and the professional manager. "
If you're attending Rezfest, Bluetent's Product Manager will be conducting demos of the platform. Please sign up for time on his schedule to see if Rezfusion is the solution for your business: https://www.bluetent.com/rezfest-2016/.

If you are not attending Rezfest but would still like to learn more, please visit: https://www.bluetent.com/the-rules-change/ and set up a time to connect.
About Bluetent: Bluetent is a digital agency located in the heart of the Rocky Mountains, specializing in the vacation rental, resort, and tourism industries. Bluetent provides strategic consulting, brand design, web development, email marketing, social media, and search / inbound marketing services. With a growing team of more than 50 employees, Bluetent offers a unique blend of products and services that create comprehensive, successful, online marketing strategies.