Rezfest 2016 was an exciting whirlwind, filled with lots of laughs and great conversations. Here are a few of our team's key takeaways from the event. Hope to see you at VRMA National in a few weeks!
10 Takeaways from Rezfest 2016:
1. Remember: Don't Keep All Your Eggs in One Basket
Distribution channels are incredible for generating new leads with the opportunity to build loyal guests who book again with you. It is important to use multiple channels to leverage your distribution, that way if/or when things run askew, you have a back-up.
2. Direct Bookings are Key!
Generating direct, online reservations is an important focus for many vacation rental managers who are hoping to solidify a sales channel that makes business more streamlined and efficient.
3. HomeAway + Expedia = More Exposure
HomeAway's inventory is now live on Expedia in both the search and main filter. What does this mean for VRMs? Hopefully, a significant increase in leads and bookings. HomeAway boasts 100 million views/month while Expedia experiences 450 Million. The diversification across all the distribution channels will no doubt lead to increased reservations and leads. Now the opportunity is turning these leads into repeat, direct booking guests in years to come.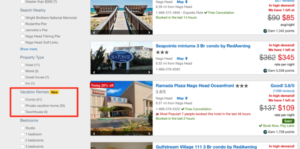 4. Increased Access to User Data
Expedia will start to use their own user data to provide more transparency for Escapia and V12 customers. The details are still at large but this should help provide more customized experiences for prospects and leads.
5. Glad To Have Your Reviews Diversifying Presence
Glad to Have You Reviews are now available within the app as well as within HomeAway's suite of websites. The increased exposure will certainly resonate with users and will provide an improved experience.
6. Glad to Have You Gets a Fresh Update
The app is releasing version 2.0 which includes new functionality and now customers can manage and arrange the stay notifications within the portal.
7. Owner Portal Launching for HASP Clients
HomeAway is releasing a new Owner Portal in the near future. It will provide owners a clearer picture of reservations, YoY comparisons, and will allow owners to change their own reservations.
8. Automated Payments added to Escapia & V12
In this year alone, Escapia & V12 have processed $140 million in automated reservations and will continue to expand in the coming months.
9. Packaging & Vacation Add-ons is Officially On the Horizon for HASP
The HomeAway Software API is reaching maturity in providing packaging and add-on capabilities to V12 and Escapia Customers. This update will continue furthering the mission of improving the user experience to turn more onlookers into confirmed guests and will also provide opportunities for VRMs to create incremental revenue. 
10. Bluetent Launched Rezfusion Cloud for Startups and Small Business Pros
We are thrilled to announce that at Rezfest 2016 Our team launched a new tier to our travel eCommerce platform. The new tier, Rezfusion Cloud, was developed because our team believes in redefining the user experience to drive reservations as well as providing affordable and innovative technology to all professional vacation rental managers.