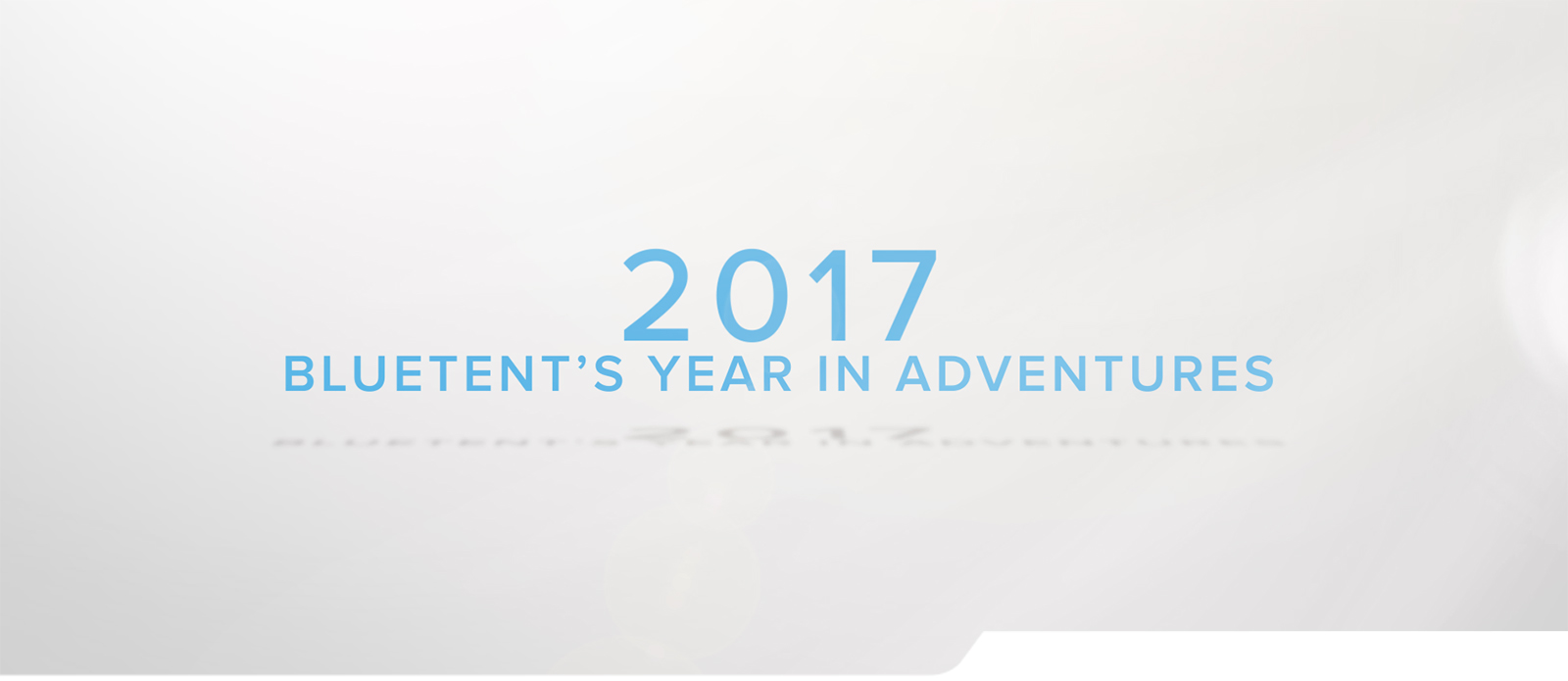 Reflecting on the year, we are fortunate for the success and continued growth of Bluetent. We would like to thank our clients and partners, in addition to our teammates, for making 2017 a remarkable year. We are proud of the accomplishments and wish to share these achievements with you. Here's to another incredible year ahead!
Additional Noteworthy Stats:
Total Reservations Booked through Rezfusion
Miles Logged in Activities
Impressive Milestones to Celebrate:
Bought a house: Sam Campise, Laura, Jeanie, & Tom C.

Joined Bluetent! This year we added 19 new team members: Aaron, Tom C., Alex, Tyler, Amber, Kaitlin, Jordan, Jinnie, Matt, ALee, Beckey, Sasha, Ellis, Beryl, Sarah, Brian, Colin, Shea, & Melissa. Bringing our team to 60 strong!

Andy M. completed first portage/camping trip to Boundary Waters Canoe Area new Canadian Border

Shea hiked and explored 6 National Parks & Monuments + all 7 Wonders of Oregon

Maria got her first dog and visited Yosemite & Zion during a 22-day camping/road trip

Laura got married

Eric moved to Montana

Peter's daughter flew off to Michigan for the school year to study and focus on her hockey aspirations

Brynn and Braeden welcomed a beloved camper van into their family

Jack floated all 173 miles of the Dolores River

Jeanie attended 4 music festivals and at least 12 concerts and sang in 9 concerts

Kara competed in many races: Race Around the Lake, WYLD Obstacle Race, Stronger Women Obstacle Race, & Litchfield Hills Triathlon and led our activity miles with 1,950! Wowza!

Amber's family ran for their Thanksgiving dinner in a Turkey Trot, and also rode for the Courage Classic Bike Tour supporting the Children's Hospital

Tyler crushed the Leadville Silver Rush 50 Mountain Bike Race
Incredible Goals for 2018:
Jeanie: Purchase an RV to start practicing for retirement!

Tyler: Bikepack the Blue Ridge Parkway

Kaitlin: Complete a trail marathon

Amber: Double last year's activity miles

Shea: Summit 14ers and explore more National Parks

Kate: Learn to code

Jordan: Get in another 70 days playing on a snowboard

ALee: Meditate, learn a new coding language, do more yoga, and climb at least 2 more mountains

Team Bluetent: Travel more!