Put your listings where travelers are searching
In a LinkedIn post in early February 2022, Amy Hinote of VRM Intel shared a graphic (included below) showing that, within the US, the percentage of direct bookings through professional vacation rental brands decreased between 2020 and 2021. During the same time period, the percentage of bookings through online travel agencies (OTAs) increased.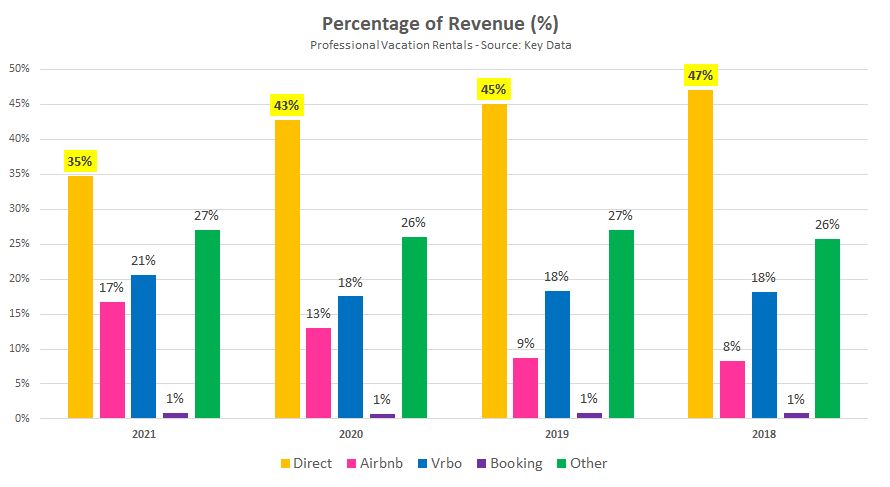 Citing findings from Key Data Dashboard, who reviewed percentages of overall revenue for US-based professional vacation rental bookings, Hinote's post detailed that direct bookings were down 19% year over year, bookings via Airbnb were up 29%, and bookings via Vrbo were up 17% (bookings via Booking.com remained steady).  
While your business may have had a different experience than Key Data Dashboard's findings — many Bluetent Insiders saw an increase in direct bookings in 2021 versus 2020 — the results still point to an important fact: modern vacation rental brands need to deploy a diverse booking strategy.  
The undeniable truth is that today's travelers look to OTAs. Why? Here are a couple reasons:
• OTAs are marketing to the masses! Travelers new to the idea of vacation rentals initially find out about the option via high-dollar marketing from the likes of Airbnb and Vrbo (Superbowl ads, even! And, the visibility garnered from spots like this one…).
• With ongoing concerns about lockdowns and closures, travelers choose OTAs because they are looking for more flexible cancellation and refund policies.
How do you capitalize on the continued growth and visibility of OTA listings?
• First, you need to put your properties where travelers are looking: While a modern, easy-to-navigate direct-booking website is key, also make sure your properties are visible on a variety of OTAs.
• Second, wow OTA guests with your expertise and service: Once an OTA guest arrives at your property, ensure they receive the very best your brand has to offer… and you'll earn a direct-booking guest for life.
Are you interested in learning more about the curated list of OTAs that Boost can connect you to?
Check out our OTA Tool Kit to learn more about your options.
Ready to pull the trigger and add channels to your Boost subscription?
Read our FAQ to find out how.
Want to chat about channel options? Or discuss strategies to turn OTA bookers into direct bookers for life?
Our experts are available! 
CONNECT WITH US