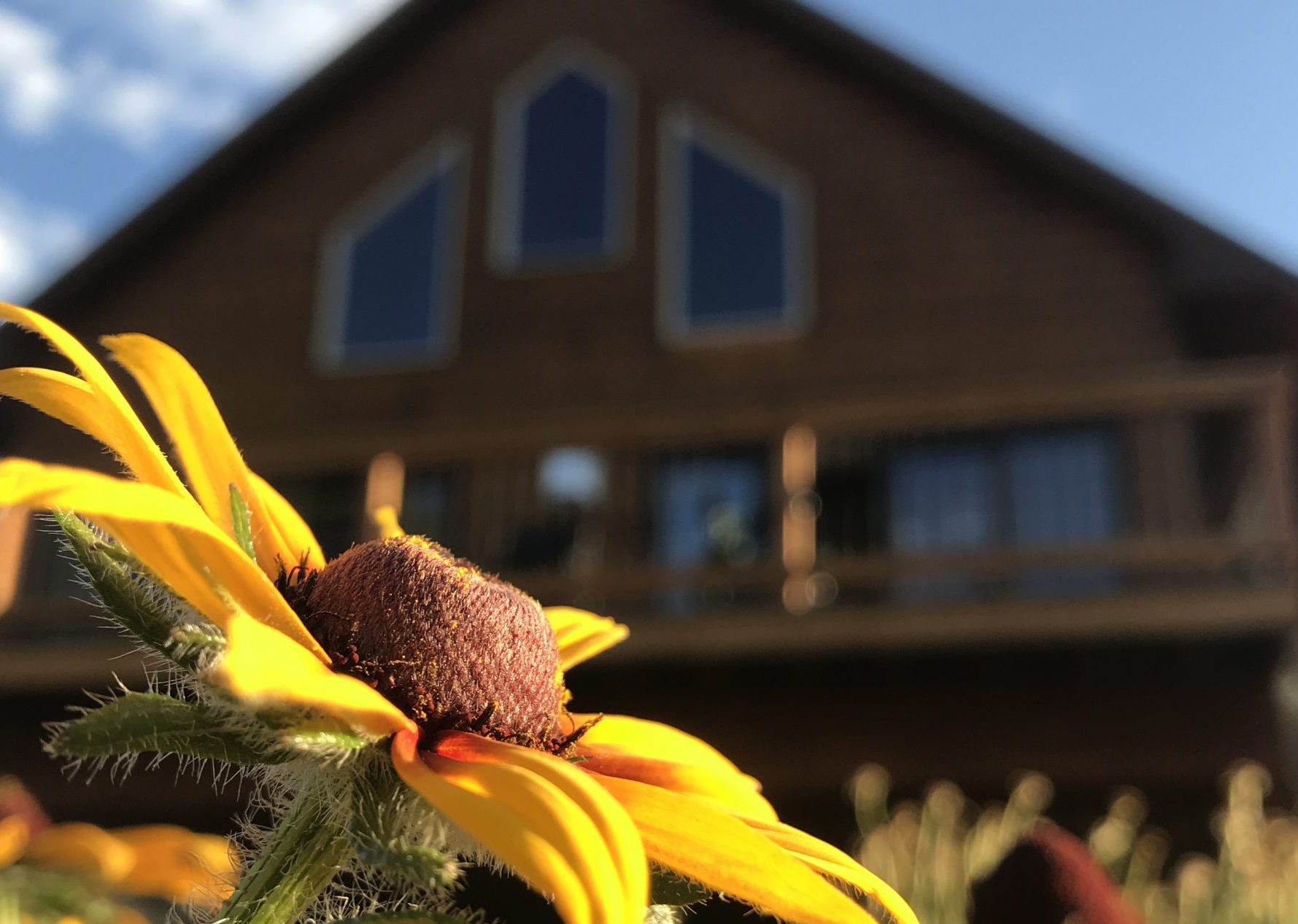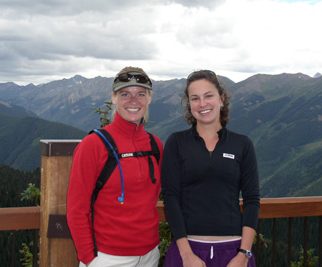 Our plan was a great one: in celebration of our 50th birthdays, Kate (my best friend for almost 20 years) and I would center a long weekend in Denver around a concert at Red Rocks. When, last February, pre-sale tickets became available for a Nathaniel Rateliff Red Rocks show in September, I blocked off time on my work calendar to go online and madly click the "buy tickets" link over and over, uninterrupted, until I secured two seats.

With our tickets reserved, we were set. Come mid-September, Kate would hop on a cheap flight to Denver from her home in South Carolina, I would drive three short hours on the I-70 to the Front Range, we'd meet up, high five, and ring in our 50s with style.   
Then, you know:
P
andemic.
Concert cancelled and plans dismantled, we spent the summer amusing each other by suggesting outlandish alternatives via late-night text messages. As the endless months of July and August wore on, Kate was introduced to a new acronym: SUTO. It turns out that SUTO (Scheduled Unpaid Time Off) is the new, palatable way to say furlough. Like other businesses around the globe, Kate's company was struggling to navigate the uncertain economy and decided to control expenses by mandating all employees take a week of SUTO in September.  
This wasn't great news, but it meant that our originally planned long weekend could potentially morph into a longer vacation. A few options emerged: 
OPTION 1: Kate still flies to Colorado, we spend a week or so hanging out at my house on the Western Slope. 
Pros:

Cheap! Comfortable!

Easy!

Unmatched

access to the beauty of Colorado!

Cons:

With a long list of

unfinished summer projects and

my at-home

workstation humming only steps away,

a

home-based

"staycation"

WOULD NOT

be a vacation for me.

AT ALL.

 
OPTION 2: We each pack up our cars and head out on America's highways and byways, merging at a center point —which happened to be the Lake of the Ozarks — for a break. 
Pros:

Jet skis

(it's

important

,

so I'll say it again: Jet skis!

)!

Dogs as copilots! Bring the family!

 

 

Cons:

Days of driving.

Not

exactly

inexpensive.

Complicated to add

more humans (and canines) to the mix. Lingering suspicions of all things "Ozark" after binge watching

all seasons of

the Netflix series.

 
OPTION 3: We call it off. 
Pros

:

None

.

Cons

:

A

most

discouraging thought during a pretty discouraging year. 

 
Enter Bluetent and Pagosa Vacation Rentals
My hopes waned and my spirit sank. As summer drew to a close, Colorado's Roaring Fork Valley (where I live) filled with smoke from multiple wildfires. Kate's dog Miss Moo was bitten (TWICE) by a Copperhead. Across the country protests and injustice divided communities, COVID cases spiked, and election-themed rhetoric amplified. "Getting away from it all" seemed increasingly necessary and increasingly impossible. But then …. I remembered my yearly vacation rental stipend: a nice chunk of change that Bluetent sets aside for each employee for use toward booking a vacation rental home managed by one of our clients.  
And just like that, an actual, literal, bona fide vacation getaway — a sorely needed break from 2020's barrage of anxiety, uncertainty, and stress — was something Kate and I could plan for.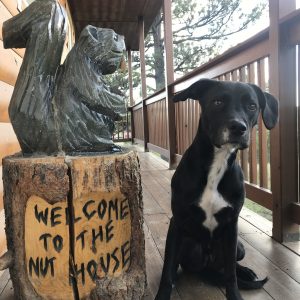 With the help Bluetent teammates Amber Trzcinski and Mallory Wallace, I started researching destinations. Pagosa Springs, a southern Colorado mountain town neither Kate nor I had visited previously, seemed like a beautiful, peaceful, welcoming locale. Amber and Mallory connected me with Jessica Schoenbaum, Reservations Manager of Pagosa Vacation Homes and she found the perfect rental that ticked all the boxes: semi-swanky (A+ master bathroom), peaceful, close to trail systems, and — best of all — pet friendly. 
Unplugged
Although on past adventures we'd bagged peaks and hiked ruins and danced all night, Kate and I knew we weren't ready for an event-packed, scheduled-down-to-the-minute vacation this time around. Both of us had been working remotely since March. Which, in Kate's case, meant getting work done while navigating the obstacle course of husband, two sons, and two dogs vying for her attention. In my case, my only distraction was my dog (Howard) and ongoing home renovations, but my workload had increased significantly. After six months of work from home, unplugging was our primary goal.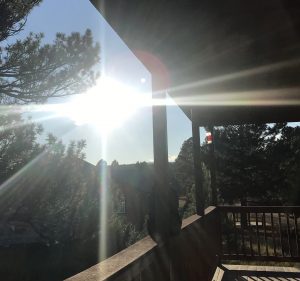 We kept our agenda light. Mornings were for sleeping in (me), drinking tea and watching the sunrise from the porch swing (Kate), and laughing over home-cooked breakfasts. Afternoons were for hikes with Howard — sometimes two a day! Of the many trail systems we explored near our rental home, the Coyote Hill Loops were the favorites we returned to. We cooked dinners at home, but also ordered take-out from Mountain Pizza & Taproom (excellent pizza and Caesar salad) and celebrated our 50th birthdays with a margarita toast on the balcony of Tequilas Mexican Restaurant overlooking the San Juan River.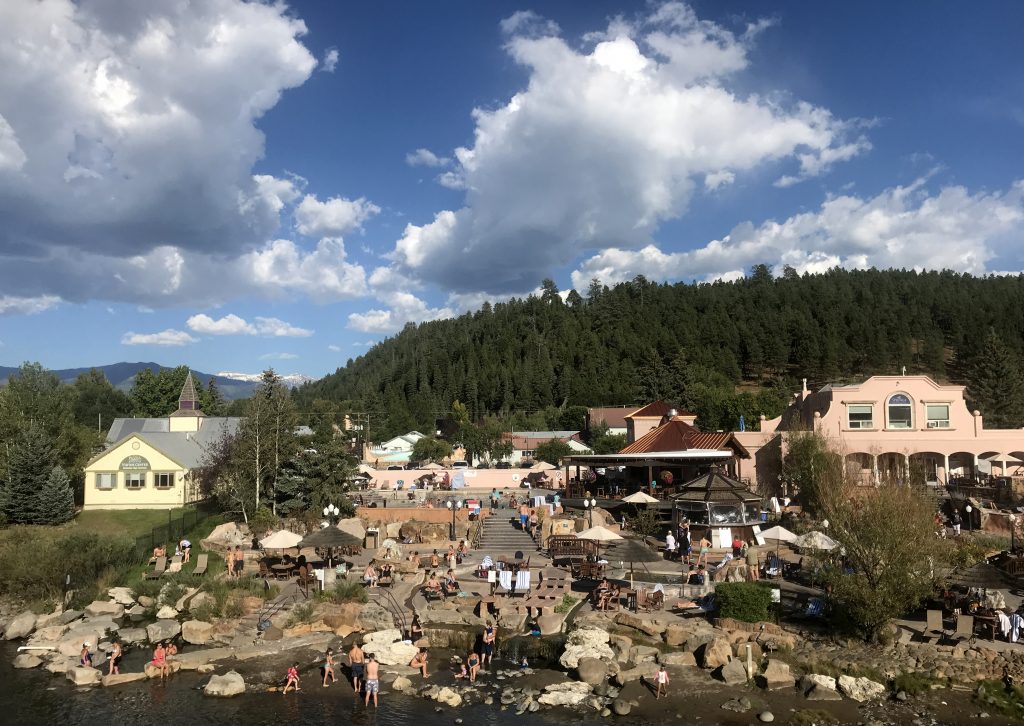 Getting into hot water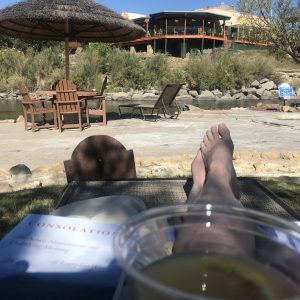 Although hesitant at first, we spent an incredible day at the The Springs Resort and Spa. After doing a bit of research, we felt comfortable with the social distancing measures the resort had in place. We also opted to visit on a weekday when crowds were considerably lighter.
That day I learned a fun fact about my old friend: Kate prefers to soak, almost exclusively, in the 109F+ water found in pools (aptly named) Lobster Pots. Although I have no scientific proof, I think that following Kate into the most ridiculously hot pools available was the key to finally burning away my months of stress and anxiety (the poolside mimosas probably helped, too).   
Reconnected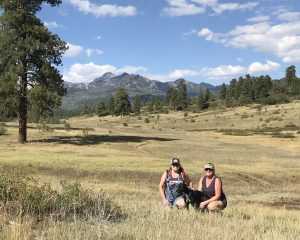 In the end, our Pagosa Springs mini break was exactly what the doctor ordered, Lobster Pots and all. Thanks to Bluetent, Pagosa Vacation Homes, and Kate's family (who lived without her for a whole entire week), we didn't so much "unplug" as "reconnect." To the solid feel of a trail beneath our feet, to the soothing power of (v. v. hot) natural hot springs, to the quiet beauty of sunsets viewed from Adirondack chairs, to our lifelong friendship, and to all the other things that matter most.