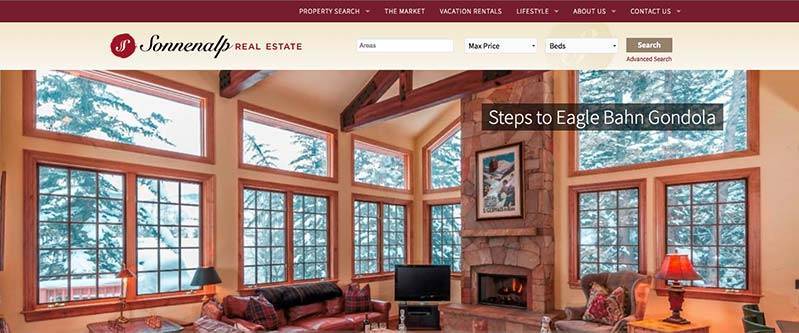 This month's Client Spotlight is Sonnealp Real Estate! A boutique real estate firm specializing in luxury properties in the Vail Valley. The firm consists of 19 brokers whose experience is second to none.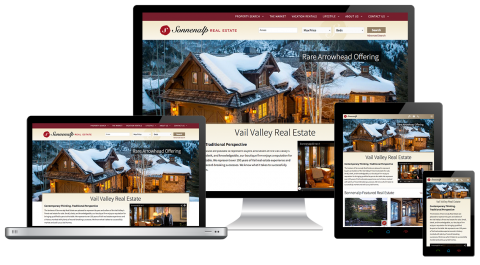 Over the past few months, SRE and Blue Tent worked together to launch the new sonnenalprealestate.com. The objective of the web project was to provide important business solutions for the SRE team and further their presence as one of the finest brokerages in the region. Highlights of the site include: responsive design, streamlined real estate property search, customizable broker pages and a luxury look & feel.
New Site Features: Sonnenalprealestate.com is full of robust, streamlined features!
Responsive design – optimized for mobile, tablet & desktop
Fast, easy to use MLS search
Streamlined search results pages – with large, small & map views
Search by map
Enticing Property details pages
Customizable Broker pages & navigation – bios, listings, contact
Request More Info forms – for properties & brokers that pass info about the property or broker of interest.
Instant property alerts
Quick view for new listings & recently reduced
Dedicated Fractional Ownership Pages
Vail Valley Events, Things to Do, Market Reports & Blog
Audience
Before we started the project, our team reviewed the site's performance and audience, so we could prioritize, develop & test based on real data considerations. For example, sonnenalprealestate.com has a higher than average adoption of mobile & tablet devices, particulary iOS users. From this information, we knew a responsive site was crucial and we needed to pay close attention to both mobile & tablet interactions. We also knew that we should focus testing efforts on Safari & iOS devices.
Additionally, we researched the type of users visiting the site so we could address their specific needs. For Sonnenalp, the users are primarily Buyers, Sellers or the brokerage team. Thus we considered the information they are interested in, we verified the most accessed content in Google Analytics, and we paid special attention to making this info readily available & easy to use.
Design Approach
The previous sonnenalprealestate.com was about 5 years old, thus one of our goals was to give it more of a modern feel while maintaining the high end, established branding. Our Creative Director, Tom Kenyon, worked closely with both the client and our development team to ensure that the highest branding standards were applied to the site. Additionally, we focused on developing top notch user interactions to provide streamlined functionality. As a result, the new site feels polished, professional and easy to use.
Process
We worked closely with the Sonnenalp Real Estate Owner, Josh Lautenberg, to achieve an iterative process that we call Feature Driven Development where we develop the highest priority features first to ensure the best use of budget and that exceed the client's business goals. The process requires extensive involvement from the client as we work together to identify priorities, develop, test features and make adjustments. This FDD project consisted of 5 sprints. We deployed the site during sprint 4 as the most important features were ready and we are now addressing lower priority/wishlist items in sprint 5. Stay tuned for new enhancements being released daily during sprint 5!
Congratulations to the Sonnenalp Real Estate team for a fantastic new website! Contact Blue Tent Marketing for your internet marketing needs.