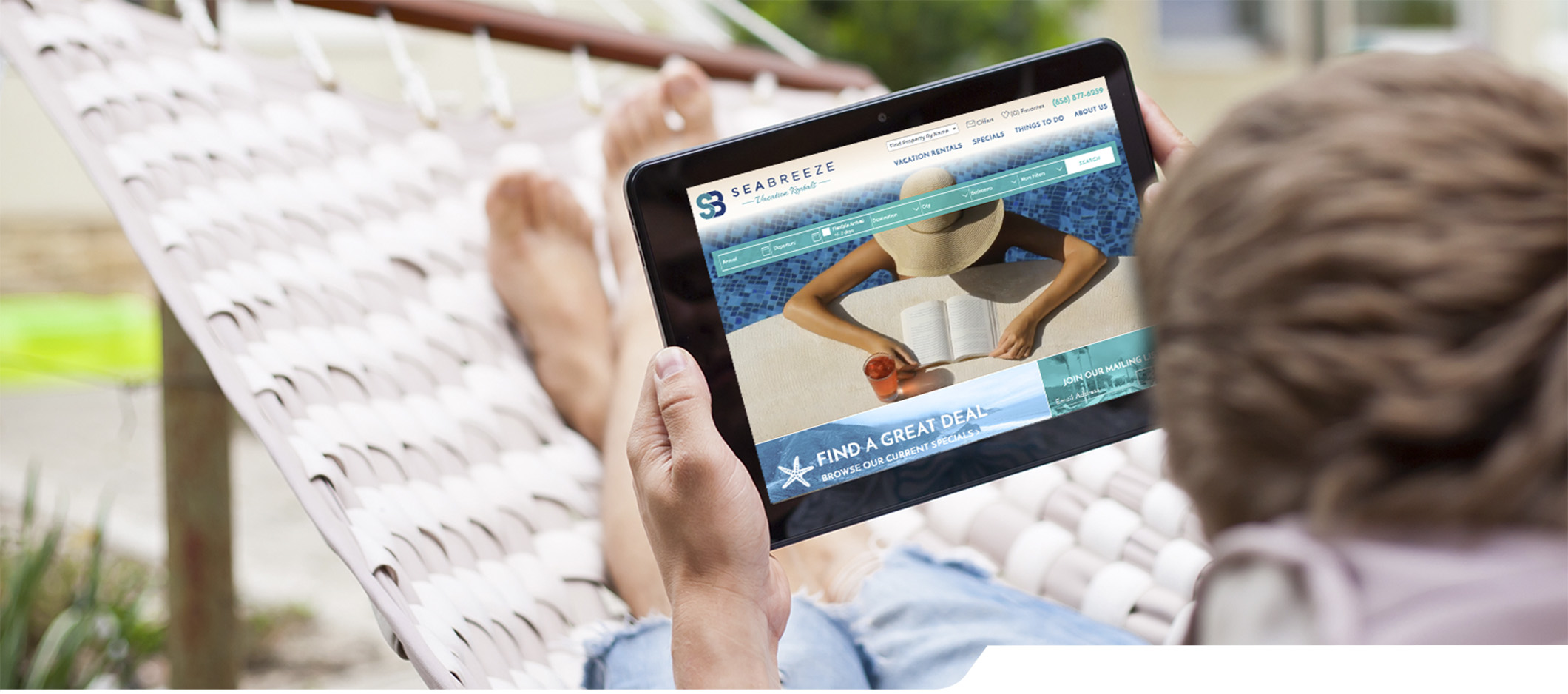 As marketers, we are always collaborating with clients to tell their story in a way that emotionally connects with users and ultimately turns one-time travelers into loyal guests. For many of us, helping clients communicate their authentic brand is an aspect that inspires and excites us most. We understand that each hospitality brand has their story to tell, and we are passionate to support our clients in delivering their voice.
For this reason, our team was elated to hear from one of our trusted partners in Southern California, Seabreeze Vacation Rentals, that they aspired to incorporate video and motion as one of the pillars to their new digital presence. The team at Seabreeze understands their travelers and their audience, and they had a vision that they truly brought to life.
Wendy Olson Killion, the Director of Product Management for Expedia Media Solutions said it best, "Travel Sites are highly functional and rational. But travel is personal and emotional." (Source: How Expedia Leveraged the Emotional Power of Travel Videos, ©TubularInsights.com, All Rights Reserved)
Seabreeze Vacation Rentals recognizes this challenge, and through collaboration with our development, design, and consulting teams, we created a user experience that provides best-in-class technology to drive conversions and online reservations by appealing to the emotional demands of their target users.
Built on Bluetent's travel commerce platform, Rezfusion, SeabreezeVacationRentals.com bears the features of an enterprise-level booking website while catering to their unique audience. A few additional key features of the site that further improve the user experience includes:
A date search that provides plenty of flexibility, allowing guests to plan a trip that works for their schedule

An intuitive search by area so guests may explore or jump to the seven diverse locations Seabreeze represents

Thoughtful Insights into Local Favorites and Upcoming Events
At this point, there is little performance data to report as the site launched on August 9th, but we look forward to sharing their growth throughout the coming months.

About Seabreeze Vacation Rentals:
One of the premier vacation rental managers in Southern California, Seabreeze Vacation Rentals came from humble beginnings with one property but has grown in a little under 15 years to represent more than 200 units. Their impressive growth is attributed to providing guests with an exceptional experience as well as building trusted and loyal relationships with each property owner. They are dedicated to providing the highest quality service, strong management, and loads of passion to professionally managing approximately 200 vacation rentals.