After an exciting few months, LandLeader.com launched a new website that is truly the premier resource for land sales nationwide. It was an exciting endeavor and one that took a lot of effort from both teams to bring to fruition.
Here is a quick recap of the project:
The challenge, which began back in fall of 2013 was to create an innovative, smart, website to showcase land, farm, recreational, ranch, and hunting properties for sale. A website that would appeal to buyers and sellers, brokers and brokerages from Hawaii to Maine. A website that would truly serve as an all encompassing resource for land sales in the United States.
The solution, which launched in April, is a fully responsive website, optimized for all screensizes. The site immediately captures users with striking photography and appeals to the beauty of land and real estate nationwide. Users have the ability to search for their dream property and when taken to the detail page they are provided impressive information including a detailed map and an impressive gallery of images. Additionally, the site allows partnered brokerages to add properties and update content as needed.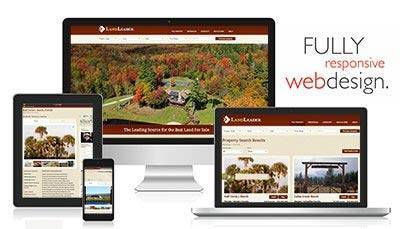 The website was built in a very interactive approach. LandLeader.com and Blue Tent worked tirelessly to identify priorities and features necessary for site launch and developed the site according to this list of initiatives. By doing so, the two partners were able to work together and stay flexible as needs and objectives changed throughout the project.
In addition to the website, LandLeader.com is launching a comprehensive marketing campaign which includes captivating videos, TV advertisements, print and magazine campaigns, an extensive search engine optimization and digital advertising strategy, as well as a robust email marketing program.
We are thrilled for the team at LandLeader.com and excited to watch their continued growth as a national resource for farm, ranch, land and recreational real estate.
If you have additional questions or wish to hear more about their approach, please reach out to marketing@bluetent.com.