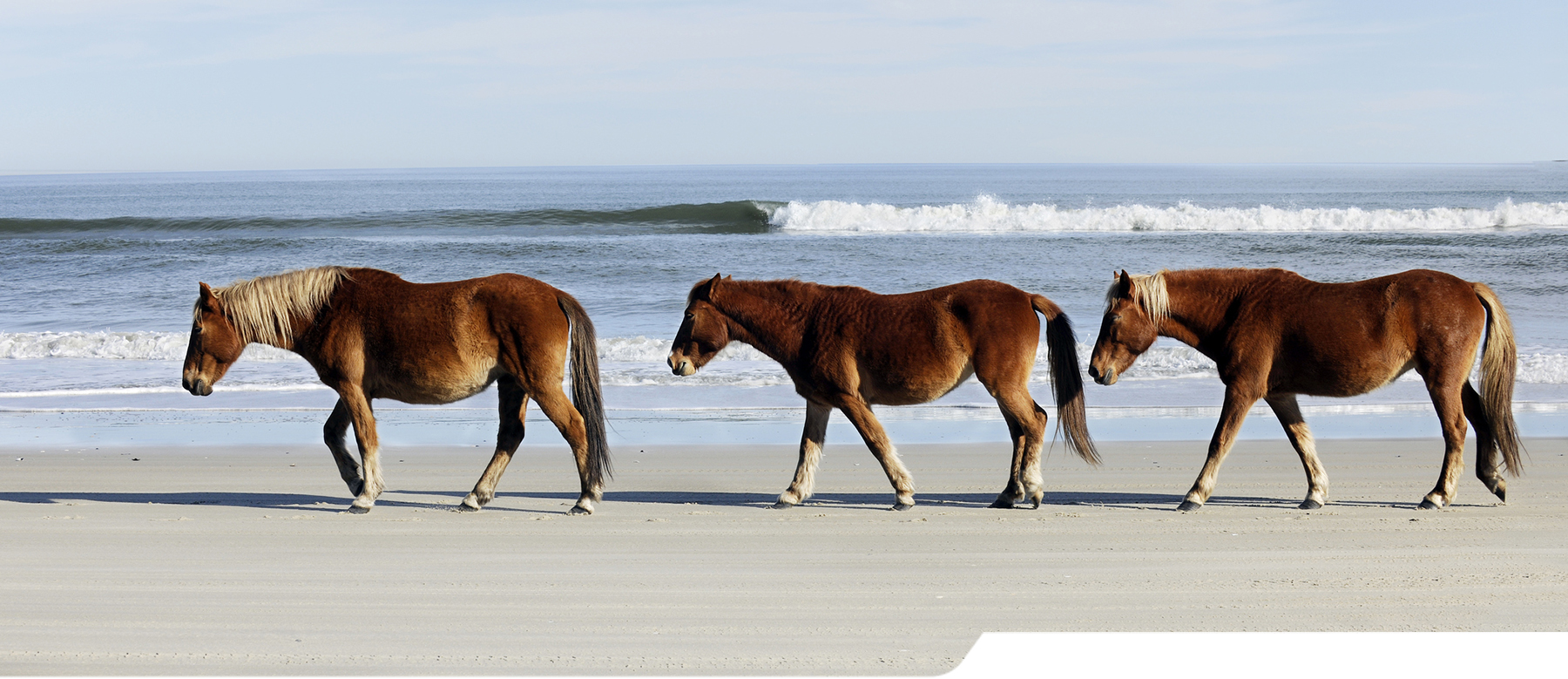 Located in the northern section of the Outer Banks of North Carolina, Corolla Classic Vacations has been a property management company exclusively to Corolla since 1990. They approached Bluetent to design an email and marketing strategy that would highlight a discount on their summer rental units and increase direct-bookings in less than a week. Bluetent used numerous components in Corolla's deck of marketing tools to design the perfect solution.
They achieved their goals with a flash sale email, an enhanced sharing tool, Sumo pop-up, a landing page, social content, as well as a booking abandonment tool. In less than a week, the strategy that encouraged travelers to book direct and save on their beach rental acquired:
65 transactions

30% of online revenue

The annual flash sale campaign increased 23% of year over year online revenue

The emails were the backbone of the sale, which provided the most information, the most relevant links, and were the driving force behind Corolla's customers completing the reservation. Bluetent used three emails for this flash sale, and each served a different yet important role in the process:
First Email – Intro to the Flash Sale

The email provides no featured properties but contributes the first sense of urgency. It went out 2 days before the sale started and there were numerous reservations from guests who wanted the discounted price to book their favorite Corolla beach rental.

There was a total of 14 reservations booked from the email, and most of them were completed before the sale even started, which raised 6% online revenue!

Also included in the email was a nifty countdown timer. It instilled a level of urgency and encouraged travelers to book.
Second Email – Announce the Start of the Flash Sale

This email announced that the flash sale had begun and provided numerous properties for guests to peruse. Corolla Classic Vacations chose 12 properties to highlight and give travelers a view of more of a catalog of discounted listings rather than an informational piece. An interesting finding was that email recipients clicked on properties towards the bottom of the page almost as often as the properties at the top. This showed that they were scrolling through the entire email and actively engaging with all of the content.

This email was the big money maker for the flash sale, bringing in an impressive 30 reservations and 15% online revenue in a matter of days!
Third Email – Flash Sale Ends Soon!

This email provided a final push for reservations. It explained that the flash sale would be ending soon and that travelers were running out of time to save as much as $2000 on their Corolla getaway!

This email brought in 11 reservations and 7% online revenue.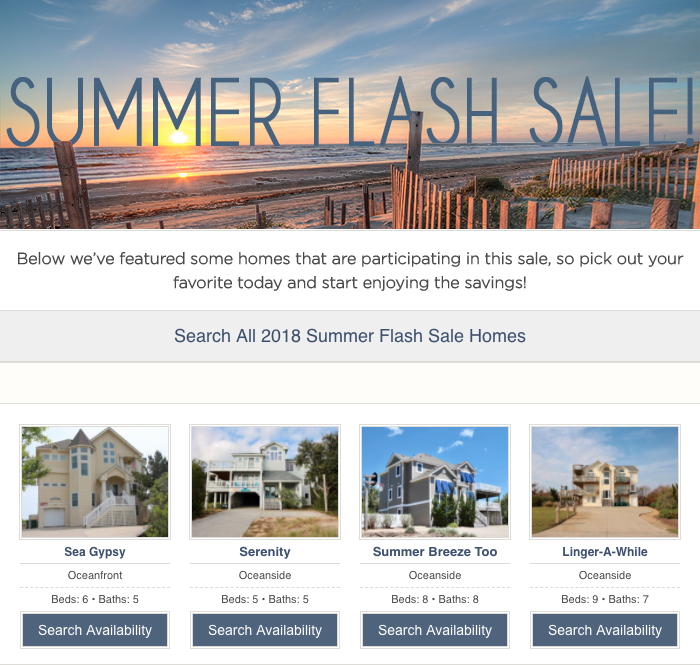 Very important to the success of the emails was the enhanced sharing tool. It was a convenient way for guests to share properties with friends and family while planning their vacation. It made picking the perfect vacation home incredibly easy.
During the sale, the enhanced sharing tool was used by Corolla's guests to share properties with one another almost 200 times and resulted in 7 reservations that acquired 5% in online revenue.
Leading up to the start of the sale, and in addition to the emails, Corolla Classic Vacations utilized Sumo's Pop-Up capabilities to build pop-ups for both mobile and desktop to announce the upcoming sale.
Similar to the emails, the pop-up had a countdown timer which announced the upcoming sale and provided urgency to complete a reservation.

This pop-up saw a conversion rate of 16.97%. It was an incredibly high conversion rate, as the average conversion rate across all industries is under 2% and usually it is even lower for the VR industry. A conversion rate of 16.97% was outstanding and speaks to the flash sale's compelling offer!
In order to direct travelers to their site, and rather than sending travelers to their vacation rentals page, Bluetent developed a landing page with specific information about the deal.
This reassured travelers that the sale was legitimate and they would save money with the promo code. Furthermore, Bluetent's website designs make it easy to include properties that qualify for a sale at the bottom of the page and is efficient for searching for properties.
Corolla Classic Vacations also scheduled social posts to go out at similar times as the emails with very similar messages. This created a whirlwind of excited comments as guests shared the post with friends and family and Corolla Classic Vacations received a number of comments from travelers who thanked them for saving money on their vacation. That's about the best review you can get!
The timing of the ads was crucial to the success of the sale. These appeared in the travelers' Facebook news feeds right around the time that the email hit their inboxes, providing a sense of urgency to book.
The final contributing aspect of the flash sale was the booking abandonment tool, which is an automated email tool provided by Bluetent.
Guests who close the booking window before completing their reservation receive an automated email that reminds them to finish their booking, plus gives one-click links to get back to the booking page with their personal information already filled out.

This tool attracted 2 bookings during the flash sale that raised 1% in online revenue.
Overall, the flash sale designed by Bluetent for Corolla Classic Vacations was very successful and achieved results beyond expectations. In all, Corolla efficiently increased direct-bookings and impressively escalated their revenue in only 6 days from this flash sale! Additionally, their results only include customers who booked directly from the email, so there is more revenue that is unaccounted for from Organic, Social, PPC, or Referal total revenues.
Email Marketing
Our award-winning email team focuses on captivating and engaging campaigns that connect with travelers on an emotional level and thereby drive measurable conversions and a high return on investment. They challenge clients to think creatively and strategically about each thoughtful message while applying best practices.