For Corolla Classic Vacations, their email marketing campaign evolved extensively over the past two years.  Working closely with Ryan Austin, Blue Tent email account manager, CCV has created a responsive template and campaign that delivers targeted messages optimized for all screensizes from smartphones to tablets to desktops.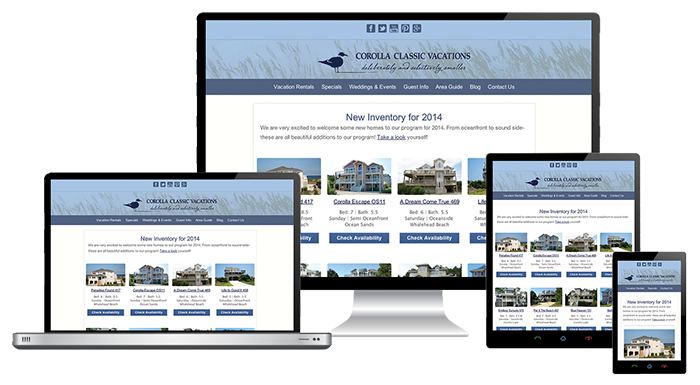 The CCV team is dedicated to providing owners and guests relevant, pertinent information, striking images, and a streamlined user experience.  Additionally, CCV and Blue Tent have integrated both social media and their website into the email campaign, creating a seamless, straightforward and welcoming engagement process for owners and guests.  For these reasons, coupled with a strong working relationship with Ryan, employing email best practices, the CCV team generated a campaign that grew to a 50:1 ROI over the past two years!
A few impressive occurrences from the email campaign:
Two subsequent flash sale messages accrued 29 online bookings each to a list of around 16.5K email addresses.

The overall unique open rate was 20%

The c2 year program generated 155 online bookings and an ROI of 50:1!
It is important to note, that Corolla Classic Vacations has taken a 360° approach to their online marketing.  In addition to their email marketing program, they built a robust, custom, responsive website with Blue Tent that provides onsite booking from every screensize and device.  They are actively engaged on multiple social media channels,  they focus heavily on search engine optimization, as well as a comprehensive pay per click advertising campaign.