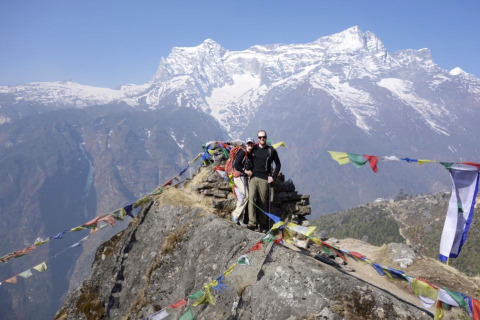 This month Blue Tent sat down with Brynn Flaherty, an SEO expert, strategic consultant and all around dominator in online marketing!
BTM: What's the last website you visited? 
BF: UsOpen.org – the most wonderful time of the year!
BTM: What did you do on your last vacation?
BF: Trekked to Everest Base Camp – trip of  a lifetime!
BTM: Items on Your Bucket list –
 BF: Just crossed off Nepal. Next on the bucket list, viewing an epic match at Wimbledon and a visit to Torres del Paine in Patagonia.
BTM: Favorite documentary –
BF: The Wild and Wonderful Whites of West Virginia. Amazing.
BTM: One sport you wish you had time for –
BF: Hockey, I've always wanted to play.
BTM: A secret clients should know about you (true or false) –
BF: I may or may not be able to whistle through my nose.
BTM: Favorite aspect of your role –
BF: Getting to work with clients from every part of the country that all have unique challenges and goals. And the fact that no day is ever the same!
BTM: One vice –
BF: Poutine – a Canadian dish of french fries smothered in brown gravy and cheese curds. What's not to love about that?
BTM: Favorite libation –
BF: IPA beer.
BTM: How do you use flex time?
BF: Hiking and powder days. Pray for snow!
BTM: If you could work remotely from anywhere, where would it be?
BF: An overwater hut in Bora Bora. But I probably wouldn't get much work done…
BTM: Favorite way to unwind –
BF: Yoga, spending time in nature, or listening to records.
BTM: Favorite place in the world –
BF: The backcountry surrounding the Roaring Fork Valley – this is paradise.