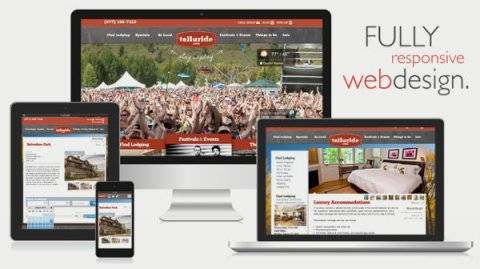 We're thrilled to announce the launch of the new telluride.com website!  The site features a responsive design, meaning that it is optimized for your phone, tablet & desktop.  26% of telluride.com's total traffic comes from tablet & mobile devices and with mobile traffic ever growing it is crucial to provide a user friendly experience for visitors on these devices.  The site also includes a stunning design & photography, many fun features and extensive content making it an authority on all things Telluride.  Most importantly, the site boasts one of Blue Tent's best booking experiences with property grouping, book by type, robust search result layouts and optimized checkout pages.
Visually Appealing & Fun Features:
The site is gorgeous.  Telluride, Colorado is a beautiful place and the telluride.com team is passionate about photography.  The site's design truly shows off the beauty of Telluride with an emphasis on photography throughout the site.  The homepage is a prime example with stunning page background images.
There are also a lot of fun features on the site that give it a local feel.  For example, the site's webcam allows you to check out real time what is going on in Telluride.  The Telluride weather is displayed on the homepage or you can check out the forecast page which features fun, appealing icons.  The telluride.com team can also create ads that appear in the sidebar thorughout the site to highlight their local partners and send them leads.
Community Hub:
The team at telluride.com did an excellent job on their content.  We've built a variety of tools to show off this wealth of information and make Telluride.com a hub for the community of Telluride.  First, Telluride is known as the festival capital of the world.  Thus, we placed an emphasis on the Festivals & Events content by giving them a main navigation item, featured place on the homepage and a section of the site with multiple categories of information that are searchable by date.  Second, there are a variety of things to do in telluride and when site visitors are interested in vacationing in Telluride, they want to know all about activities.  Similar to the festivals & events section of the site, we created a specific section for Things to Do in Telluride where users can browse everything from dining to hiking.  Additionally, the site features content about everything Telluride including history, directions, services, government, non-profit, etc.
Grouping, Book by Type & Search Results:
Telluride.com is the largest vacation rental provider in Telluride with 330+ units, thus its invaluable to present the large property inventory in a digestible fashion.  Many of these units are located within complexes but have different numbers of bedrooms.  Thus to streamline the booking experience, we grouped properties by complex and then by number of bedrooms.  You can see this grouping in both the search results and complex details pages.  We made the grouped units collapsed by default with an easy way for the user to expand and view individual units & their corresponding prices.  Some of telluride.com's inventory is similar enough that it can be grouped and subsequently booked by type.  Booking by type means you book a "hotel" or a "1 bedroom" type unit instead of unit #123.  You can even have a mix of book by type and book by specific unit number within a complex.  The best example of a complex with mixed units is Telluride.com's Mountainside Inn.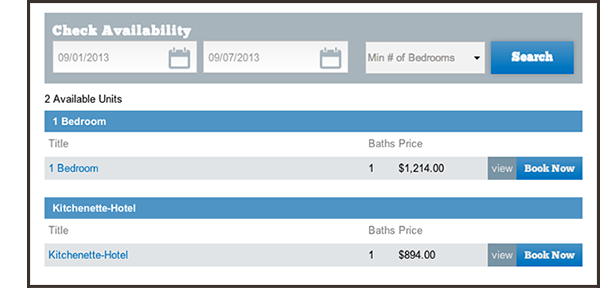 On mobile, we implemented an embedded datepicker that allows users to easily select arrival & departure dates by clicking on the corresponding days in the calendar with their fingers.  We've also hidden some of the less crucial data on search result displays allowing the user to focus on the important details.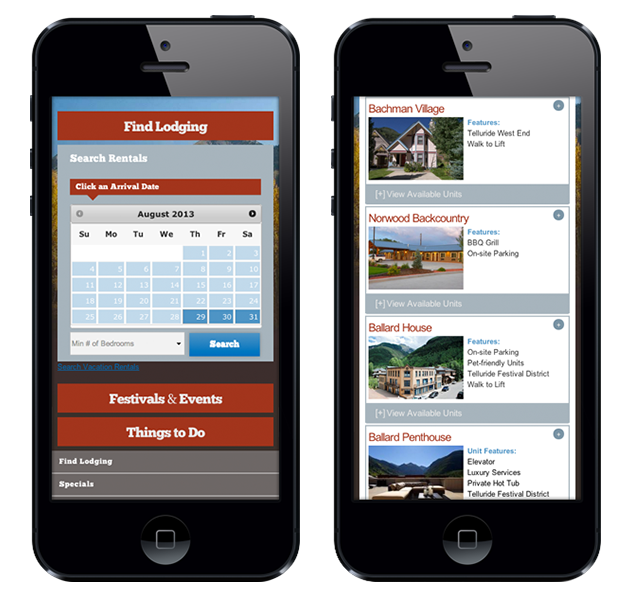 Checkout:
From the property details to the checkout page, the process is user friendly no matter your device.  The property details page highlights photos of the house, unit amenities, a google map including ski lifts & runs, and unit availability.  From the property details page you can enter a Promo Code for an active Special to get an updated discount price & summary of savings on the spot.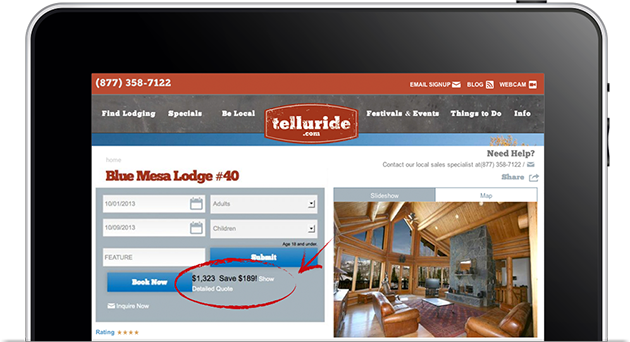 The checkout page is very clean and intuitive.  If a user has yet to enter their promo code, they can do so upon checkout and view their discount.  The checkout page allows visitors to buzz through booking with confidence.  We've condensed sections of the page like Terms & Conditions, contact & billing info, etc.  The checkout also displays the security certificate logo as well as several places where the user can request help during the process.
Featured Lodging Pages:
We created functionality that allows the telluride.com team to create specialized marketing pages like Luxury Rentals, Pet Friendly, Ski-in/Ski-out, Groups & Weddings that pull in relevant properties.  These pages are great for SEO and allow the telluride.com team to easily create landing pages for specific marketing needs.
Stay tuned for more!  There are a handful of enhancements planned for telluride.com including a Real Estate section that is scheduled to launch in a few weeks folllowed by a Photo Gallery and Meet the Team section.  Congratulations to the telluride.com team for a fantastic new website!
Contact Blue Tent Marketing for your internet marketing needs.