Our Product Manager, Matt Bredehoft, just wrapped up research and development of V1.0 of a new, awesome product.  Now find out how he likes to unwind (usually w/ his fly rod in tow)!
BTM: What's on your bucket list?
Explore all over Asia
Heli fly fish for monster Brown Trout in New Zealand
Go to a Barcelona vs Real Madrid soccer game at the Camp Nou
Skydive
Fly fish a Salmon fly hatch thorugh the black canyon
BTM: One lesson from childhood you still live by today…
Women make you weak.
BTM: What's the last website you visited?
BTM: Do you have any publications or blogs you read on a daily basis?
BTM: Where did you spend your last vacation?
I went camping with my family near Cameron Pass in the Rocky Mountains.  Did some hiking and fishing.
BTM: What books are on your nightstand?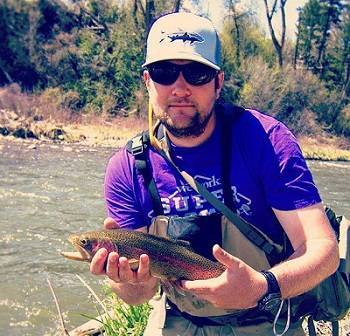 Lone Survivor
American Sniper
The Scavenger's Guide to Haute Cuisine
Hatch Guide for Western Streams
BTM: Favorite documentary?
Project X
BTM: You would never leave home without?
My fly rod.
BTM: What's for dinner tonight?
What's cooking at Whole Foods?
BTM: One sport you wish you had time for…
Golf
BTM: A secret clients should know about you (true or false).
I look most of our clients up on LinkedIn.
BTM: What's your day to day routine at Blue Tent?
Make Tea (Jasmin preferred)
Catch up on email (Ethan is always working late)
Look at my calendar and plan my day.
Kick some butt.
BTM: Favorite aspect of your role.
Peter Scott keeps me on my toes.
BTM: If you could work remotely from anywhere, where would it be?
Probably in Fort Collins where I spend most of my flex time.
BTM: Favorite way to unwind?
Fly fishing on the Roaring Fork.
BTM: Favorite libation?
I love tequila. Tequila soda with lime.
BTM: How do you use flex time?
To drive to Fort Collins to see my lovely family.
BTM: If you could meet one person, past, present or future, who would it be?
Past: John Wayne
Present: The Most Interesting Man in the World
Future: Ryan Gosling (My Man Crush)
BTM: Favorite place in the world?
Rocky Mountains
BTM: Three words coworkers would use to describe you?
Fun, attentive, gross
BTM: Anylthing else you wish to spill?
Travis and I are not twins, despite how much we sound alike.