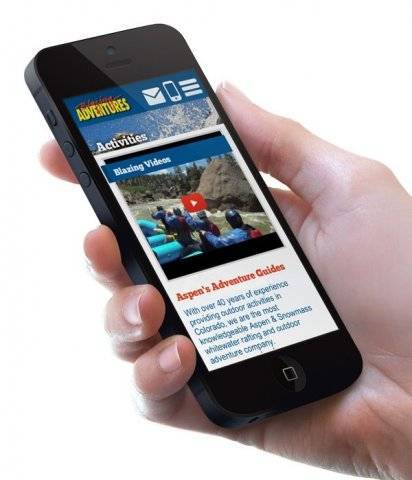 Last week, Blue Tent launched a new site for Blazing Adventures, a family-operated Aspen rafting and adventure company since 1973. This website is truly a game changer for the outdoor industry! In a tourism-rich town such as Aspen, catering to customers, hotels, resorts, and local businesses is essential for success. The new Blazing site places the user experience at the forefront and delivers a visually appealing, seamless progression of trip planning, sure to leave quite an impression on all visitors.
There are two aspects of the new Blazing website that really sets it apart as a trailblazer in the adventure industry. The first, is the online booking component. Users can easily book their trips on-site by searching for activities, selecting a trip, adding the trip to a shopping cart, and submitting payment. Aspen/Snowmass visitors can plan out and book activities and trips in advance, saving time and hassle when they get to town. Rafting is extremely dependent on snowmelt and river flow, thus the site and trips in particular need to be easily maintained and updated throughout the season. The Blazing team has full access to add/remove trips efficiently and effectively based on water levels, saving important time and resources internally.
Secondly, the site is responsive or mobile optimized for any screen size / device. When adventure seekers are planning vacations, they often do initial research on a tablet or smartphone for activities in the area. With a responsive site, customers are able to book online and have a positive experience, regardless of the size of device they are using.
In terms of design, the most essential aspect of online booking is captivating the audience and generating excitement. Blazing Adventures immediately charms users with high resolution, fun images of the adventures they offer. The design is based off what is most important for the guest experience. A few notable features include: a large call to action, featured activities / adventures, exciting videos, weather information, social media integration, connection to the gear shop, testimonials, detailed information on all trips, a striking photo gallery, information on all team members, and an evolving blog. The website also features ecommerce tracking, allowing the Blazing team to track online transactions and revenue through Google Analytics.
Blazing Adventure's website was developed after the completion of their updated sister website,Incline Ski. Incline Ski is also responsive and allows guests to book ski rentals and more on-site through an easy, streamlined experience.
If you would like to find out more about Blue Tent's website design/development process, notably responsive design or online booking functionality, please Contact Us today!