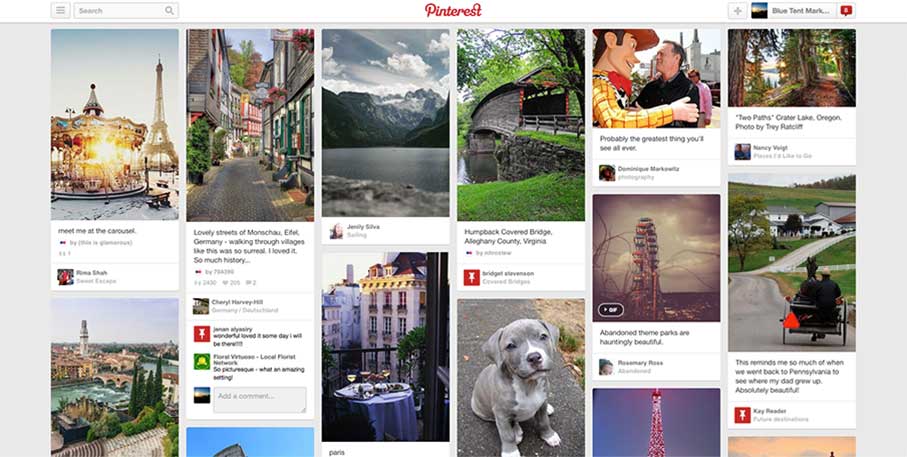 The news about Pinterest records came thick and fast for months: Pinterest has grown to more than 20 million users! Pinterest leads more visitors to business websites than Google+, LinkedIn and YouTube combined! Nineteen percent of all women in the U.S. are now on Pinterest! It seemed like this not-so-new-anymore social media platform, Pinterest, would continue to triumph. Then, just recently, a challenge started to rain on Pinterest's parade. Facebook tests its own "pinning" function, called collections. Will the social giant make Pinterest obsolete? Should my company still consider integrating it in our marketing mix? Is it a match for my business at all? Let us take a closer look at the popular platform and find out:
What is Pinterest? (You can skip this paragraph if you are familiar with it!)
Pinterest is a Social Media Platform, like Facebook and Twitter, with a focus on graphic content, that is pictures and videos. People share visual representations of their interests and organize those into categories, the so-called pinboards. The process of uploading pictures is thereby fairly simple. If users see a desirable image on a website, they simply push a button on their bookmarks bar and the picture is added "magically" to their Pinterest compilation. The social, and fun part, is the rummaging in friends pins, the commenting, and to make especially good pictures part of your own pinboards (repining).
The big chance for businesses is that all pictures link back to the website of their origin. For many, that means a fundamental increase in traffic to their website. Just recently, Pinterest outperformed Yahoo – referring more people to websites than the famous search engine!
Should your company use Pinterest?
The most successful early business adopters for Pinterest were retailers with visually attractive products, like apparel or jewelry. Due to a predominantly female user base, categories like weddings, food and kids' products were (and still are) highly popular. Your company is most likely suited for Pinterest if it has stunning visuals to share. Promising are all the above mentioned industries and additionally design, architecture, and travel.
One of our clients, SoCal Vacation Rentals – an early adopter of all things social – covers at least two of these categories and does a great job with their Pinterest presence. Their pinboards feature great shots of vacation rental properties and pictures that showcase the beauty of the area. But the company goes beyond. Other boards introduce pinners to nearby attractions such as amusement parks and museums, or they show inspirational quotes combined with beautiful maritime visuals.
Surely, you could say that a company like SoCal Vacation Rentals has done a pretty good job coming up with appealing content for their target audience. However, if you are in a service-based business or you don't have nice looking and unique products to feature, Pinterest can still be a win for you. You just need to be more creative. The magic question is how you can make your product or service fit into the lifestyle of your target audience? Try thinking along these lines:
What happens if people use your business or service? What changes for them? How do they feel? (And how does that look?)
Can you give your followers an insight into your work? Create pictures of the production process! Present a peek into your office! Give "backstage" access! Feature your employees!
Can you provide something useful? Visual how-to instructions are very popular on Pinterest.
Think laterally! Vacuum producer Oreck, for example, has a pinboard called "Furry Friends". It features cute pets! The collections description is simply "Four legs and all that fur bring lots of love and happiness… and mess…" Do I need to say more?
Here is what you should do:
Take some time and brainstorm your possibilities. Reason, if your target audiences will most likely be "pinners". There are countless statistics online about the current demographics on Pinterest. Here is a chart from Search Engine Journal. Consider if you have the resources to create regular quality content for Pinterest. If you do – and if you have some great ideas that you want to share, go for it! The sign up is free and, just recently, Pinterest even dropped their invite-only handling.Contact us if you'd like guidance and inspiration or need help with the initial setup.
One last, but important, thought for you: There is a way to profit from Pinterest's popularity, even if you decide that you don't have the resources to create your own profile right now. Simply start adding "Pin it" buttons to your website's content! Preferably you would place those close to the other social sharing tools such as the Facebook and Twitter buttons. The setup is not complicated and this small element will encourage people to pin your pictures to their profiles. Here's the deal: You don't necessarily need to maintain a Pinterest page in order to benefit from Pinterest! While our client, Railey Mountain Lake Vacations, does actively maintain a Pinterest profile, they have also installed "Pin it!" buttons on their property pages. People soon began to addpictures of the vacation villas and homes to their pinboardsnamed "Favorite Places," "Vacation Ideas" or "Wedding." That promotion is extremely personal and it is free!
Sources: forbes.com, econsultancy.com, socialfresh.com, techcrunch.com, searchenginejournal.com, hubspot.com