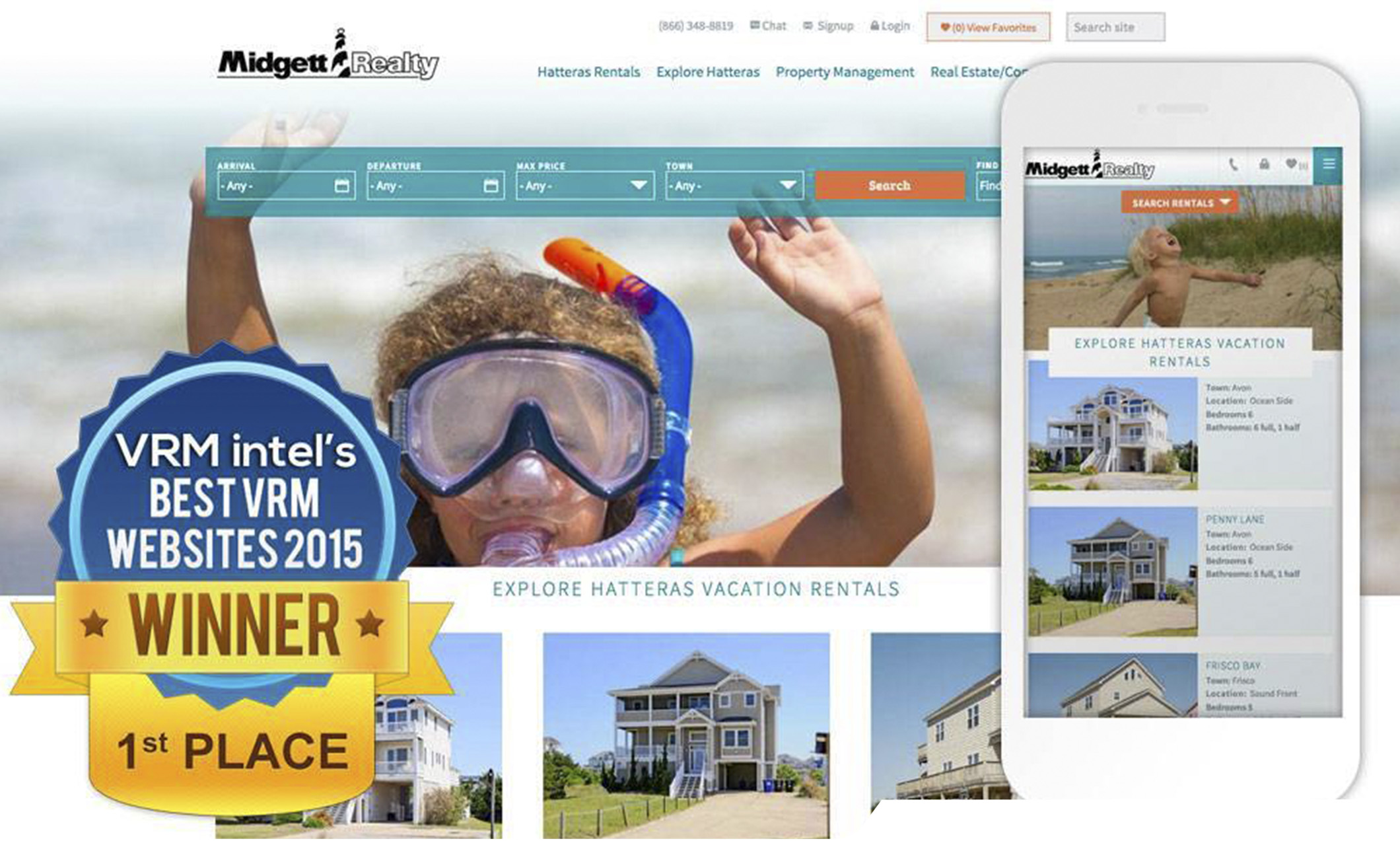 Midgett Realty, one of the premier vacation rental management and real estate companies in the Outer Banks, was selected as the No. 1 Best Vacation Rental Website of 2015, and Tybee Vacation Rentals, a full-service rental management company on Tybee Island, Georgia, was named No. 4. Both websites were designed and developed by Bluetent in partnership with the respective teams at both organizations.
For the first year, VRM intel recognized the top 5 vacation rental websites in the United States that demonstrate the best site performance, website features, user experience across multiple devices, and overall aesthetics. The complete list of The Best Websites of 2015 is featured online at http://www.vrmintel.com/best-vacation-rental-management-websites-of-2015/.
To find the best vacation rental websites, VRM intel conducted a comprehensive vetting process in partnership with a select group of industry leaders to assess more than two dozen nominees. The group was asked to review each site based on 20 articulated metrics related to site performance, the user experience, and design. The list represents the cream of the crop: websites that are dedicated to providing travelers a great experience and improving the overall vacation rental process, thereby strengthening the industry as a whole.
"The entire team at Bluetent is thrilled that two of our projects were recognized by VRM intel as The Best Websites of 2015. We truly appreciate working with both Midgett Realty and Tybee Vacation Rentals and look forward to continuing to grow as partners. I would also like to thank VRM intel for the recognition and their continued support of the industry." said Peter Scott, President of Bluetent. "I am always amazed at the people, work ethic, and quality our team provides for our clients and their success. This in turn creates a true partnership between our company and our clients, as well as an environment that fosters creativity, innovation, quality, and success, allowing us to keep pushing boundaries. This philosophy builds a true team, and we are honored to be recognized for this culture and success."
Bluetent is headquartered in the heart of the Rocky Mountains just outside of Aspen, Colo. As a leading digital agency, Bluetent specializes in engineering innovative marketing solutions, particularly in the vacation rental, tourism, resort, and hospitality industries.