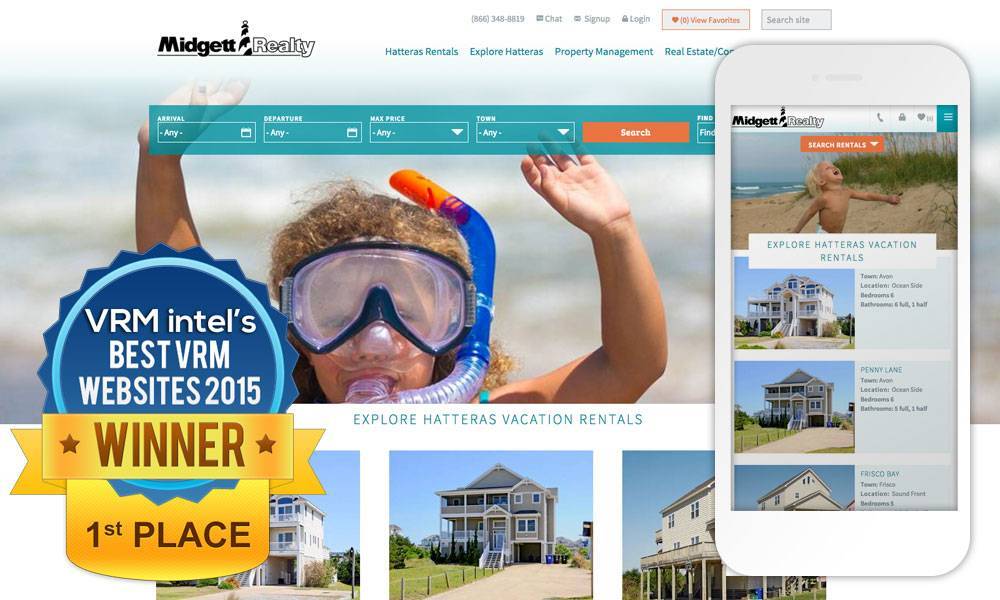 We are thrilled to announce that VRM Intel recently named www.midgetrealty.com the Best Vacation Rental Website of 2015. Midgett Realty is one of the premier vacation rental management companies in the Outer Banks and one of our long-standing, trusted clients. The winners were selected by industry leaders based on site performance, the traveler's experience, and design. We were proud to partner with the Midgett Team on such an important endeavor and even more proud that the project was recognized as the best of the best by VRM Intel. Here is a little background on how www.midgettrealty.com came to life.
In 2014 Midgett Realty and the Bluetent team, identified a substantial increase in mobile traffic. This realization solidified the decision to build a responsive website that provides an enhanced experience for an audience consisting of 25% smartphone users and 19% tablet users.
Midgett Realty's responsive redesign was extremely collaborative, consisting of weekly team meetings to review vital features that appropriately aligned with the client's business goals. This process created a living, breathing dialogue for feedback that was implemented in real-time to maximize efficiency, improve communication, increase transparency, and ultimately build the best vacation rental website available.
How'd We Do?
By focusing on a modern, responsive interface for travelers, mobile conversions vastly improved, as well as conversions on tablets and desktops. To measure performance, we looked at online metrics for the first 6 months the site was live compared to the same period from the previous year.
Desktop, tablet, and mobile bookings rose significantly as well as am impressive increase in the conversion rate
Overall booking revenue from the site is up as well
So when all said and done, everyone was and is elated with the results!
Feature Highlights
Below is a short list of features we deemed as high priority. When deploying a new site, one of the most significant concerns is retaining the SEO value built on the former site; thus it was crucial to migrate all content from the old site to the new and implement best practices to preserve the search engine real estate. With this in mind, we utilized their solid content across multiple features to maximize effectiveness.
1. Responsive Mobile User Interface – One of the biggest improvements of the new site is the mobile user interface. All navigation, searches, etc. were optimized for mobile.
Business Objectives Achieved: Within a couple months, revenue from mobile bookings is up significantly compared to the same period last year.
2. Content Migration Feature – The first task we tackled was to write migration scripts in order to import all existing content to the new site.
Business Objectives Achieved: We saved the Midgett Realty team months of time since they didn't have to manually migrate the 1000+ pages of content while also maintaining their strong SEO rankings.
3. Search Functionality Feature – Next priority was to establish the site's search functionality for both Vacation Rentals and Real Estate, with a primary focus on the user experience.
Business Objectives Achieved: Midgett Realty has 500+ vacation rental properties and 2,700+ real estate properties, thus one of our primary goals was to enable users to quickly narrow down results through a user-friendly search. We decided to use a faceted search that shows users counts of results next to each search criteria, for example, Oceanfront (143) so the user knows there are 143 Oceanfront properties to choose from. We built the search so a user can select multiple facets and continue seeing their results set narrow, without having to wait for the page to load after each selection. The user enters all their criteria, sees an accurate results count, and then hits apply filters when they are ready to view the properties that met their criteria.
4. Property Mapping Feature – Improving property mapping functionality,  including adding maps to the property detail pages, was another high priority.
Business Objectives Achieved: We improved the map view search results to display rate quotes, dates and give users the ability to go straight to the booking page from the map, which creates a seamless booking path that appeals to more visually inclined travelers. The addition of maps to the property detail pages allows users to see where a specific house is in relation to it's surroundings; a feature that is particularly important for large groups or families that want to book several houses near each other.
5. Content Organization, Display Enhancement & Landing Pages – Midgett Realty has created high-quality, search-engine-friendly, aesthetically pleasing landing pages that we wanted to organize and display in a streamlined manner. The pages are designed to specifically highlight various towns or home locations and also allows users to search within that landing page for related properties.
Business Objectives Achieved: By designing a template that allows the Midgett team to add multiple blocks of teaser images, text & links to a subpage (ex. Explore Hatteras Island) the team is able to present content in an enticing, digestible, easy to browse manner, especially on smaller devices.
6. Universal Favorites Feature – This allows users to add properties to their favorites directly from the search results.
Business Objectives Achieved: Users can add both vacation rental properties and real estate properties to the same favorites page so they can view them all together.