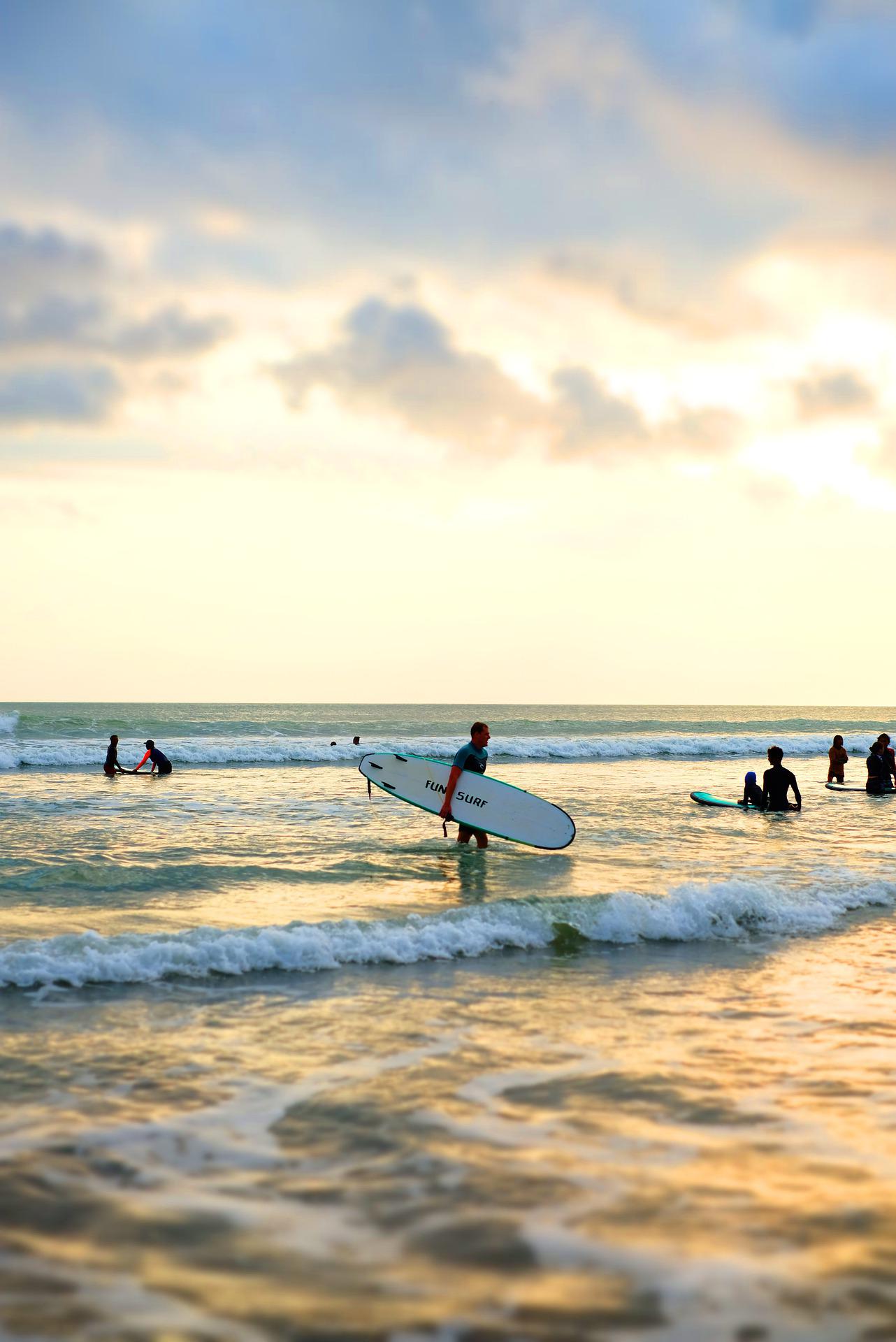 Vacation rental and travel marketing could have been seen as effortless over the last 24 months. The demand for travel has been at an all time high, the real estate market has been booming, and vacation rental managers might have felt that bookings have never been easier to get. But for those businesses who work tirelessly to be at the top of their market and beat out their competition – their marketing strategies never took a backseat and have been working around the clock to gain a larger share of the market. 
In the spring of 2022, US Travel reported that for the first time since the start of the COVID pandemic, travel spending ($100 billion) was 3% ABOVE 2019 levels. As peak season approaches, many of our vacation rental managers are seeing those statistics come to life:  their summer inventory is fully booked with more rental inventory hitting the market each day.
Regardless of whether you are fully booked for the summer or still working to fill last-minute availability, it's crucial to maintain your brand's presence in the market. What's a cost-effective and easy way to stay in front of travelers and drive last-minute bookings? Email marketing.  
Check out our suggestions below for the top five emails to send this summer.   
Engage with 

and 

retain 

your homeowners
by sending them a monthly e-new

s

letter.
The pandemic put a spotlight on the vacation rental industry. Now more than ever, it's essential to show your owners all the benefits of working with your company. Stay in touch with a regular e-newsletter and monthly reports to remind your owners why they trust you to manage their properties. The more you engage with owners, the more they see the value of your services. Send them a monthly, quarterly, or even yearly report including data showcasing how your management is promoting and caring for their properties.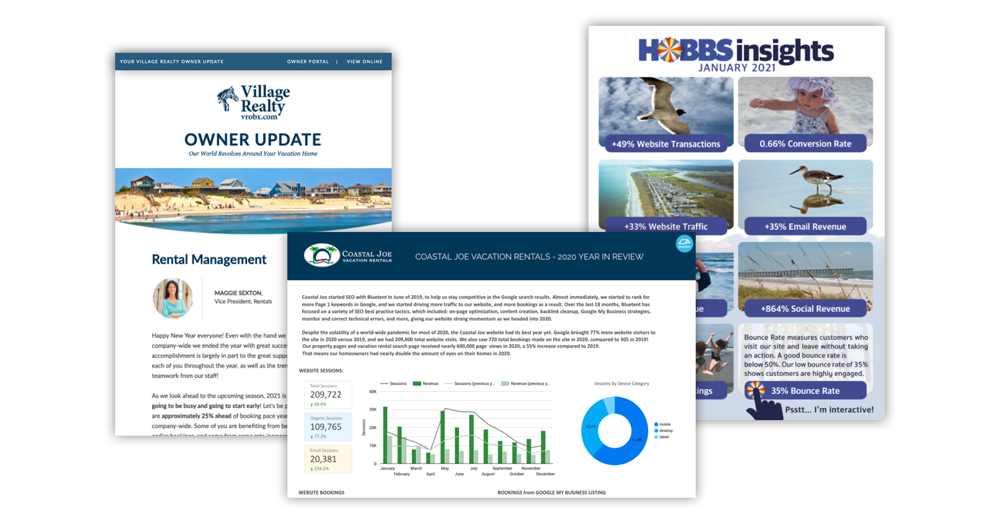 Develop an automated email marketing strategy to 

a

ttract

new owners

.
Our industry is not only attracting travelers, it's also attracting large entities interested in capitalizing on the popularity of vacation rentals. Have no doubt, those entities are actively courting your potential homeowners. When competing to add inventory to your portfolio, email communication is key — and automating your email communication makes it easy. Here's an example of an automated email journey for potential owners:  
Start by using a pop-up solution to capture leads on your website's owner acquisition page. 

 

Send a confirmation email immediately after you capture their 

email address

. 

 

Automate a series of education emails

, each one 

describing 

an aspect of your

 company's unique value. 

 

Bonus tip: 

have a sales program

 — one that 

invites

 owners to schedule a meeting —

 

r

eady

, then

 stop the autom

ated sends

 once a potential owner enters that program.  

 

Keep promoting 

your remaining

properties using a single call to action!
Most of our Insiders are booked for the summer, but what about generating interest in the small percentage of inventory you have left? In your emails, use "fear of missing out" messaging to help drive last-minute bookings. Keep these emails simple! Only include one call to action in your email content, ensuring that email openers have a single, direct path to your "book now" button.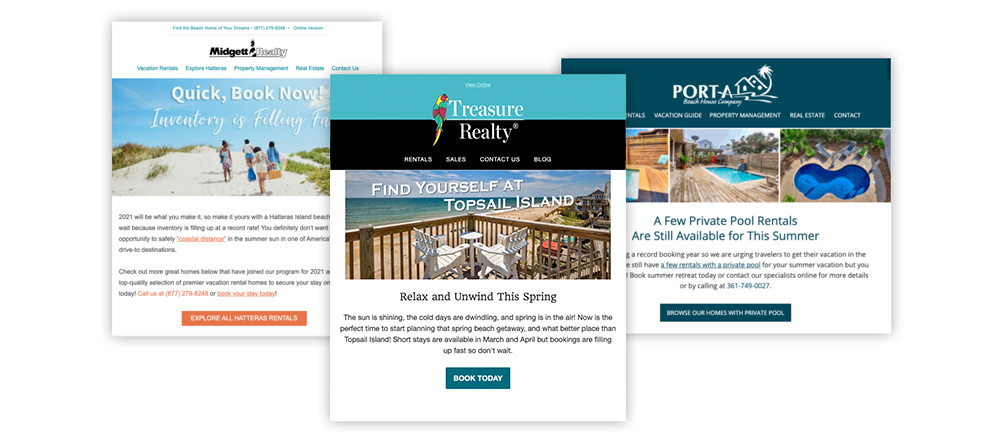 Showcase your vacation rental brand with inspirational marketing.
Send emails with meaningful and engaging content that not only educates and motivates, but also taps into the nostalgia of the traveler. Highlight local beauty and wildlife, run a photo contest, or even give the gift of travel. Keep travelers engaged by linking to web pages and blogs featuring fun facts about and things to do in your area! These emails might not be your primary revenue drivers, but they help to inform new guests about your area, inspire past guests to book again, and/or remind potential travelers to consider your beautiful location the next time they are looking for a trip.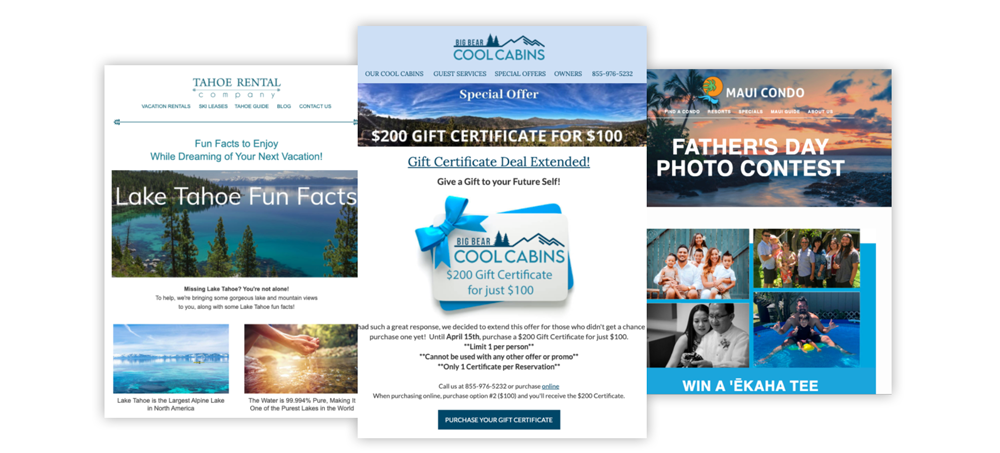 Think ahead: send emails promoting summer 

2023

.
This year, it's not too early to think about filling properties for your next summer high season!! Using the urgency created by the current sold-out (or almost sold-out!) summer, you can run email campaigns that promote "getting ahead" and "acting now" to book for summer 2023. Don't forget showcase your properties for this fall and holiday season, too.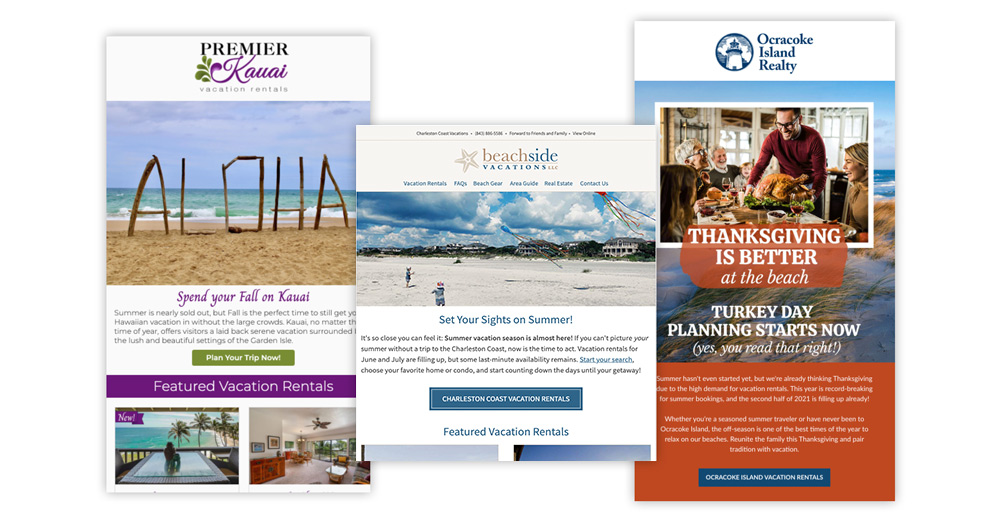 All in all, your best strategy this summer is to keep sending emails. From maintaining your brand presence with inspirational and educational messages to using direct calls to action to fill last-minute availability, email marketing is a simple and cost-effective way to get your brand in front of travelers. If you're interested in learning more about Bluetent's email marketing program or want to talk about strategy for your business, connect with our team today.