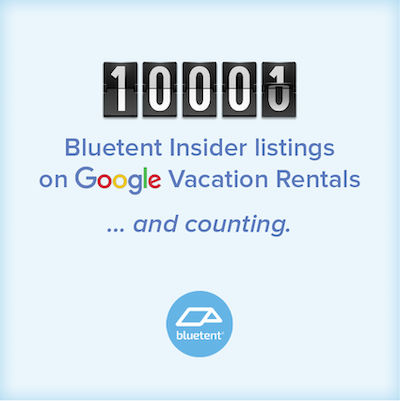 Ned Lucks, Chief Technology Officer at Bluetent, likes to say, "If you're not on the first page of the internet, you're not on the internet." He's right. With modern travelers becoming increasingly internet savvy — and accustomed to finding accurate information quickly and easily — ensuring that your brand appears on the first page of Google search results is more important than ever.
Fortunately for vacation rental companies, they now have three distinct opportunities to get their brand on that first page. "With a thoughtful, diverse marketing plan including digital advertising, SEO, and a connection to Google Vacation Rentals, it's entirely possible for a vacation rental brand to appear three times on the first page of Google search results," says Bluetent's Marketing Services Director, Brynn Flaherty, "and that's The Google Trifecta."
Why is this a big deal? Because Google is a big deal. According to recent statistics, it's estimated that more than 90% of internet searchers across the globe (and on every device) choose Google.
Google's commitment to providing quality search results has not only won a stunning market share, it's also influenced traveler behavior. If a traveler types "Hilton Head vacation rentals" into Google's search bar, they trust that they will immediately receive the most relevant, accurate results possible. On their search results page, our example traveler will see three categories of results. First, they'll see advertisements placed by vacation rental companies (known as paid results); second, a four-pack of local rental properties offered through the new Google Vacation Rentals feature; and third, links to vacation rental websites deemed most relevant by Google's powerful algorithms (dubbed organic results).
Senior Sales Executive Sam Campise, states, "The Google Trifecta is just another great example of how leveraging the entire digital ecosystem is key to success." Campise, who has worked at Bluetent for more than 14 years, has helped countless vacation rental companies benefit from his team's expertise, products, and services. "It all works together. You need a direct-booking website with a strong SEO strategy and great content so that you show up in Google organic results. You need a streamlined, deliberate digital advertising plan that targets your distinct markets and specific long-tail keywords so that you show up in Google paid results. And you need to put your listings where the majority of travelers are searching, which means listing with online travel agencies and now, Google Vacation Rentals," he says.
Bluetent's development team worked side by side with Google to develop a connection to Google Vacation Rentals via their channel management tool, Rezfusion Boost™. This pioneering partnership enables vacation rental companies to place their listings on Google Vacation Rentals through Boost™. "It's an exciting time," Flaherty states, "Right now, your competitor down the street can't just connect their properties to Google Vacation Rentals. There are really only a select few companies that offer a direct connection and Bluetent is honored to be one."
As the newest component of the Trifecta, Google Vacation Rentals is still relatively untested. Even so, it's poised to challenge the dominance of online marketplaces such as Airbnb and Booking.com. "The events of the last six months have shown vacation rental companies the value of retaining merchant of record status — keeping policies and rules within their control — and Google Vacation Rentals lets companies retain that authority," Product Sales Executive Matthew Pauls.
Campise adds, "It's not just another channel. When you access Google Vacation Rentals using Boost™, you take control of the booking much further upstream and you own your guest's information. It's your terms and conditions and your dedicated secure payment page."
While property managers signing on as early adopters of Google Vacation Rentals are taking a risk, it's a calculated one. If the success of Google Flights is any indicator, travelers will change their behavior and adopt Google Vacation Rentals. "Many of our clients see more than 50 or 60 percent of their website traffic coming in through Google organic results — which shows there's a large captive audience in Google. Travelers just need to become accustomed to seeing results in this form, like they did with Google Flights," Flaherty says.
One thing is certain, Google will continue refining their ability to deliver the best search results to their users. Flaherty sums up Bluetent's philosophy by saying, "Our team believes it's in a client's best interest to employ a diversified marketing strategy and keep adapting to ever-changing trends. Currently, utilizing all three components of The Google Trifecta — having visibility in the organic and paid Google search results in addition to listing on Google Vacation Rentals through Boost™ — positions vacation rental companies where travelers are searching and has the potential to drive maximum traffic to their website."
Are you ready to put the Google Trifecta to work for your business? Our experts are here to help, connect with us today!