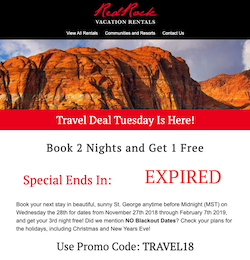 The end of the year is a prime time for email sends in every industry. While inboxes will be packed full of marketing messages, that doesn't mean you shouldn't add yours to the mix. It just means it's even more important for your email to stand out from the competition. To help, Bluetent's email marketing team has compiled five emails for you to send this fall.
Black Friday Emails: Not just for holiday gift shopping anymore! Black Friday emails can lead to  a huge number of bookings. We all know it's a busy day for inboxes, so how can you stand out? Consider sending a "preview" email to spark the excitement, followed by a Black Friday sale email. Suite Paradise employed this tactic – resulting in more than 30 bookings from two simple email sends.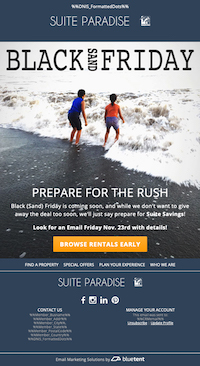 Cyber Monday Email: Recently Cyber Monday has edged out Black Friday as the consumers' choice for taking advantage of deals. Compliment your Black Friday email campaign with a final push to drive urgency. A subject line such as "Black Friday and Cyber Monday deals END TODAY!" often drives results. One Bluetent client saw more than $18,600 in email-driven revenue by using that subject line. 
BONUS: Capitalize on your travel brand by sending a "Travel Day Tuesday" email. Step up your email game by adding features such as a countdown timer to indicate when deals expire.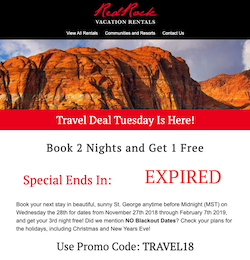 Thank You Email: An acknowledgment or a simple "thank you" email is an effective avenue to show guests you care, build authenticity, and encourage them to book a stay next year. With high open rates, these emails keep your brand at the forefront of guests' minds. Don't let them forget how much they loved your property — and how much you loved having them!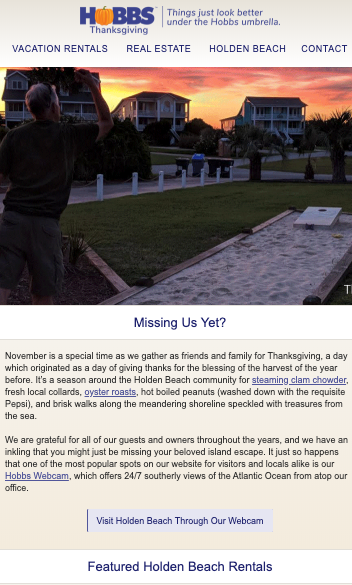 Rates Email: Now is the perfect time to create buzz around next year's rates and deals. By sending a rate mail, you can get your guests excited about their next vacation and to remind them you have plenty of available properties. Treasure Realty already implemented this email strategy, which directly resulted in 28 bookings and more than $170,000 in revenue.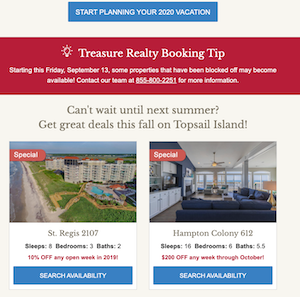 Holiday Email: Take advantage of the holiday season by encouraging guests to either give the gift of travel or sign up for a last-minute vacation themselves. If it's your slow time of year, a holiday email can be instrumental in filling last-minute availability. And if it's your busy time of year, you can showcase properties and experiences travelers won't want to miss.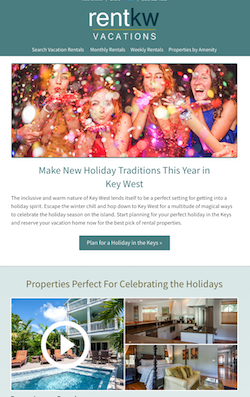 These top five emails worked  for our clients and we loved creating them. Tap into our email team's expertise — over 36 years of combined experience in the vacation rental industry — and get going on your fall email push. Contact your project manager to get started! Don't have an email strategy with Bluetent? Connect with our team to discuss your options.