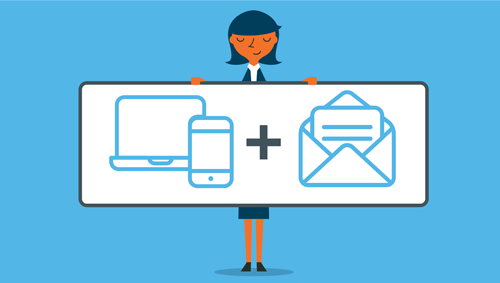 We've said it before, but it bears repeating: email marketing yields results. Data shows that for every dollar spent, email delivers a $44 ROI. When your email marketing strategy includes automation and segmentation, you can see even greater increases in revenue. According to Campaign Monitor (the email platform powering Bluetent's email services), adding automation to your email marketing generates 320% more revenue.
Combining the effectiveness of email marketing with a powerhouse direct booking website solution gives you a strategy that touches potential travelers at every stage of their vacation journey. Here are just a few ways that the functionality of a Bluetent's Rezfusion website  works in conjunction with email marketing efforts:
Adding "email opt-in" functionality — seen at the top of every one of your Rezfusion web pages — allows your vacation rental brand to capture email addresses from engaged potential travelers. When a traveler opts in, an automated, branded email is immediately sent to confirm their subscription.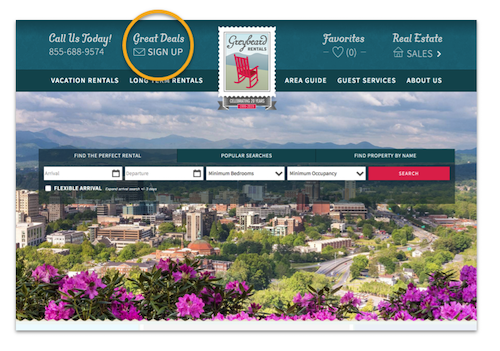 *Take your strategy a step further by installing a pop-up tool, which is effective ­­not only for capturing emails but also can offer promotions.
ENCOURAGE YOUR GUESTS TO SHARE
Rezfusion websites include features that make it easy for travelers to share, via email, their favorite properties with friends and family. With "My Favorites," your guests can send an email including results pages, grouped properties, and detail pages with their fellow travelers. And with "My Trips," your guests can send detailed price quotes on their final choices. These emails to friends and family are fully branded and customized. Even better, each email includes a subscription checkbox, allowing you to continue growing your contact list.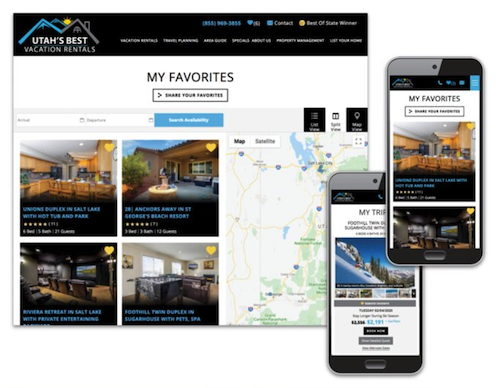 ENHANCE YOUR GUEST EMAILS
Automated stay-cycle emails create a seamless user experience, weaving your brand throughout the entire traveler journey.
Confirmation Emails: Forms completed on your website trigger a branded, customized, automated confirmation email – complete with a subscription opt-in check box.
Pre-arrival email campaigns: Fully automated with reservation integration, these emails increase guests' anticipation and excitement with timely and relevant information.
Post-stay email campaigns: Turn one-time visitors into lifelong guests with a booking anniversary email. Using previous booking data, you can create unique messages for specific travelers and highlight more reasons to book a return stay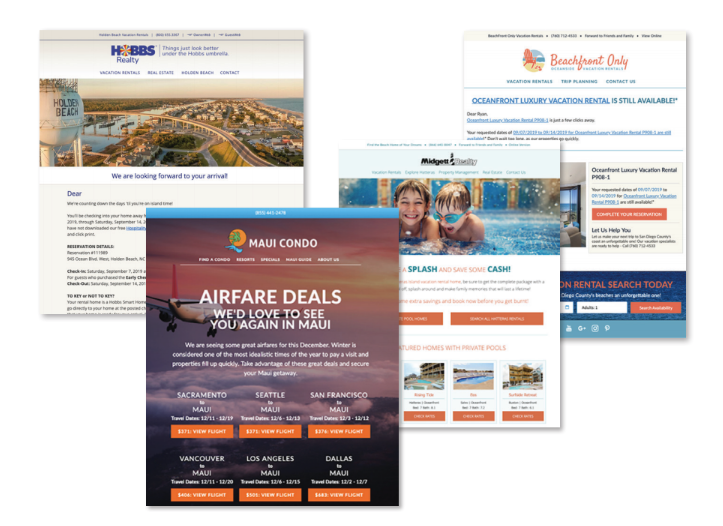 DON'T LET TRAVELERS ABANDON YOUR PROPERTIES
Research shows that 68% of all online shopping carts are abandoned before the customer completes their transaction. Rezfusion website functionality allows you to target travelers who left one of your properties in their "cart" by sending booking abandonment emails. These automated emails, with a "complete your reservation" message, include a button that takes them right back to checkout. It's a strategy that achieves results:
Average open rate of around 40%
Average click-through rate of around 35%
Highest Ecommerce Conversion Rate which is between 6.81% and 2.13%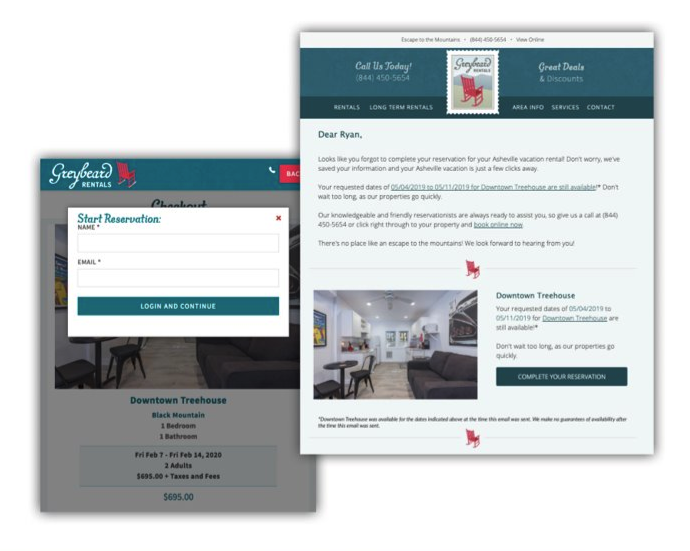 Interested in learning more about how Bluetent's email marketing services and Rezfusion website solutions can increase your direct bookings? Connect with our team today to learn more.
*And a special thanks to our Bluetent Insiders — Greybeard Rentals & Utah's Best — for their email examples!