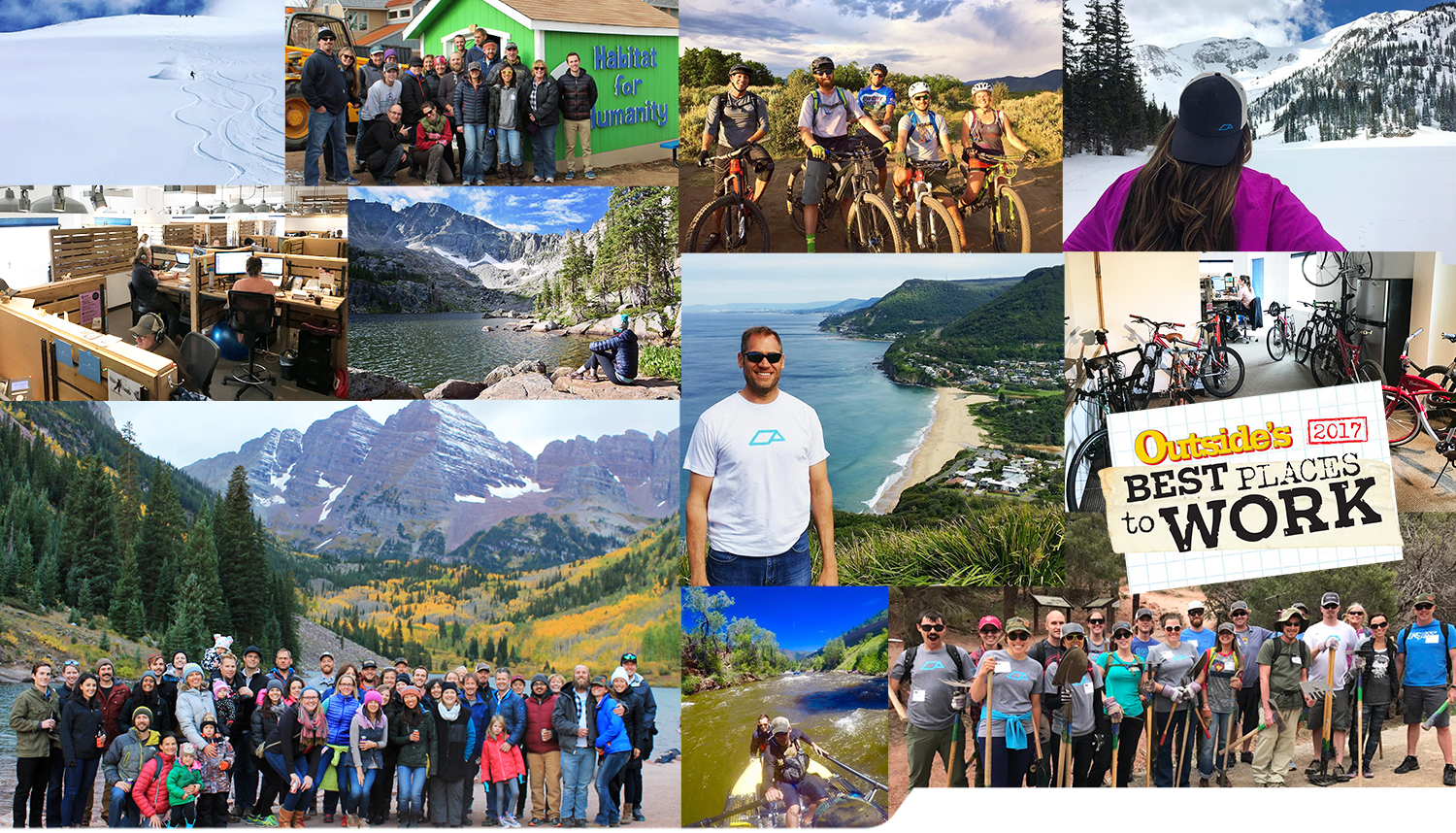 Carbondale, CO (November 7, 2017) – Bluetent was named No. 18 on OUTSIDE's Best Places to Work 2017, marking six consecutive years that Outside has selected Bluetent to their list. Not only are winning companies great workplaces for employees, but they respect the environment and encourage a balance between work and enjoying life in the great outdoors.
"We are thrilled and deeply honored to be recognized by Outside Magazine as a Best Place to Work for the 6th year in a row," said Peter Scott, President of Bluetent. "I often stand in awe of the people who make up our talented team. They are the backbone to our organization, and their passion, spirit, and grit have developed Bluetent into the agency that we are today. Together, we strive to foster creativity, innovation, and quality for our clients' continued success, as well as balance in our personal and professional lives. Thank you, Outside, for acknowledging our culture and team values."
"Companies from across the country entered a rigorous two-part survey process to make the winning list," said Jonah Ogles, Articles Editor at OUTSIDE Magazine. "The Best Companies Group evaluates each nominated company's workplace policies, practices, philosophy, systems, and demographics. There's also an employee survey to measure personal experience."
The winning companies are those that value productivity in combination with an active, eco-conscious lifestyle, for a fulfilling experience inside and outside the office. This is OUTSIDE's tenth year providing the Best Places to Work.
Bluetent's company culture extends beyond the perks that accompany living in the heart of the Colorado Rocky Mountains. As a digital agency, Bluetent's dynamic team shares core values including teamwork, passion, quality, courage, and work-life balance. Using these guiding principles, the team is committed to delivering innovative marketing strategies for their clients that inspire travelers and create long-term sustainable growth.
The complete list of OUTSIDE's Best Places to Work 2017 is available at OutsideOnline.com. For a list of past winners and for more information on the selection process, visit Bestplacestoworkoutside.com.
For more information on OUTSIDE's Best Places to Work 2017 or to schedule an interview with an editor, please contact Kailey McGarvey at kailey@rosengrouppr.com or 646.695.7046
##
ABOUT BLUETENT:
Bluetent is a digital agency specializing in the holiday rental, resort, and travel industries. We provide eCommerce solutions, strategy, design, development, search, email, advertising, social, and content services. Bluetent 's holiday rental and hospitality eCommerce platform, Rezfusion, will process over $300 million in direct online reservations in 2017, and it currently supports 175+ hospitality businesses and holiday rental providers. The customizable platform fully integrates with leading property management software, is built on a leading content management platform, is PCI compliant, and delivers a cutting-edge user experience designed to motivate users to book. With a growing team of more than 67 individuals and a 5-time Outside Magazine Best Place to Work, Bluetent is driven to create comprehensive, successful, online marketing strategies and generate sustainable growth for our clients.
ABOUT OUTSIDE:
OUTSIDE is America's leading active lifestyle brand. Since 1977, OUTSIDE has covered travel, sports, adventure, health, and fitness, as well as the personalities, the environment, and the style and culture of the world Outside. The OUTSIDE family includes OUTSIDE magazine, the only magazine to win three consecutive National Magazine Awards for General Excellence, The Outside Buyer's Guides, Outside Online, the Outside Podcast, Outside Television, Outside Events, Outside+ for the iPad, Outside tablet edition, Outside Books, and Outside GO, a revolutionary, 21st-century adventure-travel company. Connect with OUTSIDE online, on Facebook, Twitter, Instagram and Pinterest.
ABOUT THE BEST COMPANIES GROUP:
Best Companies Group works with national and local partners around the country and internationally to establish and manage "Best Places to Work," "Best Companies," and "Best Employers" programs on a national, statewide, regional and industry basis. Through its thorough workplace assessment, utilizing employer questionnaires and employee-satisfaction surveys, BCG identifies and recognizes companies who have been successful in creating and maintaining workplace excellence.