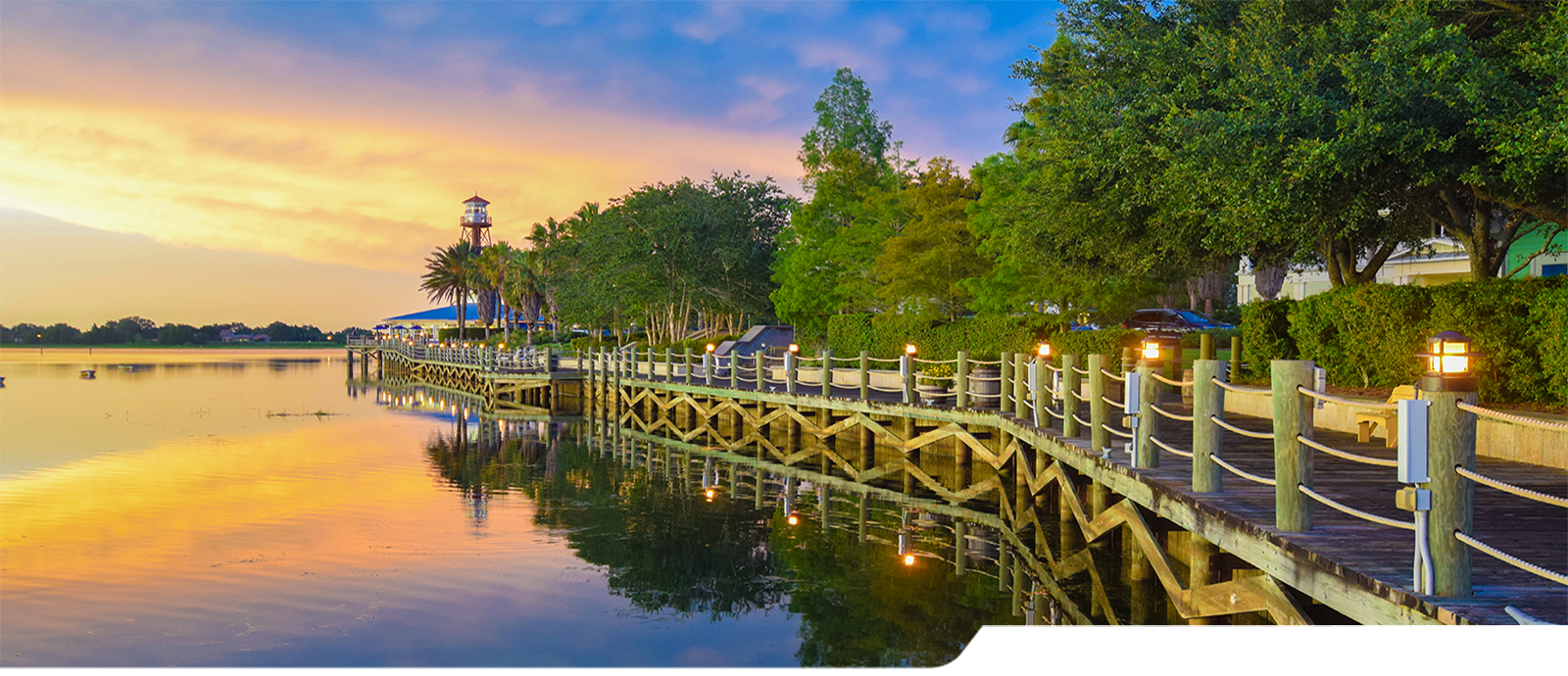 Excellent Vacation Homes is a family owned property management company based in Orlando, near Florida's famous resorts and theme parks. They manage 27 properties in one of the most competitive vacation rental markets in the United States. Yet, with Bluetent's recurring SEO strategy, they saw an exponential increase in site traffic and landed on the first page of Google alongside big names like Airbnb, VRBO, and TripAdvisor.

To enhance their content, plus sharpen their search result rankings, Excellent Vacation Homes kicked off a recurring SEO engagement with Bluetent.

Excellent Vacation Homes' goals were to improve their online presence and gain more direct transactions. With Bluetent, they focused specifically oncreating quality content, as well as optimizing landing pages for long-tail keywords. Considering that travelers who visit Orlando often want a their own pool, Excellent Vacation Homes developed a strategy aimed at guests who are searching for homes with pools.

At first, organic growth was gradual, but soon, Google began featuring Excellent Vacation Homes on its first page for relevant transactional queries.

Here are two examples of a "Featured Snippet" that Excellent Vacation Homes ranks for, right next to ads for Airbnb and VRBO. Here are results for:orlando rentals with pool.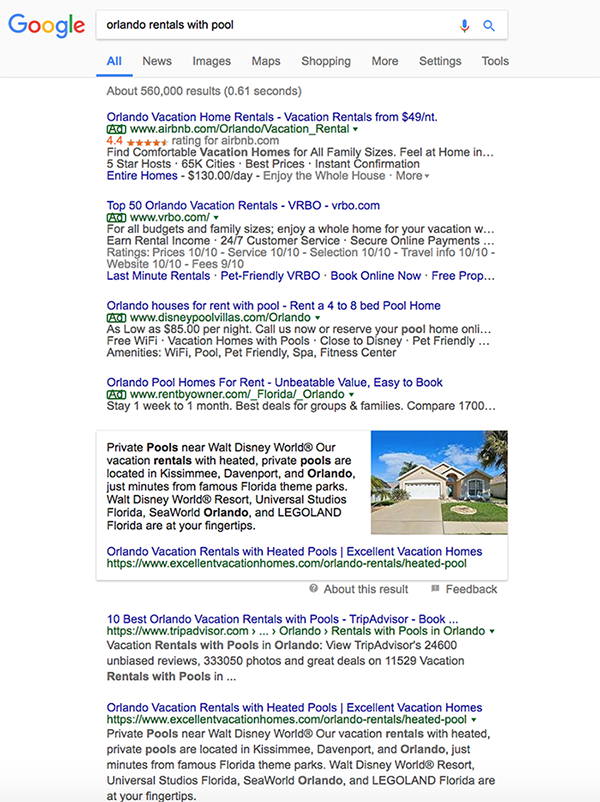 The following page displays the particular search, orlando vacation rentals with private pool. Excellent Vacation Homes ranks highly in organic results, which has also improved the visibility of the Excellent Vacation Homes Google My Business page.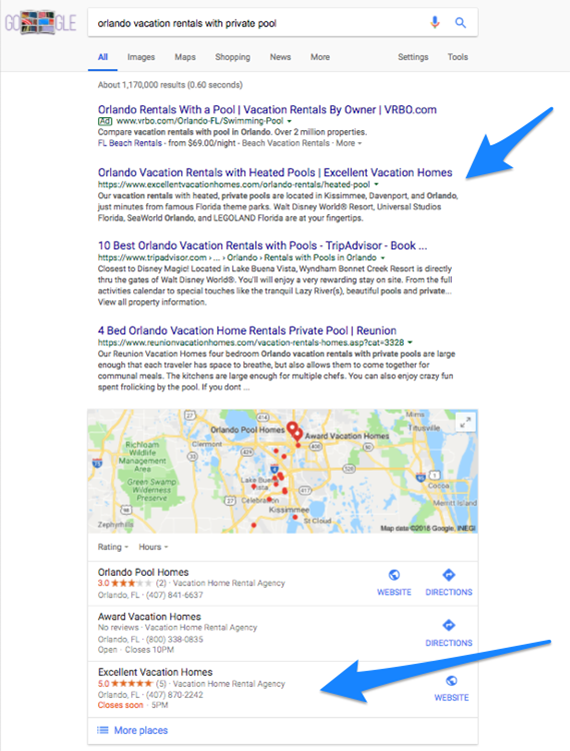 Since they began their SEO engagement, Excellent Vacation Homes saw an exponential increase in site traffic from Google Organic Search. This is exhibited in the following year over year comparisons of their Google Organic performance and their Google Organic performance of particular landing pages.

Here is their year over year comparison for their Google Organic Performance: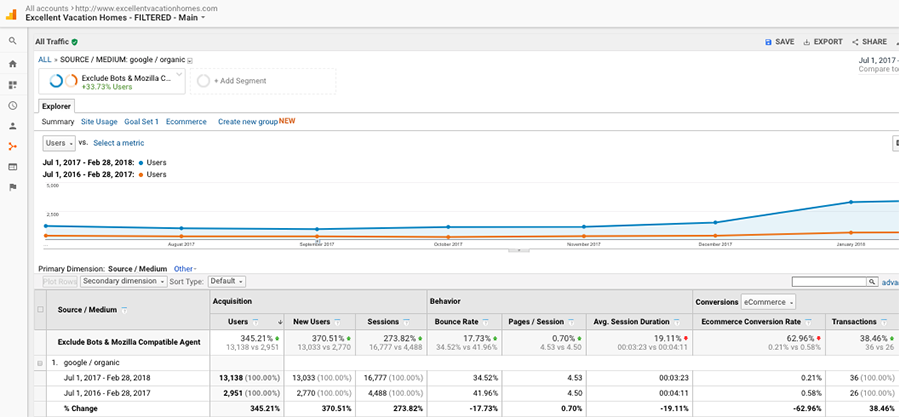 Here is their Google Organic Landing Page Performance: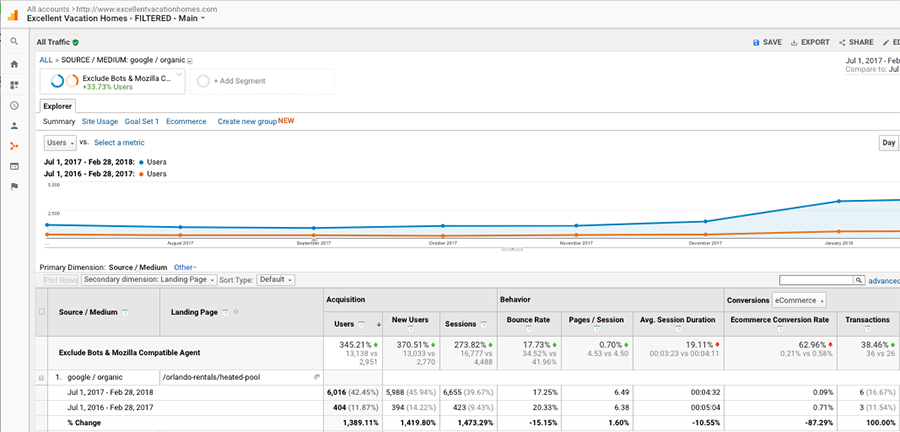 With their recurring SEO engagement strategy, Excellent Vacation Homes developed their content, optimized long-tail keywords, and improved their visibility on Google. By ranking very well for many transactional and informational queries, they have significantly increased the year over year performance of their website with increased traffic, transactions and revenue.
####

Bluetent Digital Marketing Services
Bluetent offers innovative, captivating, and multi-channel marketing services for professional managers that are designed to reach travelers, inspire guests, and attract new owners. Our team of more than 70+ eCommerce experts guide strategies in all facets of digital marketing including email, social, SEO, digital advertising, content, brand storytelling, rich media, and conversion rate optimization.