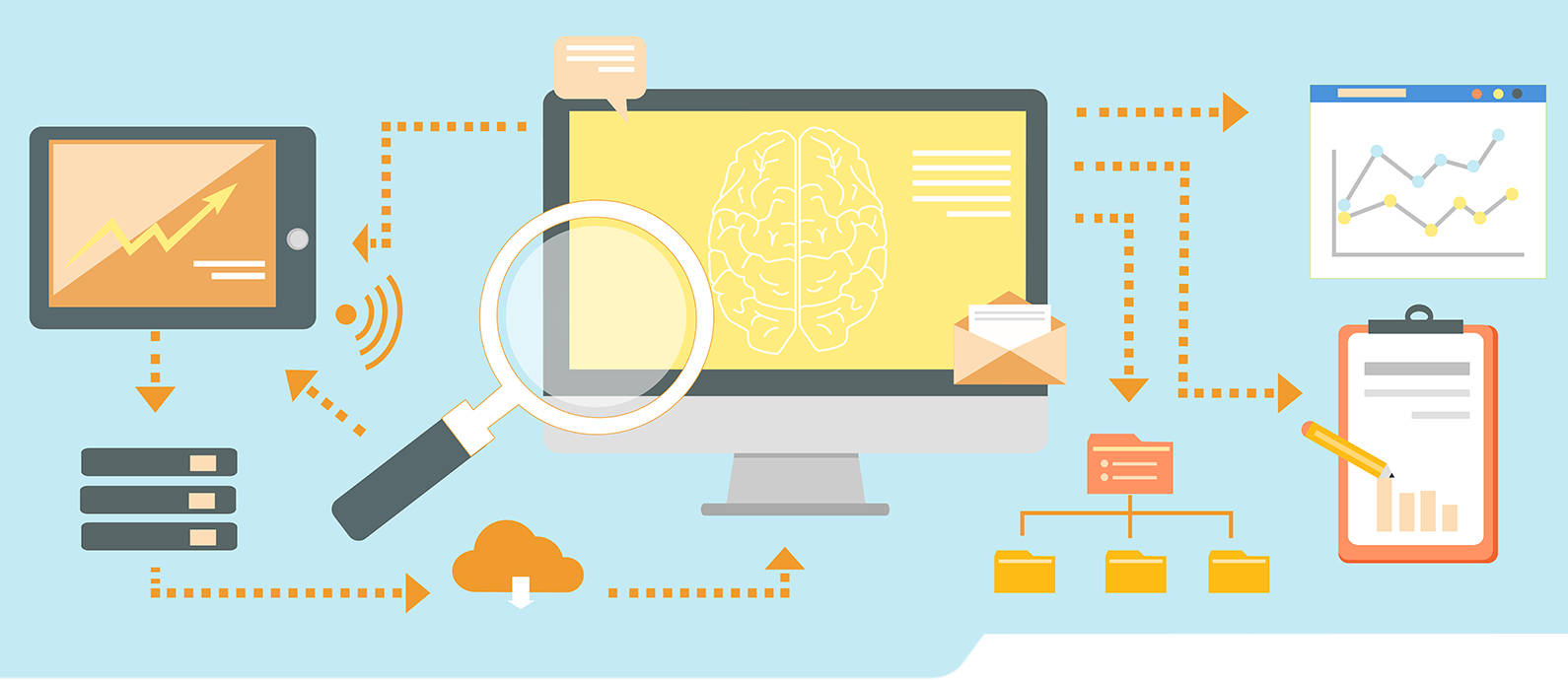 Inbound marketing is effective because it changes your relationship with your customer. Rather than telling your customer, "I'm the vacation rental expert," you show them that you're the vacation rental expert by providing them with useful information.
Just creating content, however, isn't enough. To build lasting value and increased revenue, you must create quality content that is seen by people who are interested in traveling to your destination and booking a vacation rental.
Ranking highly on Google search results for a broad number of relevant queries is one of the most effective inbound marketing tactics. It increases traffic to your website, shows that you are an expert in the area, and improves customer confidence in your brand.
Earning top rankings on Google, however, is harder than ever. You're competing with big companies and big budgets. The good news is, Google is constantly updating its algorithm and testing new features. Therefore, awareness of Google's newest features and the ability to create optimized content for them leads to SEO and inbound marketing success.
In this article, we'll highlight some of Google's newest mobile features, and look at how Rent Key West Vacations worked with Bluetent to successfully create content that was featured by Google.
Google's New Interesting Finds
This year, Google is testing a new feature called "Interesting Finds." This feature highlights 'interesting' articles on mobile search results. What classifies as interesting is up to Google's algorithm to decide. For certain queries on mobile devices, Google displays articles in a two by two grid. The articles are shown with a title, an image, the date the article was published, and most importantly, the brand or website that hosts the content.
Rent Key West Vacations has a monthly marketing engagement with Bluetent. One primary goal of their engagement is to increase relevant inbound traffic to their website.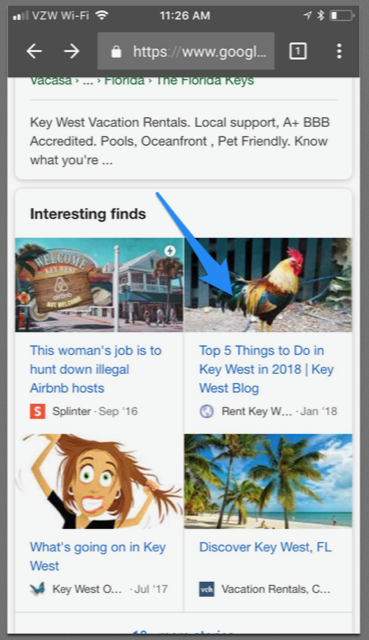 With this goal in mind, Bluetent consistently creates new content aimed at relevant search queries. At the beginning of 2018, Bluetent's content marketers worked with Rent Key West Vacations to publish a blog entitled, "Top 5 Things to Do in Key West in 2018."
Now, when searching 'key west vacation rentals' on Google with a mobile phone, Rent Key West Vacations' blog is featured in "Interesting finds."
Here's a recent screenshot (right):
So, in addition to their homepage, Rent Key West Vacations is now getting visibility and inbound traffic for 'key west vacation rentals'—a relevant, high volume, transactional search query.
Google's Events
Every vacation destination has popular annual events. Often, visitors will travel to a destination just to participate in a cool festival or fun holiday event, like seeing fireworks on Cape Cod for the Fourth of July, or visiting Daytona Beach for Spring Break. As a vacation rental manager, you can choose to create content for specific events or popular holidays. While you research, you'll see that there are countless events to highlight about your destination.
Every April, the Conch Republic Independence Celebration is a popular event on Key West. After researching the search volume around this event, Bluetent worked with Rent Key West Vacations to create content with an updated schedule of the 2018 celebration.
Within a few weeks of publishing a new page about the Conch Republic Independence Celebration, Bluetent saw an increase in traffic to the event page.
Here's an overview of organic traffic to this page: 

Upon researching why this page was getting so many clicks, Bluetent realized that Google had featured this page in their event feed.
Here's a screenshot (right) taken in April: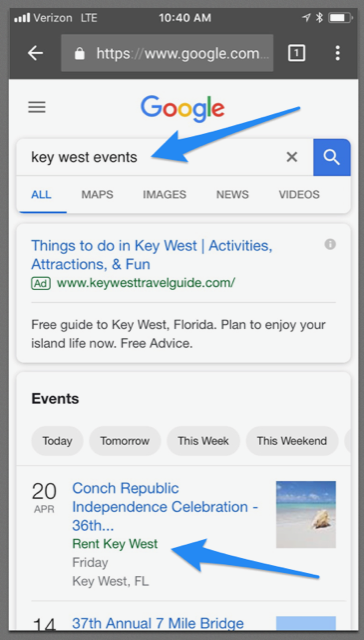 Note that the query is for 'key west events,' which highlights all Key West events. During this time thousands of Google users saw this content.
Inbound Marketing Success in 2018
In 2018, Google Search Engine Results Pages (SERPs) are more dynamic than ever, especially on mobile phones. Search results are no longer a list of links and titles. In order to provide more users with concise, updated information, Google SERPs now include featured snippets, events, top stories, twitter feeds, and now 'Interesting Finds.'
Rent Key West Vacations is a longstanding Key West vacation rental management company based right on Duval Street, just one block from the Ernest Hemingway Museum. They are local vacation rental experts. However, in recent years, like all property managers, they have felt the pressure of OTAs. When you search 'key west vacation rentals' on Google, you see ads from Airbnb and VRBO, and TripAdvisor and FlipKey are on the first page for organic search.
In the world of eCommerce SEO, top organic search positions for relevant, transactional queries produce the highest return on investment. For vacation rental managers, ranking for queries like 'key west vacation rentals' or 'outer banks rentals' or 'beachfront rentals in encinitas' is an essential way to attract buyers to their site.
The catch is, smart businesses know this. This makes ranking for transactional queries very competitive. Big companies are bidding high dollars for paid space at the top of Google. In many markets, the top organic positions are very hard to crack.
Successful inbound marketing campaigns first optimize content for transactional queries and then broaden the number of queries that drive traffic to your website by ranking for informational queries. As content marketers and SEO geeks, we enjoy finding new ways to drive inbound traffic, get new eyes on our client's websites, build lasting value, and increase online bookings.