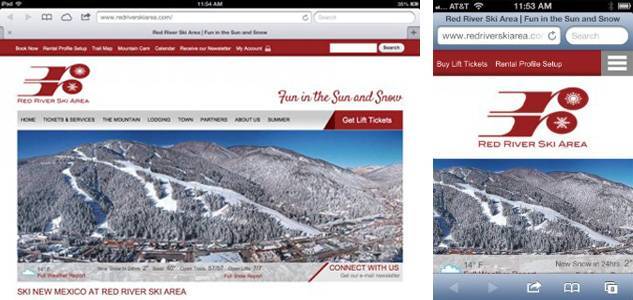 We're pleased to announce the launch of the redesigned, responsive, Drupal 7, Red River Ski Area Website!  A few years back we created a Drupal 6 website for Red River. However, with all the changes occurring on the web, primarily in responsive web design, Red River decided it was time for a new website that could be easily viewed from all platforms. Thus, we worked closely with Red River Ski area to complete a define design process where we identified what they liked about their old site and areas we could further optimize and improve on the new site.
Key features of the site include:
Responsive Design: The site is optimized for your device!  Try loading it on your mobile, tablet, laptop or desktop.
Custom Snow, Lift, and Trail Reports – An extensive, one stop ski report that makes updating & managing conditions easy for Red River.
Weather: Visually appealing current weather conditions & weather forecast.
Video Galleries: Red River can now easily build new video galleries and load videos throughout the site.
Product Pages: New, streamlined product pages.
Online Booking: Onsite product pages link to a sub domain to provide simple, secure, online booking.
Content: The site features extensive content about everything Red River, including accommodations, dining & nightlife, the town, the mountain, summer/winteractivities, events, etc.
Contact us today to learn more about how we can assist with your ski resort marketing initiatives.