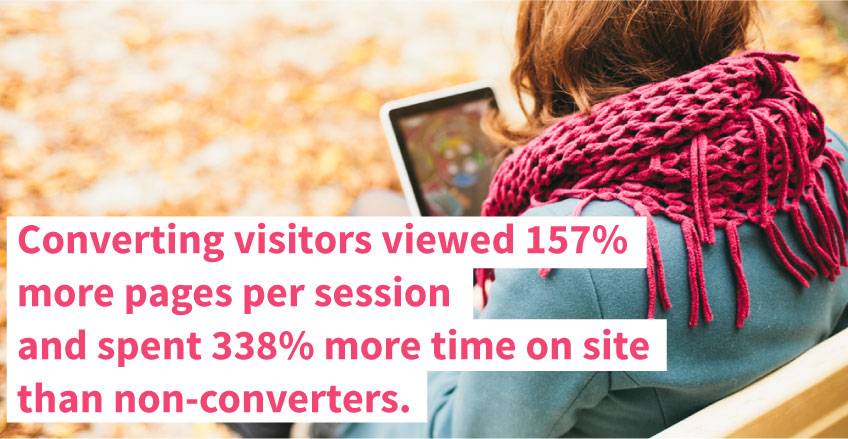 Every vacation rental business wants to turn more website visitors into guests, and there are many aspects of on-site optimization that contribute to this goal. In a recent study on 14 of our clients' vacation rental websites, Bluetent focused on the correlation between time spent on a site and number of bookings. The result is clear and not too surprising: Converting visitors engage with more content on a website than non-converting visitors do. Read on if you want to learn why – and how you can keep your visitors around until they are ready to book!
Why Pageviews Correlate With Conversions:
It is no coincidence that visitors who converted engaged at significantly higher levels than those that did not convert. Here's what's happening:
More opportunity to find the perfect property – Inevitably, extra page views are going to lead to visitors seeing more of your offerings. This will increase the chance of a guest discovering the perfect property and deciding to book.
More commitment to your site and/or brand – Think about a pageview as a micro-conversion. Every time a visitor opens another page, they are committing to that action and to spending more time on your website. By doing this, they are becoming more compelled to complete a transaction as to do otherwise would mean their time thus far is wasted.
More reinforcement of value propositions – The more pageviews and time on site from a visitor, the more they are going to see your value proposition(s). This might be messaging around pricing, convenience, customer service, luxury offerings or amenities. No matter what your value propositions are, they are likely a key factor in converting "lookers" into "bookers." We view the reinforcement that comes through repetition as an important factor in encouraging conversions.
5 Ideas To Increase Engagement:
Many things can contribute to a visitor taking a deeper dive into your website. We found the suggestions below especially worth paying attention to:
1. Convey Trust and Authority – Website visitors begin to make judgements very quickly. In those first few seconds, you want to appear as a secure and authoritative resource – or you will risk losing the visitor to a website that does convey these messages.
A modern design implies your business is active, successful, and invests in the experience of its users.
Displaying industry associations confirms your active involvement within your industry while clearly visible contact information lets them know you have real people available to address any issues or concerns.
Having an About Us or Company Bio page shows the visitor that you are real people, and it gives a personal feel to the experience.
Displaying guest testimonials can show a prospect your business is trustworthy and that people have enjoyed working with you.
2. Provide Intuitive Interfaces – Making sure information is easy to find is critical to encouraging high levels of engagement. With so many great websites out there, users have an increasingly lower tolerance for sites that are confusing and/or difficult to navigate.
For a vacation rental website (and many travel related websites), the ability for a user to quickly search and find what they are looking for is a critical piece of functionality.
Intuitive searches for availability, amenity and location need to be a key feature. At the same time make sure that important details on your main pages are clearly visible. If a property's location is important to a user and they can't find it on the page, why would they want to view 10 more listings?
3. Recommend and Personalize Content – The common strategy for blogs and publisher websites of recommending related articles can work well for driving increased engagement. While this can be trickier for vacation rental websites considering the number of property attributes you could base the recommendations off of, there are still opportunities to show users more of what they want to see.
On our RezFusion platform, we have a base feature that shows recently viewed properties, making it easy for users to revisit past pages they showed initial interest in. We also offer the chance to add a property to a Favorites list, or email the property to family/friends.
Other examples might be to include a link to area info from property details pages, providing inspiring context to the rentals location, or to feature event-related specials that encourage visitors to browse properties to rent during the event period.
4. Optimize for Quick Page Load Times – There are various studies regarding users' load time expectations and how this impacts conversions. Fact is: Your online visitors are looking for immediate results and don't have the patience for a slow website. If users who view more content have a higher chance of converting, but each new page load is a slow and frustrating process, they are much more likely to leave the site than to follow through to checkout.
5. Use High Quality Media – Top travel sites have become very image focused in recent years. For good reason! We are in the age of visual storytelling and a good picture can literally replace hundreds of words. Images portray properties accurately, and they inspire and build trust. It is a no-brainer that you should be investing in high quality photography for your website – this includes for your properties and for area information!
Video has also caught a lot of momentum and is a particularly popular format to consume content, especially travel-related content. While video content can be created affordably, we haven't seen much adoption. If you want more of your site's visitors to view a dozen plus pages (as most converting users do), then turn that dry property details page, blog post or area info page into eye candy through use of large, balanced, high resolution photos and video.
Take It Step By Step:
Increasing engagement on a website and optimizing for conversions does not happen overnight. At Bluetent, we continuously research our clients' Google Analytics data and utilize A/B testing tools like Optimizely to determine next steps – and to confirm that modifications actually have the desired effect. Data of bounce rates and exit pages is freely available. Use this info as a starting point to determine the weakest spots on your visitors' path to the booking page and take it from there.
Also consider investing in a content strategy, or re-working the content you currently have. Offering unique, high-quality information that inspires your visitors to book a vacation could be the best investment you make all year. Bluetent's content department can help you make your site's content stand out, leading to better engagement and hopefully more bookings.
Have you researched your website's engagement in the past? What did you find out? Did you discover surprising content that people just can't get enough of? Please share your story in the comments below! We'd love to hear it!