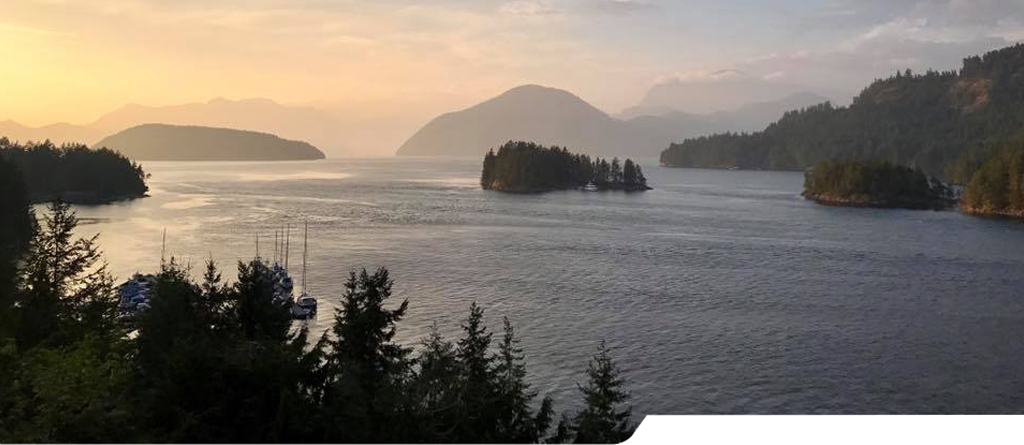 The Trip: A 2-week road trip around British Columbia – Vancouver, Whistler, up the Sunshine Coast, and across parts of Vancouver Island
The Travelers: Brynn Flaherty, our Director of Search Marketing, and Braeden Flaherty, our Chief Production Officer
Miles Traveled: 600
Where did you go?
We went on a 2-week road trip around British Columbia – Vancouver, Whistler, up the Sunshine Coast, and across parts of Vancouver Island. We traveled around in a VW Eurovan that we camped in about half the time, and we also stayed in vacation rentals and boutique hotels. A big shout out to our client, Blackcomb Peaks Accommodations, who put us up in a beautiful condo in Whistler.
What was the best moment of the trip?
When we were in Tofino on Vancouver Island, we took a boat tour out to a remote cove, hiked 30 minutes through the rainforest, and ended up at the coolest natural hot springs. The water cascaded down these rocks and into the ocean, and there were many places to climb around on and sit and relax in the springs, with amazing views of the cove. It was a pretty surreal place. On the way back, we also came upon a pod of whales that were feeding, and we watched them for quite a while. That was definitely a highlight as well.
What was your favorite town and why?
Tofino, on the West Coast of Vancouver Island. It's a really remote town, and it's got such a laid back, hippie, bohemian vibe. Incredible food, year-round surfing, art, amazing beaches and coastline, and astonishing beauty everywhere.
What are two interesting things the average person doesn't know about traveling in Canada?
I think a lot of people don't know much about Vancouver Island, and how large it is. It's often mistaken for a small island off Vancouver, but it's over 300 miles long and some of the most diverse ecosystems in the world. It has a ton of wildlife and marine life, and you'll find rainforests, mountains, white sand beaches, wineries, farms, and massive 1000-year-old trees. We barely scratched the surface.
I was also pleased to learn that Canadians are much better drivers than those in the U.S. They actually stay in the right lane and only get in the left lane to pass. What a novel idea!
What was the most surprising thing about your trip?
We found that traveling around in an old VW camper van is the BEST way to slow down and relax. You have that "nowhere to be" feeling when you're driving an old campervan, and you can't get there quickly anyway! I'm thrilled we decided to go that route, as it made the trip so much more unique and memorable. And you get a smile and wave from fellow VW van drivers, which is pretty cool as well.
Did you learn anything interesting about yourself?
My Minnesotan accent seems to come out in full force when Canadians surround me. I think I secretly always wished I was born in Canada 🙂
What was your favorite meal?
A wood-fired pizza at Persephone Brewing in Gibsons, a small town on the Sunshine Coast. Maybe it was the beer and the insanely beautiful setting on a hop farm. Maybe it was the fact that we'd been traveling by ferry all day and were starving. Or maybe it was because most of the ingredients came from the on-site farm at the brewery. But it was darn good.
If you had to live in one of the places you visited, where would you choose?
If Tofino had snowboarding, that would easily be my #1 pick. But since it doesn't, I'd probably choose Whistler. Amazing skiing, biking, lakes, and hiking, and the people there are super friendly. Plus it's got incredible wilderness all around, and you're just 1:30 from Vancouver, which is such a great city as well.
What is the next stop on your bucket list?
I've wanted to get to Bhutan for years. And Patagonia… And Morocco… And Portugal… But we are building out an adventure van currently, so I see a lot of fun U.S. road trips in our future!