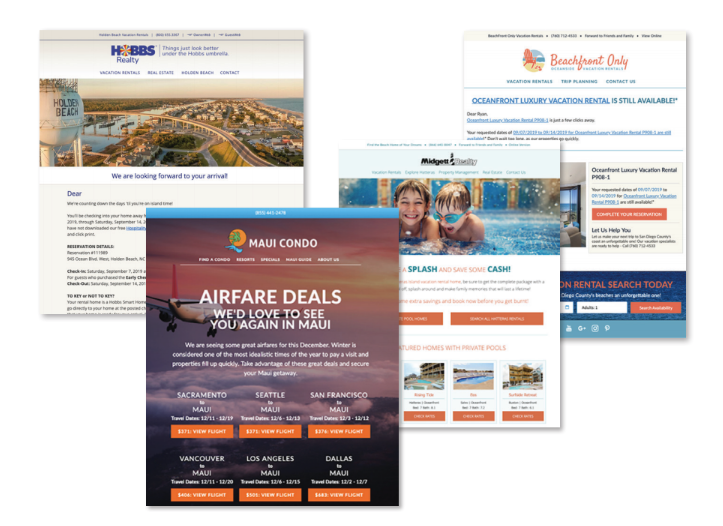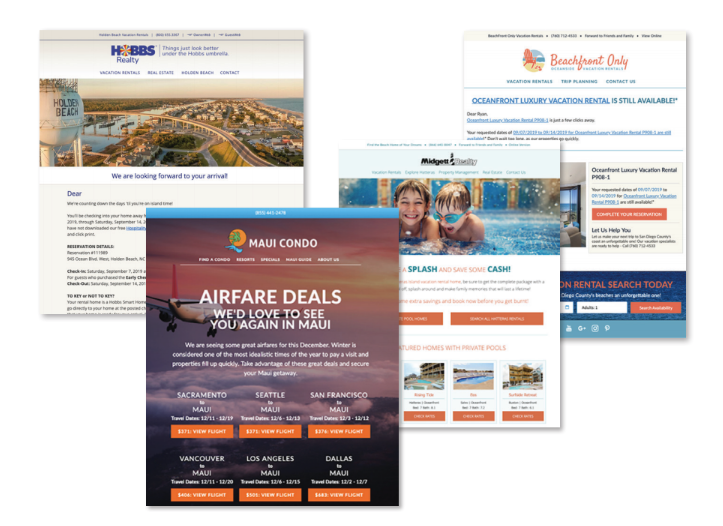 Over time, your vacation rental business has no doubt built a substantial contact list chock full of website visitors and past guests. It's high time to put that list to work with a strategy that sees a $44 ROI for every dollar spent. Capitalize on the success of your direct-booking website and digital marketing plan by implementing a high impact email marketing strategy. 
With over 36 years of combined years of experience in the vacation rental industry and a 100% focus on email marketing, let Bluetent become an extension of your team. Check out seven strategies our email team employs for engaging travelers with high impact email marketing:
Solidify your brand with custom email templates:
User-friendly templates allow you to solidify your brand and establish trust with potential travelers. Bonus, if you are using Bluetent's email templates, you can guarantee what you see on your computer screen translates to your recipients as well. We test against all 78 email browsers to ensure the best recipient experience. 
Go beyond "batch and blast" emails:
Step up your email marketing with a range of tools that make the pre- and post-travel experience more rewarding. The ability to send highly targeted emails with tools such as automation, segmentation, dynamic content, and personalization will take your email strategy steps above the competition and deliver a high ROI. 
Use the pop-up tool:
With an average 3.1% conversion rate, you can get visitors to sign up for your emails and then target those emails with a strategy designed to get travelers back onto your website. 
Boost online conversions with a flash sale campaign:
Nearly half of vacationers hold out for the right opportunity or the perfect deal. Considering that fact, the use of tools such as a dynamic countdown timer to push urgency marketing can lead to more conversions, and ultimately fill up last minute availability. 
Send better pre-arrival emails:
Vacations are an exciting time for travelers and it's a no-brainer to build upon that excitement with pre-arrival emails. By using dynamic and personalized content, you can make your guests feel at home before they even unlock the rental. Not to mention, engaging with travelers when they're most receptive (right before a trip) can increase your opportunity to enhance their stay with up-sells.  
Target inactive subscribers:
Use your data to personalize subject lines, content, and calls to action in emails to re-engage inactive subscribers. Promote the value of your campaigns to show email recipients what they've been missing. But make it count: this is your last chance to rejuvenate the relationship. For those who do re-engage, have an automated "welcome back" email in place.
Turn one-time visitors into lifelong guests:
This is your chance to show you care. Personalize your emails by using data and send a thank you note asking guests to leave reviews. Focus on unique messages for specific travelers, highlighting more reasons for them to book a return stay and draw guests back into your website! 
Want to meet our team of email marketing experts? Contact sales@bluetent.com today to learn more about how our team can help you step up your email marketing game.