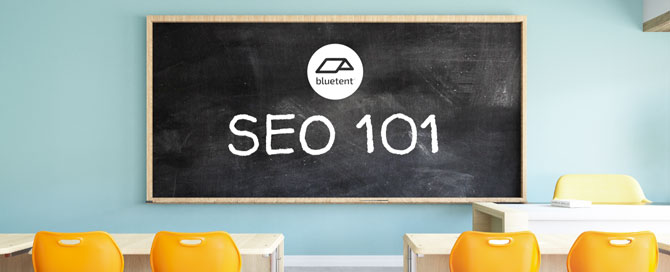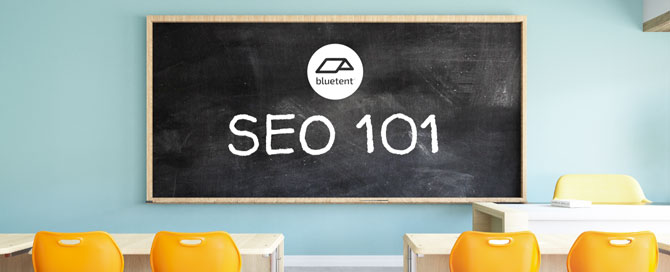 Everyone needs an SEO refresher course now and then. Getting your optimization ducks in a row prior to summer high season is a fine idea … and the "professors" of Bluetent are here to help. Below, Bluetent's experts give basic definitions you'll need to know, followed up by some simple dos and don'ts to get you started.
What is SEO?
SEO stands for search engine optimization, which is a digital marketing strategy that focuses on your website's presence in search results on search engines like Google. When you understand how SEO works, you can use different tactics to increase your visibility in travelers' search results.
How do search engines work?
Search engines, like Google and BING, are answer machines. They exist to discover, understand, and organize the internet's content in order to offer the most relevant results to the questions searchers are asking.
Search engine terms to know:
Crawl:
Think of a search engine as a team of spiders crawling through the worldwide web. Once the spider finds a link it shuffles through the code of the page to understand what's on it. It then goes down as many paths as it can be based on other links coming off that page.
Index:
The index or archive stores and organizes the content found during the crawling process. Once a page is in the index, it's in the running to be displayed as a result to relevant queries.
Rank:
Provide the pieces of content that will best answer a searcher's query, which means that results are ordered by most relevant to least relevant. Algorithms are applied to determine what the most relevant results are.
On-page SEO terms to know:
Metadata:
Basically, in the SEO sense, these are tags that search engines read that tell them what is on the page, and in our cases the hierarchy of what's important. Most content management systems (CMSs) — like WordPress, Drupal, Wix or Squarespace — provide user-facing ways to enter metadata while you're editing a specific page. For example, you've probably seen "page title" or "meta description" fields that you can fill in.
Page Title:
Title tags (red) should be 60 characters or less or they will become truncated in search results. Titles should include your top- priority keyword and your site name. Don't overuse keywords though. For example, you wouldn't want to do something like this: "Seabrook, WA, Seabrook, Washington, Seabrook Washington Coast." This is considered by Google to be keyword stuffing and can get your site penalized.
Meta description:
The meta description tag in HTML is the 160-character snippet used to summarize a web page's content. Search engines sometimes use these snippets in search results to let visitors know what a page is about before they click on it. The key to meta descriptions is to think less about SEO and more about getting search users to click through to your site.
H1:
The H1 is an HTML tag that indicates a heading on a website. Tag — An HTML tag is a snippet of code that tells your web browser how to display the content. Heading — HTML has six different heading tags — H1, H2, and so on. The H1 is considered the most important tag, and the H6 is the least important.
Body content:
Here's where you want to include high-quality content (generally 300+ words) with a couple of inclusions of your top-priority keyword Your top-priority keyword should appear in either your Page Title or H1, but not both. Ideally you are optimizing for your primary keyword in your Page Title and then a variation or secondary term in your H1.
Image alt tags:
You've probably noticed "alt tags" on image files windows when uploading a new file or adding media to a page. This allows search engines and people who are visually impaired to understand the images on your page. It's also a type of search result. You can use the alt tags to add additional keywords.
Schema markup:
A more technical form of SEO. With the help of an expert, you can enable schema markup which provides an even deeper level of metadata/insight for search engines. For instance: product type – real estate; Q&A content, and much more.
Dos and Dont's of on-page SEO:
Do…
Create high-quality, well-researched content that's informed by SEO opportunity and addresses users' problems, entertains and informs.
Optimize all metadata.
Repurpose old event pages and timely/seasonal blog posts year after year. Google likes to see old URLs with fresh updates. If you're not sure, go to your event pages or blog posts listings on the backend and use the filters to search.
Resize your images to 2000 pixels or less & COMPRESS THEM. Tinypng is a great (and free) tool for compression. Large images can slow down your site — and page speed is a search results ranking factor.
Check out how your new page looks on mobile. Mobile-friendliness is also now a ranking factor, too.
Link to other relevant pages on your site whenever possible. The quicker the spider can get there, the quicker those pages will be indexed and rank.
Link to high-quality off site pages when appropriate and/or relevant.
Don't…
Rip off content from other sites/pages. Duplicate content, whether pulled from other sites or across multiple pages on your website, can land you in hot water with Google.
Have a web page that features too little content. We always want all the metadata completed, and an intro/content body whenever possible.
Create multiple pages with similar content. One focused page always has the best chance of ranking.
Stuff keywords
Engage in link schemes. This can get your site banned from Google. Be aware that links from low-quality spammy sites is now a ranking factor with Google's Link Spam algorithm update.
Link off to poor quality sites.
Interesting in getting our team's help with improving your SEO?
Let's chat!
CONNECT WITH US