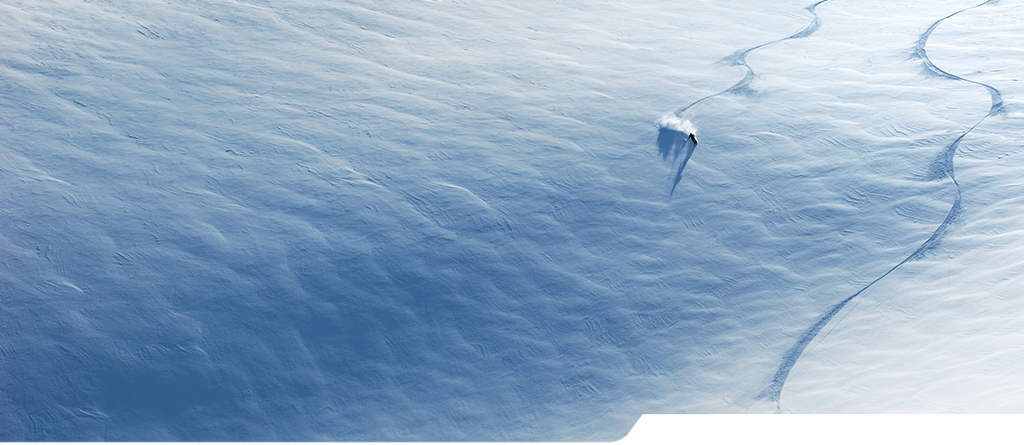 Welcome to the latest edition of What's New in Search. Each month, our team shares insights into SEO news, trends, tips, and what our team has been focusing on lately. In this months edition Brynn, our Director of Search Marketing, will be covering Google's mobile first index rolling out along with Google's posts and their potential impact on rankings. The final topic will relate to Yelp's review solicitation.
What We'll Be Covering Today
Google Mobile First Index Rolling Out
Google Posts and Their Potential Impact On Rankings
Yelp Increasingly Cracking Down on Review Solicitation
1. Mobile First Index
At the end of October, Google's Gary Illyes announced to a crowd at SMX East that the mobile first index had started to roll out. We had heard this wasn't going to start until next year, so it was surprising that Gary announced this at the conference.
For those that haven't heard about this change yet, this means that Google will create and rank its search listings based on the mobile version of content, even for listings that are shown to desktop users. Rather than crawling the web from a desktop browser point of view, Google will start crawling sites from a mobile point of view.
Mobile page speed will also be a factor, as Google will use the page speed of your mobile site to determine search rankings for both mobile AND desktop. Where Google is headed with this is that eventually, there will just be one index for mobile and desktop searchers, based on mobile content.
Why is Google making this index change?
As more and more searches happen on mobile, Google wants its index and results to represent the majority of their users — mobile searchers. Google said last year that mobile searches now make up more than 50% of all searches, and that number has surely increased over the last year. A study released in August of 2016 showed that 52% of travel searches are done on a mobile device.
Google has previously said that content that's not deemed mobile-friendly will not rank as well, and that will remain the case with this new index. This is why Google recommends you go with a responsive approach rather than having a separate mobile website. With a responsive site, the content is the same page to page on a desktop as it is on a mobile device. As the screen size changes, the page layout changes, but the content remains the same.
Should I Be Worried?
If you are a Bluetent client, you most likely have nothing to worry about! Both the Rezfusion Cloud and Rezfusion Pro platforms are built using responsive design. If you are not on a responsive site, you'll want to make sure the content is similar between the mobile and desktop versions of your site, so that you don't miss out on the chance to rank for terms and content your desktop site had previously ranked for. And if you've been thinking about upgrading to a responsive website, now might be the time to invest in this!
Google has said this shouldn't change the overall rankings much, but only time will tell, as Google will be testing and rolling out this update over the next several months. One tip we have is to use the Fetch and Render tool in Google Search Console. Set it to fetch the mobile:smartphone version of your site and take a look at the what Google can see and index from your mobile site. If content is missing, then look into how to fix that and run the tool again.
2. Google Posts
Earlier this summer, Google announced a new way to make your business stand out in the search results, with Google "Posts." Local businesses can now post timely, relevant information that shows up immediately in Google Search and Google Maps. The only catch is that you need to be verified as a Local Business.
Posts were originally launched in January of 2016 under a different name (candidate cards – for political search queries). Then later that year, Google rolled Posts out to a select group of small businesses. In June 2017, Google stated that Posts would be rolled out to all business categories (although we still have certain clients that do not have Posts showing up in their Google My Business account…).
This is a great new Google feature that local businesses, especially vacation rental managers like the majority of our clients, should be taking advantage of. Posts can help you engage with guests/customers that already know you, and they are a nice way to help attract new guests/customers.
Google Posts are perfect for:
Sharing an event
Promoting a special or deal
Letting guests know about a new property or product
Getting newsletter subscribers
Teaching people more about your business
You can access Posts from the left-hand menu in your Google My Business account. Click Posts, and you'll see a few steps for creating the Post: add an image, write 100-300 characters of text, add a link, and choose one of the 4 call-to-action button options. If you are posting an event, you'll also be able to select start and end dates.
After you preview your Post, you will click Publish, and the Post will immediately show up in searches where your Google Business page is listed. Posts expire 7 days after they are published, except for events. Google also gives you insights into how many impressions your post received, as well as how many link clinks.
Tip: We suggest adding UTM tracking parameters to your links, so that you can better measure how users are engaging with your site when they visit from a Google Post. We've found that Google's reporting on "clicks" is not accurate, so using a UTM code is the best way to know if you are getting visits from your Posts.
Can Google Posts Help Your Rankings?
We know that Google Posts can give you a bit more real estate in the search results and map results, and it allows you to communicate with searchers. But a team from Search Engine Land tried to test whether Posts can also impact your Local search rankings. The team picked two small businesses (a church and a garage flooring company) randomly, and they made a Google Post every 7 days for almost 2 months.
Both business saw improvements in their Local results rankings. These were businesses in very low competition search spaces, so it's impossible to tell if the Posts were in fact the reason for the ranking improvements, but we agree with Search Engine Land's key takeaways from the experiment:
Google Posts are a low effort task, and if they can make a low impact, they should be part of your overall Search strategy.
3. Yelp Increasingly Cracking Down on Review Solicitation
Reviews are an incredibly important part of the digital landscape. In the vacation rental industry in particular, reviews are a large part of gaining trust online. Booking an alternative accommodation (accommodations that are not a hotel) is a much different thing than booking a dime-a-dozen hotel room, and guests want to read reviews to make sure that they don't get any surprises when they show up to a vacation rental they have booked.
Soliciting reviews from loyal and happy guests has long been a practice in the industry. There's always going to be the angry guest that had a particularly poor experience, and they are quick to shout about it from the mountain tops. So off-setting those types of reviews with more positive reviews is essential. This is common practice for many of our clients.
Yelp is one of the more well known review sites, but a number of online directories and search sites publish user reviews, besides Yelp – Google, TripAdvisor, Flipkey, Expedia, HomeAway, Facebook, etc. Other review sites encourage honest, unbiased reviews, but Yelp has notoriously been the most strict when it comes to soliciting reviews.
What Violates Yelp's Review Policy?
Asking for reviews
Sending out surveys for reviews
Offering discounts or gifts in exchange for leaving a review
Allowing staff to compete to collect reviews
There are also many reputation management companies out there that help businesses monitor and gather reviews. And now, Yelp is sending out harsh messages, letting these types of companies know that they are putting their clients at risk by soliciting reviews. A reputation management company received this review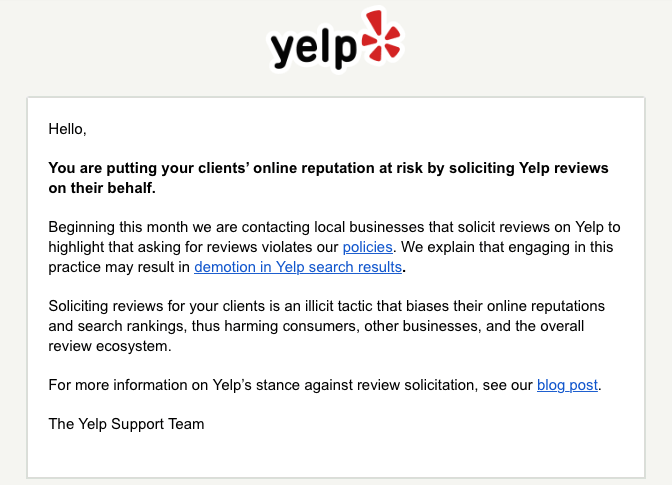 So unfortunately it seems that business owners are not only  asked not to solicit customers for reviews, but they are also being discouraged from working with third-party vendors that help acquire and monitor reviews around the web.
Google's taking a much different stance with its new Local Guides program, where they're actually incentivizing people with special deals and offers for leaving reviews. We'll dive into this platform next month. But in the meantime, be careful if you are soliciting reviews from customers – Yelp is watching!