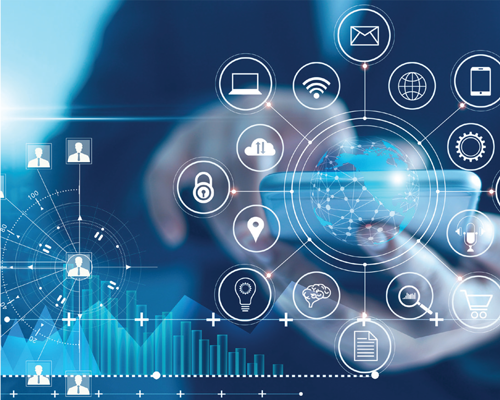 With vacation rental homes emerging as the preferred choice of travelers, vacation rental companies have a huge opportunity to take advantage of a growing industry. To capitalize on what some are dubbing "The Roaring 20s" of the vacation rental industry, takes a robust online digital ecosystem.
But what exactly does that mean and where can you start?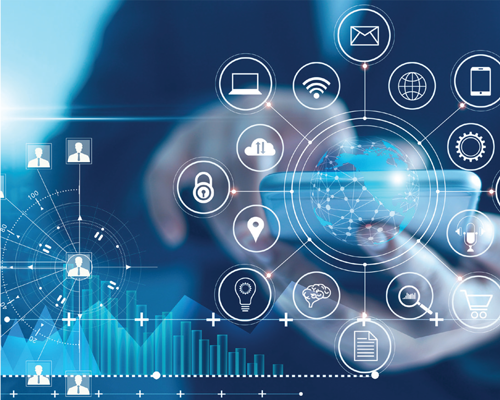 First, let's define the four pieces of a healthy digital ecosystem: a direct-booking website, distribution/channel management, plus both email and digital marketing. And don't forget, it's essential that all parts of your ecosystem integrate with your property management software. (Bluetent integrates with a whole host of softwares, found here.)
Now that we've defined the ecosystem, how do you put that ecosystem to work, and drive more revenue? There are seven crucial elements that we need to put into play. Because every vacation rental business is different, some elements might be more important to one business than another. Think about your unique business needs as you put your ecosystem into action.
Let's dive in.
Start with your foundation: search engine optimization (SEO). SEO lays the groundwork for the success of your direct-booking website and is defined as the process of improving your website's visibility in Google's organic search results. Success with SEO is all about making Google happy, and that starts with consistently performing tasks such as:
Addressing technical 

issues

 and website performance

 

Improv

ing

 website 

visibility 

with content (we'll dig into that below)

 

Gain

ing

 quality backlinks

 

Invest

ing

 in you

r

 "local" SEO

 
A website's success is fueled by the content within its pages. To get travelers into your booking funnel, create relevant and current informational pages (including things like event schedules and take-out recommendations) that answer potential guests' frequently asked questions. Creating landing pages built around your most popular amenities — think "pet friendly" or "beachfront" — brings travelers directly to your "book now" buttons.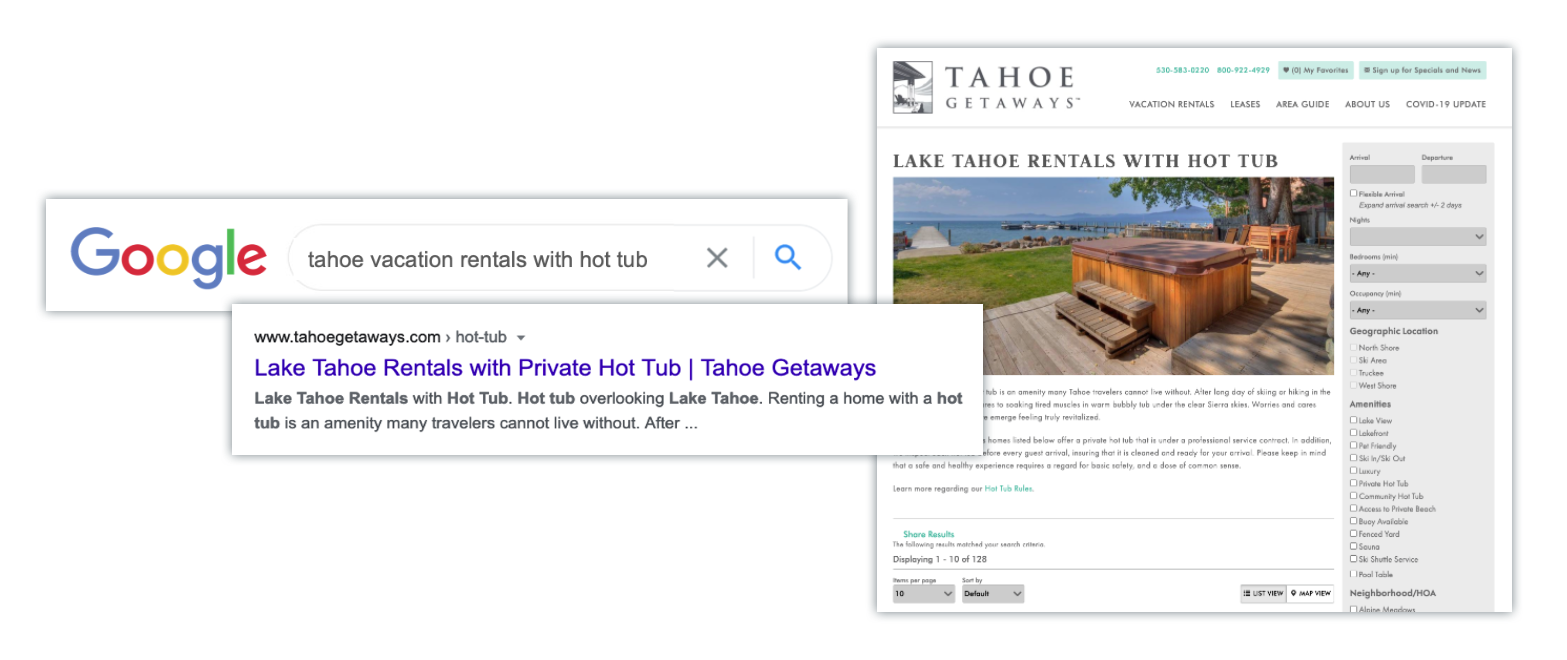 Pictured above: People search for unique things when planning a vacation. Having robust content on your website establishes you as a trusted resource — remember, Google rewards content with a purpose!
Now that you've laid your groundwork with the first two items on our list, it's time to invest in digital advertising. We'd recommend that you start with pay-per-click (PPC) Google Search Ads and Google Display Ads. A successful digital advertising strategy is one that puts your ads in front of only the most qualified customers for your business. An ad campaign built around in-depth targeting and segmentation allows you to focus on specific travelers searching for vacations in your area.
In addition to digital advertising, social media advertising is a key component to amplifying your message. Advertising to the 3.8 billion users on social media is one of the quickest and most effective ways to keep your brand in front of visitors to your website, past guests, and people interested in traveling to your area.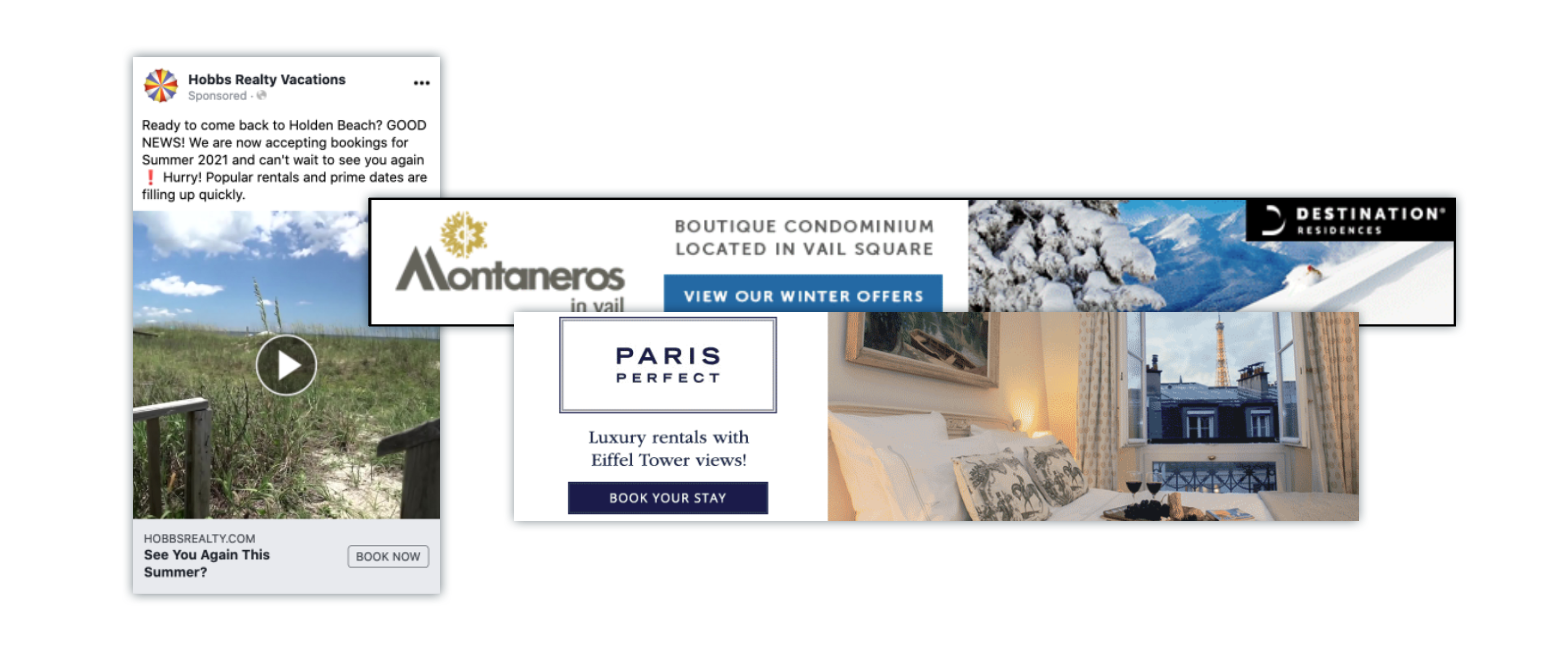 Pictured above: Examples of how your vacation rental business can utilize digital and social advertising to turn lookers into bookers.
Email marketing is the fifth element on our list and is crucial for consistent engagement with your website visitors and guests. We often say that email marketing is a "no brainer" because not only does it reach travelers at every stage of their journey, but it also boasts an average of $44 ROI for every dollar spent! Team Bluetent offers the only email marketing designed specifically for the vacation rental industry — from beautiful, branded email templates, to personalized and automated campaigns, to segmented sends — all working in conjunction with your property management software (PMS) and website data.
Putting all of the first five tools to work effectively means making data-driven decisions. A performance dashboard, like Bluetent's Business Intelligence Dashboard, allows you to make informed choices. You can review campaign and website statistics to help your business invest in strategies that work and pivot from ones that don't.
Last but certainly not least, we'd like to draw attention to the importance of keeping a diverse strategy utilizing new innovations. Signing on with emerging technology such as Google Vacation Rentals (a growing platform with rapidly increasing click rates) can help your vacation rental brand get in front of more travelers. 69% of travelers use online searches when they start planning a trip, and 90% of internet searches across the globe are conducted via Google. Keeping your eyes open for the next big thing, like Google Vacation Rentals, and then getting in on the ground floor sets your business up for success.
That's a hefty list of strategies your vacation rental business can employ to achieve success online. Putting it all together can be overwhelming — that's exactly why Team Bluetent is here. Every business has unique needs, so we have launched specific Marketing Strategy Packages. With three options available —each one developed around the essential tools listed above — finding the right fit for your business is a breeze. Schedule a demo to find out what plan is right for your goals.
Want to learn more? Check out Team Bluetent's March 8th webinar: